Sunday
Sakyong and Family
Shambhala is Expecting!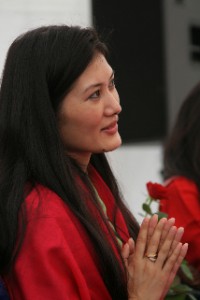 Of course this Shambhala Day falls on Valentine's Day, because the Sakyong had news for us — the ultimate gift of love. At the close of his annual address, our beloved Sakyong announced that he and the Sakyong Wangmo are expecting a child. Having just completed her first trimester, Khandro Tseyang is doing well, and the royal couple is looking forward to an August arrival.
While the shrine room in Boulder was filled with cheering, it was the comments afterwards that reflect our deep connection to this new addition.
"We're aunties and uncles!"
"Congratulations – we're expecting!"
It is clear that the royal family's news means so much to all of us, and perhaps adds some additional potency to the sense of "Our Future."
Stay tuned for more news as it emerges!
Post Tags:
Khandro Tseyang
,
Mukpo Baby News
,
Sakyong Mipham