Wednesday
Sakyong and Family
The Sakyong Shares His Delight
In a letter to the Shambhala Community, Sakyong Mipham Rinpoche tells the story of Jetsun Drukmo's birth and comments on the impact of her presence in all our lives. Photos courtesy of Sean Raggett.
At four in the morning, I was awakened by Dr. Levy. He said, "Rinpoche, it's time." The rates and intensity of Khandro-la's contractions had increased, and our midwife, Kirsten Martin, felt it was time to go to the hospital. Excitedly and nervously, we all left the Kalapa Court and made our way to the IWK, the maternity hospital in Halifax. The hospital staff was incredibly accommodating and cooperative. They expressed that they were honored that we decided to have our child delivered in their hospital.
By six o'clock, the contractions became more strong. During this intensity, the birthing team really shone. Blessie Selvig, a nurse as well as a Kasung, had been supporting Khandro-la throughout this process; as well as Peter and Mary Goodman, who had been offering Khandro-la massage and osteopathy. Khandro-la's mother, Chime Dokar, and sister, Semo Palmo, were providing companionship and emotional support.
Throughout the delivery, I was struck by the sheer power and emotionality of the birthing process; I did whatever I could to support my wife. Watching her handle the birth, my respect and admiration for Khandro-la grew tremendously. She was a true warrior. Finally, when Jetsun Drukmo was born, she came out and gave a big cry. It was 10:24 AM on August 11. Joy, tears, and laughter filled the room at that moment.
I asked Richard Reoch to announce to our community that Jetsun Drukmo had been born. I called Lady Konchok, Lady Diana, and other members of the family to notify them that all had gone well. The sheer delight this news brought our community and family members was very moving for me. It became obvious that this was not just our child, but the child of all Shambhala. The next day Khandro-la was well enough to be released from the hospital. Before leaving the hospital, Christoph Schonherr took our first official family photograph. People remarked later how healthy and radiant Khandro-la looked. They were struck by Jetsun Drukmo's long fingers and full head of hair.
When we returned to the Kalapa Court to bring Jetsun Drukmo home for the first time, we were received by a group of sangha. It was their first glimpse of Jetsun Drukmo, and their first chance to see Khandro-la and myself as parents. A brief lhasang was conducted, as well as the warrior's cry.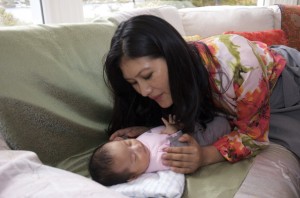 I am struck by how different the Kalapa Court feels with Jetsun Drukmo in it. It has brought a feeling of vitality, warmth, and expansiveness. The first few nights neither Khandro-la nor myself got much sleep, from being both excited and nervous. Khandro-la was a natural mother, but I was a very anxious father. Jetsun Drukmo was so small and so delicate, it took time to feel comfortable handling her. But then the tentativeness gave way to relaxation and sheer joy. After the initial period, I was able to hold her; and in fact, I have become quite a proficient burper.
Over the next several weeks, various family members came to visit. It was moving to see Lady Diana holding Jetsun Drukmo, and she was also able to pass on some parenting wisdom. Khandro-la's father, Namkha Drimed Rinpoche, came and performed a purification and long-life blessing. Since he had known my father in Tibet, he knew he was holding the grandchild of both the Vidyadhara and himself, and that Jetsun Drukmo embodies all these lineages. One very memorable moment was when we skyped Lady Konchok, who was then able to see her grandchild for the first time.
Over the last two months, Jetsun Drukmo has grown and matured. Day by day we notice changes. It has been delightful to watch her discover her world. She has begun smiling and recognizing people. Khandro-la and I feel very blessed to have her in our life, and I can feel how she has brought warmth and delight to our community. I appreciate the love and support all of you have given, and I am delighted to share with you the birth of our Shambhala princess.
Post Tags:
Jetsun Drukmo
,
Khandro Tseyang
,
Mukpo Baby News
,
Sakyong Mipham