Tuesday
Mandala Projects
Teens Touch the Earth at Karme Choling
By Dan Glenn
Karme Choling's thriving teen retreat series took a turn for the green this April.
Twenty-nine youth attended Touching the Earth, led by Leila Bruno and Adam Pattantyus, two sangha members who are also part of the Touching the Earth working group. Donna Stephens, who has been devotedly serving this group of teens and Karme Choling for several years, worked with Dan Glenn, Karme Choling's Children, Youth and Families Coordinator, to organize and coordinate the weekend, which took place April 3-5, 2009.
The program was designed to open hearts, inform minds, and inspire change. It was developed by Bruno and Pattantyus as a program "on warriorship where we could talk about ways for us to relate to each other, other species and the Earth….a time to stop and bring what we do know about the environmental crisis to the forefront of our minds. It offers us an opportunity to recognize and share our emotions around what's happening in the natural world and to see what we can do to help in a good way."
The program was based on the work of Buddhist teacher and environmentalist Joanna Macy, as well as the Awakening the Dreamer symposium, in which Bruno is a trained facilitator. Awakening the Dreamer's mission "is bringing forth an environmentally sustainable, spiritually fulfilling and socially just human presence on Planet Earth."
The first portion of the program was a sobering dose of reality. The group viewed video clips from Awakening the Dreamer and learned just how dire the environmental crisis has become. Unfathomable extinction statistics, merged with footage of species of a plethora of breathtakingly beautiful animals, left the youth and the facilitators heartbroken and stunned.
"I felt helpless and hopeless," said Ben Barnard of Harvard, Massachusetts. "It was astonishing to see just how big this issue was. I knew it was a problem and I knew it was big, but I did not realize all of the causes like the way the economy works."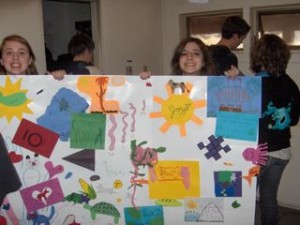 Through discussion, contemplation and exercises, the youth opened their hearts to the suffering of the world and expressed their grief with maturity far beyond their years. This allowed them to move into the second and third segments of the program – understanding how we got ourselves into this situation, and what we can do to help.
The insight, wisdom and compassion with which the teens navigated the landscape of how to proceed was moving and inspiring. Although the task at hand felt quite daunting, the group made plans to start "Green Teams" at their schools, educate their peers and families, and take steps to live in a more sustainable, environmentally-conscious way themselves.
The weekend also included silent walks around the land, time built in for homework, plenty of snacks, and a birthday party for three members of the group.
Karme Choling offers several teen weekend programs throughout the year. Past programs have included Listening Mind/Seeing Mind, Teachings of the Buddha and a Shambhala Training Level I taught by Acharya Arawana Hayashi specifically for teens. Many of the youth have been doing these programs together for years (as well as Family Camp and the Winter Family Gathering), and have become quite a close, cohesive unit. Each program has also welcomed new faces, and the first-timers have integrated seamlessly.
Gabe Taney, 11, a longtime local sangha member and one of the few "pre-teen" exceptions for this program said, "It was awesome. I'm going to plant a tree in the woods at Karme Choling."
The group dispersed on Sunday afternoon, leaving Karme Choling much less lively and only a little messier. They hugged goodbye and "See you at Family Camp!" was heard throughout the hallways of the house. The youth headed home with renewed inspiration to help the planet at a crucial time.
"I want to make a difference," said Barnard. "I do what I can to help, but I feel that that is not enough because I'm only one person. I want to inspire other people to change and save our home."
Dan Glenn is the Children, Youth and Families Coordinator at Karme Choling, as well as the Program Staffing Recruiter. He has been on staff since August 2007. His introduction to the dharma came through a class he took during his freshman year at Boston College, which eventually led him to the Boston Shambhala Center and Karme Choling. Dan hails from Belmont, Massachusetts, has a Master's in Holistic Education from Lesley University, is a singer/songwriter and a Dave Matthews Band fanatic.
Post Tags:
Protecting the Earth
,
teen
,
youth