Thursday
Featured Stories
Penor Rinpoche's "Asking to Remain" Ceremony
Penor Rinpoche passed away on March 27 at his residence at Namdroling Monastery in Bylakuppee, South India. His Holiness entered into samadhi for almost 8 days before his parinirvana on April 3. Several days before his passing, Sakyong Mipham Rinpoche sent Tom Bell as an envoy to south India with offerings for His Holiness on behalf of the Shambhala community. Here is Tom's tale of conducting the offerings to His Holiness in the final hours of his life.
By Tom Bell
When I met with Sakyong Mipham Rinpoche meeting on March 24th in Delhi, he was quite concerned about His Holiness Penor Rinpoche's health. The Sakyong and Khandro Tseyang had traveled to Namdroling Monastery in Bylakuppee, earlier that month on March 18 – 19, only to find out that His Holiness was in intensive care at a nearby hospital.
The Sakyong requested that I travel to Namdroling in order to make the offerings on behalf of the Shambhala community at the hastily arranged "Asking-to-Remain Ceremony" for His Holiness on March 27 at Namdroling. This ceremony is a traditional Tibetan ritual to request a great lama to remain in order to teach the dharma. It was conducted at Namdroling, the monastery which Penor Rinpoche founded and led in southern India.

The Sakyong gave me a khata to present to Penor Rinpoche, which he blessed in my presence. As the Sakyong held the khata, I closed my eyes and found myself in the power of his meditation.
At the Bangalore airport on the March 26, I was greeted by Pema Namgyal, a young graduate of the monastic college or shedra at Namdroling. We proceeded to Namdroling in a car from the monastery, a trip that took longer than I had expected – over six hours. We arrived after dark and stayed in the village near Namdroling.
Bhikshu Jinpa joined us from Gampo Abby with the traditional offerings for the ceremony – a rupa, a stupa, and a long-life text. This complemented the offering I had brought from the Sakyong, including khatas and rupees.
The ceremony was to start at 7:00 the next morning. Pema Namgyal, Jinpa, and I arrived together at Namdroling at 6:30am on March 27, with plenty of time to find our way to the ceremony.
Upon arrival, we discovered that the ceremony had been shifted to Bangalore where Penor Rinpoche had returned to intensive care in the hospital. Buses were leaving immediately and Pema and I joined them. The buses were full of Rinpoches, Khenpos, and General Secretaries who had come from all over the Nyingma world to attend this special ceremony.
It took forever to get back to Bangalore, and we were not able to visit Penor Rinpoche at the hospital. The ceremony took place in the hospital lobby, and we had no opportunity to make the Shambhala offerings to His Holiness.
Later in the day, I decided to return to the hospital to give our offerings directly to Penor Rinpoche or to his chief attendant on behalf of the Sakyong and Shambhala community. Pema Namgyal and Jinpa joined me.
When we arrived at the hospital, we were told to rush to the left side of the building. His Holiness was leaving the hospital in an ambulance. When we arrived, a small number of monks and health care workers were helping Penor Rinpoche into the ambulance. I asked if we could make our offerings, and we were told to conduct our ceremony next to the ambulance.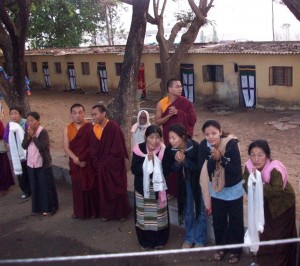 Pema Namgyal, Jinpa and I each held some of the offerings and offered them with meditation and prayers. I held the long khata which the Sakyong had blessed so powerfully and again the effect on me was profound.
Afterwards, I began to give the offerings to Penor Rinpoche's attendant, but he indicated that we could go behind the ambulance to see His Holiness. Penor Rinpoche was lying on his side with his eyes closed and was breathing with difficulty and determination. His face looked both peaceful and strong.
After a few moments of this powerful sight we went back to the chief attendant and gave the offerings. I told him about the special blessing that the Sakyong had given to the long khata and asked that it be given to His Holiness once they got back to Namdroling. He said he would put it with Penor Rinpoche on his bed.
It was not a good sign that Penor Rinpoche had been released from intensive care into an ambulance to return to the monastery. And I wept as we drove away.
Penor Rinpoche returned to Namdroling in the ambulance and passed away that night at 8:20pm. It was Friday, March 27, 2009. He remained in samadhi for almost 8 days before his parinirvana on April 3.
May all be open to the continuing blessings of this great Buddhist master!
Since retiring as Director of Karme Choling in 2003, Tom Bell has focused on studying the dharma. He has studied at the Mipham Academy at Karme Choling each year and at the Rigpe Dorje Institute at Pullahari Monastery in Kathmandu. This year was Tom's fifth winter at the Rigpe Dorje Institute and the completion of their five year course on the stages of the view. Afterwards, he travelled from Kathmandu to Delhi to meet with Sakyong Mipham Rinpoche about several matters and found him to be deeply concerned about Penor Rinpoche's health. His meeting with the Sakyong prompted the trip to South India described in this article.
Post Tags:
Penor Rinpoche