Wednesday
Community Articles
Intention for World Peace in 2009
By Susmita Barua
The Buddhist Peace Fellowship has decided to participate in the first global World March for Peace and Non-violence from October 2, 2009 to January 2, 2010. The March was initiated by "World Without Wars," an international organization launched by the Humanist Movement that has been working for 15 years in the fields of pacifism and non-violence.
It has received endorsements from 100 countries and many spiritual leaders including His Holiness Dalai Lama. As a community networker I would love to see peace advocates from all centers in our mandala join this global grassroots effort. Please add your comments below if you would like to get involved in generating community supported walk for peace and non-violence.
Inner Peace / Outer Peace
The first time I read Chogyam Trungpa Rinpoche's Sacred Path of a Warrior, it spoke to me deeply and I knew that I had walked this path before. I was so inspired by the vision of enlightened society and the engaged Buddhist path that I started organizing outreach right away for Lexington Shambhala in local Kitefest, Martin Luther King Peace March and Peace Fair. The pictures included with this article are from event.
My upbringing as a Buddhist amid a sea of poverty and suffering in Calcutta did not prepare me to handle the stress of watching senseless violence of modern day warfare from the comfort of my living room. There was a growing sense within me that for the world to be in peace I must regain my inner peace, sanity and joy. My spiritual journey began in all earnest with an intention to regain inner peace. 
Action for Peace
In my peace action work, I did local organizing and strategy building for grassroots efforts on the part of national organizations like Moveon.Org, Peace-Action.Org, UnitedforPeace.Org, Soaw.Org and many others. I attended initial peace rallies before the start of Iraq-war in order to actively hold the energy of peace in such places by being peace.
After the Iraq war began, a diverse crowd gathered downtown regularly for peace rallies or vigils organized by Central KY Peace and Justice. As a new American citizen, I felt empowered and humbled to be able to voice my dissent and non-cooperation with militarism. Among the crowd there were homeless, veterans, very old and very young, gay and lesbian groups, African-Americans, Asian-Americans, poets, artists, musicians, university professors, farmers, homemakers, children, disabled people in wheelchairs, and people from multiple faiths including Islam.
Fearless Peace
In response to the Iraq War, I wrote a blog in January 2007 "Green Alert for Fearless Peace" to inform and energize people to come out of their closet and take an active stand for peace. This was my second engagement in social action through the web, the first in 2001 when I created a website to connect socially aware and engaged citizens worldwide, which included an enlightened vision for the planet. My sense is our world will only know peace through a deep love of peace.
In between my activism, social networking and knowledge sharing, I also developed a process to apply mindfulness to all areas of my life to create optimum living for myself and my clients. In one of my deliberate living workshop, I was thrilled when a group of Christian women started asking me about the Buddhist path, local Buddhist groups and centers.
Social Suffering
I started contemplating on the root of "social duhkha" and how it can be addressed peacefully. My current intention is to develop an alternative economic model through "right understanding" of the economy. Already things are happening since I publicly started sharing this intention three years ago. My aspiration is to connect with a few Shambhalians interested in this issue.
This year's Peace and Global Citizenship Fair in my hometown has a wonderful theme: Peace is a song that everyone can play. My mentor and peace buddy Dr. Rebecca Glasscock gave me a challenge to come up with an activity for the "Economy of Peace" presentation. I am also working to promote awareness of engaged Buddhism as a community ambassador for the newly launched virtual chapter of Buddhist Peace Fellowship open to all interested in engaged Buddhism.
All photos by author. More are viewable by clicking here.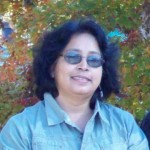 Susmita Barua came from India to the United States in 1985. Professionally she is trained as a geographer and urban-regional planner with M.Sc. and M.A. degrees. Her passion to understand the Nature of Reality and Self from a Universal Perspective led her to discover her own unique path in life. She is a Holistic Practitioner, Sacred Cyber Activist, Speaker and Visionary engaged in raising human consciousness both globally and locally. She is committed to empower the individual and transform the planet through her enlightened writings, transformational workshops and creative ideas in diverse fields.
Post Tags:
socially engaged