Wednesday
Community Articles, Featured Stories
Nurturing the Causes of Peace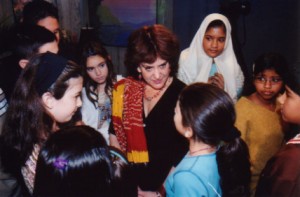 By Laura Simms
At the United Nations in 1996, young people from third-world countries were brought out of extreme poverty, war, displacement, child labor, or prostitution and flown to New York City for ten days. Their task was to design a Children's Bill of Rights. A journalist asked a 16-year-old Albanian girl if she would speak on the causes of war. The girl smiled gently, turned to the reporter, and said, "I would rather consider the causes of peace."
Over and over again, as Shambhalians, we are reminded that our willingness to investigate the nature of our minds and uncover inherent Basic Goodness is a prime cause for peace — both within ourselves and our world. Having looked closely at these things and begun the journey of revealing, acknowledging, experiencing, and fully recognizing the truth of the Basic Goodness, we are naturally motivated to extend ourselves to others with gentleness and compassion. These are the causes of peace.
Throughout the world, traditions – rooted in an understanding of wisdom and goodness as the essence of personal happiness and community harmony — offer stories for children and adults. By sharing these stories with each other…
…we can create and share templates for compassionate living. Listening to stories is a continual process of becoming more and more familiar with the flexibility and power of our minds, similar to becoming familiar with our minds in sitting meditation practice. Exchanging stories is a great preparation for sitting practice, because we are learning to place our minds on the story spoken and the images arising from within ourselves. We are coming back to vast mind and learning to experience complex feelings without disassociating, being overwhelmed by them, or getting swept away. As stories flow from one character to the next, one emotion to the next, one situation to the next, things change and this becomes practice for life.

— From the Shambhala Times article, When Monsters Become Protectors: The Transformational Power of Storytelling, by Laura Simms
Sharing traditional stories – or making up our own – engage the imagination and, in effect, imprint us with vivid experiences of wisdom. Often these tales, like the great Epic of Gesar or the raw tales of monsters who became protectors, inspire us to become vessels of transformation.
In the season of harvest, stories are told. Families and communities come together to gather crops and repair houses in preparation for imminent changes in weather. Stories are told in the evenings. Whether we are in the Northern Hemisphere preparing for winter, or in Africa getting ready for the rainy season, harvest is a time of hard work and cooperation – which leads to celebration. A young man from Sierra Leone (Sheku Monserey) said that the harvest time was a treasured time.
"The coming of rainy season was filled with the promise of possible hunger, difficulties and great hope. It is the time that we look at what we accomplished, and figure out how to go forward. It is also a time for looking at what we want to plant after the rainy season. As a child it was a time of love and concern."
In the next couple of days, to mark the Harvest of Peace, the Shambhala Times is offering three of these transformative tales: a retelling of the Greek myth of Demeter and Persephone; the most popular story in Bhutan, Meme Hayley Hayley; and the story of King Gesar's birth. In these stories, uncanny resourcefulness and inherent kindness bring joy and wealth — without a trace of the greed or self preoccupation that our societal story describes. My sense is that once we uplift the stories we tell ourselves and each other, enlightened society will be close at hand.
Post Tags:
Peace is the Answer
,
storytelling