Thursday
International Programs
Peace Within, Peace in the World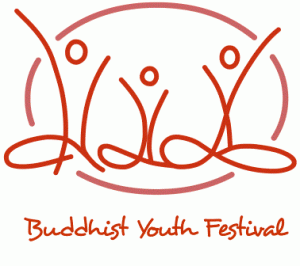 New theme for expanding Buddhist Youth Festival
Peace within, peace in the world is the theme of the Buddhist Youth Project, an initiative by Susanne Becker and Sophie Maclaren to support young practitioners and make the three jewels easily accessible to new young people. A key aspect of this project is the already established and celebrated European Buddhist Youth Festival. The slogan Peace within, peace in the worldwill also serve as the tagline for the festival from now on, highlighting the project's emphasis on offering young people opportunities to explore ways of cultivating inner peace and actively contributing to world peace. The Buddhist Youth Festival might go abroad next year and have its first North American edition. The organisers are contemplating exporting the festival – which is bringing lots of new people to Buddhism – to all continents in the future.
The next European edition will take place in Germany from 27 December to 1 January. Last year's festivals were very joyous and successful with more than a 120 participants from over 17 countries in Europe and the Americas, representing all kinds of Buddhist traditions, but also many lay people simply interested in exploring meditation. Lots of the youngsters that entered through the Buddhist Youth Festival showed up at Dechen Choling this summer to either serve as staff or participate in programmes like the Dathun and the Youth Leadership Programme.
Within the new theme Peace within, peace in the world are several topics that the participants will explore through guest speakers, workshops and discussions. Think of contemplative art (dance, painting, cooking, music, calligraphy, ikebana and photography), social engagement (how can we be of help to the world), Buddhism (what does it mean to be a young Buddhist in today's world) and meditative practices like tai chi, yoga and sitting. Of course there is lots of room as well for fun and parties. The festival is meant for people between 16 years and early 30s.
The third European Buddhist Youth Festival will take place in the old and beautiful castle Hotel Schloss Heinsheim. For more information and registration, click here. For a short impression of the first edition see the clip on YouTube, click here. If you want to help the Buddhist Youth Festival grow, please contact [email protected].
Read about last year's event: Buddhist Youth Festival 2008.
Post Tags:
Buddhist Youth Festival
,
Peace is the Answer