Monday
Community Articles
Prayer Flags: Make A Wish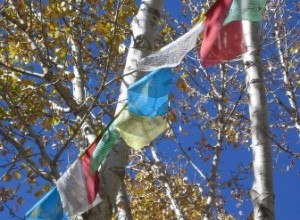 In the West, we have trouble visualizing the catastrophe of being poor and pregnant in Tibet. For every 15 women who conceive, one will die before or during delivery — it's three times safer to serve as a US soldier in Afghanistan than to become pregnant in Tibet. And among children born healthy, one in five will not live to see its 2nd birthday. These figures belong in the Middle Ages, not in our times.
At the foot of the Surmang Monastery lies Surmang Foundation's medical clinic. For 17 years, with your support, our clinic has helped the monks, nuns and common people of Surmang in the following ways:
Providing free health care to 20,000 Tibetans this year and more than 120,000 Tibetans over the past decade.

Providing buildings, desks, food and clothing to nearly 200 students in Modi schools.

Creating a corps of 40 community health workers that has saved the lives of over 100 women and children in the past 5 years.
We are asking for the support of you and your center in extending our medical coverage in Tibet. You can help with our Make A Wish campaign.
Prayer Flags: Make A Wish
We are enlisting Shambhala centers as partners in our campaign, Prayer Flags: Make A Wish. Supporters put their prayers, aspirations or wishes on a prayer flag to be flown at Surmang monastery, through the support of its abbot, Ven. Aten Rinpoche. You may offer your prayers easily on our website, http://www.surmang.org/flags/. The requested donation for flying your prayer flag is US $25.
What can you do?
Your prayers can be made for yourself or for others, and they can be offered as gifts in this holiday season. We would like to ask for your help in finding 25 people to participate. Participants can inscribe more than one flag. In addition, we'd like to set up an attractive display at your center, with a place for donations and a sign-up sheet.
We will follow this letter with a phone call to discuss ways that you can partner with our cause and extend your good aspirations in this endeavor.
Best wishes,
Lee Weingrad
Director, Surmang Foundation
Post Tags:
Surmang
,
Surmang Foundation