Friday
Community Articles, Featured Stories
One Centre, One Global Sustainability Effort
A look at the sustainability effort at the Halifax Shambhala Centre
By Richard Peisinger
The central focus of the Halifax Shambhala Centre Sustainability Initiative, formed in 2007, is to support conditions for success at the World Summit on Climate Change in Copenhagen from December 11-14. To send a message to the Canadian government on the need for agreement at the upcoming Copenhagen Summit, the members of the Shambhala Sustainability have joined with several other spiritual communities (Catholic, United, Jewish, Hindu, etc.) to form the Interfaith Coalition for Climate Change. The Coalition is now organizing a week of public actions in Halifax. We are asking Shambhalians to join in some or all events.
During week of Dec 7-12, individuals of all faiths will fast for a day or less to support the seven-day fast for Climate Change action that will be undertaken by a United Church leader in Calgary. Each day, those people who are taking part in the fast can join interfaith demonstrations at key government locations. On the concluding Saturday evening there will be an interfaith candlelight vigil at the Grand Parade in Halifax, to call attention to the Copenhagen Summit through chanting, prayer, silence and words from each spiritual community. We will read Sakyong Mipham's statement, Protecting the Earth. At the Shambhala Centre on Sunday morning, in harmony with observances at other spiritual communities, we will offer a lhasang and dedication to help purify obstacles.
Embedding Sustainability in Shambhala Culture
The Halifax Shambhala Centre Sustainability Initiative's intention is to establish sustainability as a central quality of the Shambhala Centre's aims, policies, and actions. We hope to introduce a greater awareness of sustainability into the lives of Shambhalians and to engage the Shambhala Centre in the sustainability efforts of the greater Atlantic Canada community. We understand this to be a basic and essential endeavor of enlightened society. Our working on a local centre level is in complete concert with intentions of Shambhala International's Touching the Earth group.
When the first Halifax Shambhala Centre Governing Council came into being last year, one of the first actions they took was to adopt a Shambhala Centre sustainability policy that had been developed in community workshops led by the Sustainability Initiative.
This policy states:

Recognizing the sacredness and the protection of the Earth's precious life-supporting ecology as a fundamental quality of Enlightened Society, the Halifax Shambhala Centre will hold environmental sustainability as a key principle in all of its governance, planning and affairs.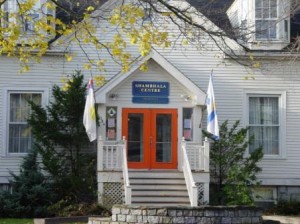 The Centre as a Community Sustainability Leader
Through the Sustainability Initiative, The Halifax Shambhala Centre was one of fourteen Sustainability Partners of the Atlantic Canada Sustainability Initiative, a collaborative project designed to build capacity and momentum around sustainability in Atlantic Canada. Other partners included the cities of Halifax and St. John, New Brunswick, the regional telephone company, a leading engineering firm, and a credit union. We were the single "faith" group.
All these varied organizations committed to use The Natural Step as a core framework to guide their efforts and all members received in-depth training in The Natural Step process. Six members of the Shambhala Sustainability Initiative took part in this training. We followed this up at the Shambhala Centre by presenting a number of community workshops to explore sustainability, and to introduce The Natural Step framework, in order to achieve a common language of sustainability and to develop an effective process to guide us along the evolution of Shambhala sustainability.
Many of the workshop participants took part in a day-long Shambhala Visioning session. We envisioned what a future sustainable Shambhala Centre would look like. From the sustainability destination of where we wanted to go, we back-cast to the present in order to develop a plan for how we might eventually get there. These community gatherings were successful in bringing forth Halifax Shambhala Centre Sustainability principles, objectives and the basis of an action plan.
What does Shambhala Sustainability Look Like?
Here is a list of some of the positive steps that have occurred at the Halifax Shambhala Centre in the past few years that are helping us realize our goals.
Shambhala Centre Energy Efficiency Building Audit – An outside consultant conducted this and provided guidance on improvements would give most bang for the buck.

Shambhala Centre Sustainability Baseline Audit– Initiative members carefully looked at the Shambhala Centre, including the physical space, usages and operations, to chart where we were, at that moment in time, regarding sustainability. This pointed out what we needed to do and will allow us to measure how far future actions have taken us.

Green Purchasing Guidelines – Provides suggestions for "going green" when shopping and ordering for the Centre activities or operations.

Monthly Sustainability Communications – The Shambhala Centre Banner newsletter carries a monthly column highlighting Centre sustainability actions and featuring sustainability in the lives of Centre members.

Bio-Diesel Fuel – Halifax Shambhala Centre heating fuel is now 20% bio-diesel processed from the discarded fish parts of a local pharmaceutical fish oil manufacturer.

Hot Water Insulation – The Shambhala Centre hot water heater was covered with an energy saving insulation blanket.

Signage – Signs have been placed throughout the Shambhala Centre as reminders to maintain our sustainability practices. One example is a sign in the kitchen reminding people to separate out their compostable waste.

Boycotting Disposables – Shambhala Centre instituted a policy to discontinue the use of disposable plastic and Styrofoam dining receptacles and flatware in the building. We added to our stock of dishes and glassware, and for occasional large gatherings we simply rent additional crockery and glassware. Members are also encouraged to bring their own food service items to feasts.

Recyclable Copier Paper – The Shambhala Centre is now using 100% recyclable paper at a nominal additional cost.

Sustainable Building Materials –A recent remodel was accomplished with regenerative bamboo flooring and Interface sustainable carpeting.

Outreach – The Sustainability Initiative presented workshops to help other Halifax organizations examining their path towards sustainability.

Public Sustainability Film Series – We offer sustainability films to the public throughout the year, with discussion following, and they are well-attended. These film nights have brought many new people through the doors of the Shambhala Centre and we are currently exploring co-hosting this series with an interested United Church group.

International Climate Day of Action – The Halifax Shambhala Centre was well represented at October 2009 Halifax demonstration as part of the largest ever international environmental protest.
Touching the Earth, Awakening the Warrior
A number of members of the Halifax Shambhala community are working with Lela Bruno, of the Boulder Centre, to develop a meaningful education program on sustainability for all Shambhala Centres as well as the general public. This will combine the indigenous understanding of the sacredness of the earth with selected Shambhala teachings and practices.
Touching the Earth is building from the outstanding programs and materials developed by the Pachamama Alliance. This is a very exciting undertaking and Touching the Earth is working closely with Kalapa Acharya Adam Lobel towards its possible integration into the curriculum of Shambhala.
______________________________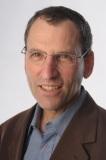 Richard Peisinger recently completed a long term Governor post with the retirement of the Council of Warrior at the recent Shambhala Congress. A current focus is raising Nova Scotia community investment funds for the new Halifax Seaport Farmers' Market, a jewel of Kalapa.
Post Tags:
Buddhist Response to Climate Change
,
Halifax
,
Touching the Earth