Thursday
Featured Stories
Part Three: K.O.S. Energy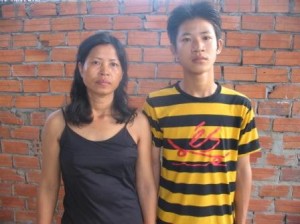 By Bill Scheffel
One of the most remarkable aspects of my time in Cambodia, indeed all of the traveling I did, was that I never felt closer to Lord Mukpo and my own spirituality and confidence. Farther, and for much longer periods of time, from my family, friends and spiritual community and institutions than I'd ever been, I felt far closer to them and to myself than I ever had. The sense of being able to continually touch my own human and spiritual strength and feel my teacher's presence [the drala's presence] in this simultaneity was a constant and striking phenomena.
Part of being alone as a wanderer meant I seldom if ever had conversations where I "explained myself," the kind of conversations we share with our friends as a matter of course; talking about ourselves, our relationship issues, our job issues, our aspirations, neurosis, spiritual insights, and giving our opinion on a thousand topics. The conversation I had, in the little Cambodian I leaned to speak, or the minimal English those around me might speak, meant I could only converse in simple and immediate ways; simply hello or how-are-you, names of the food I was served, jokes about the weather. I found these simple, minimal conversations delightful. I also found that I didn't miss "talking about myself" at all.
I began to experience more fully how we continually reinforce our acquired conditioning through our conversations, even those seemingly most sincere and of the best intent. It was a kind of "deconstruction" not to do this, which greatly reinforced and supported "being on retreat." Without the usual reinforcements of speech I become more open to the sights and phenomena around me, more reflective of my life and true direction. Less in the grip of anxiety. Perhaps more useful than being completely solitary and silent, I was with people each day – amidst thousands of them – without really saying much.
. . . . .
The combination of being alone, being largely silent, being without reference points enhanced my meditation, my writing and my sense of perspective. In the thinning ozone-layer of my own conceptual mind, the Shambhala teachings, long my cherished central source of study and practice began to appear differently, larger in implication and scope. I began to see the meaning of Shambhala anew. Though I'd always sensed or believed in these implications and scope, now I was not so much my thinking this as feeling it – it was the "K.O.S energy" communicating its atmosphere.
I felt or sensed two things. First, a conviction in the reality of "Shambhala" as embracing countless traditions, or expressing itself in countless ways and that somehow these traditions and ways – and in particular the dralas connected to them – were "longing to meet each other." That Shambhala is a kind of universal curiosity seeking to awake and interested in creating bridges, dialogues, communications and mutually supportive relationships between the myriad methods and traditions of awake. In the sense that dralas are agents of non-duality, of awake, Shambhala also represents dralas wanting to meet other dralas!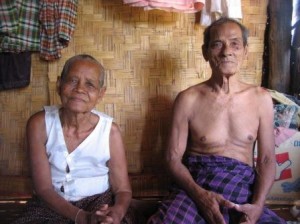 The drala principle is participatory and human beings are necessary participants. We not only must invoke drala in order to meet the dralas ourselves, but we have the potential, if we courageously follow the unknown auspicious coincidence of our own heart, to blaze paths where "dralas can meet dralas." If the drala principle is activated through the dynamic participation of human beings, creative and concrete benefit takes place – as it always has. The expression of this is through wisdom traditions meeting and mutually enhancing each other (even if each is represented by a single individual), or as one society exchanging with one another, opening both material and spiritual "trade routes" where cultural enrichment and healing could take place. Times of cultural flourishing or renaissance have always been times of such exchange (and invocation of drala). Is it too farfetched to infer that efforts to, say, reduce Middle East violence, mitigate global water crises, heal genocidal legacies or end the conscription of child soldiers could all be supported through dralas meeting dralas?
At the root of this sensibility – the reality of Shambhala as embracing (and thereby continually expressing) many traditions – is that Shambhala, by definition, cannot be owned, is not proprietary, is not the property of anyone or any one group. Shambhala is a quality, not a quantity. To say that one is "Shambhalian"- as we often do in the organizations founded by Lord Mukpo – should not imply membership but attitude – an attitude that is open-minded and curious to begin with, and also eventually daring and sophisticated.
In this very distinct, non-proprietary "K.O.S. energy" a basic principle of all "absolute" teachings became clearer, even obvious. "Absolute" is another word for unconditional truth, which by definition is fundamentally ineffable, beyond relativity, reference point and any conditions or conventions. Shambhala is such a teaching. The "relative truth" is the putting of this experience into language, into teachings, and the forms that develop to support the teaching and the experience the teachings are meant to foster.
For example, in the very beginning of the Shambhala Training program, which was intended to be "secular", we rented hotel convention rooms or other public spaces to hold the weekends in. We needed an environment without shines and the other Buddhist trappings that were part of the Dharmadhatus (the name of Shambhala meditation centers at the time). Even so, these convention rooms needed to be made functional and elegant; symbols and symbolism – relative truth – were a necessity. So we removed the chairs and tables, put down zafus and zabutans, flower arrangements and a speaker's chair and side-table. Finally we hung banners, large ones that hung from nearly ceiling to floor. One was the "Great Easter Sun", a gold circle with striped bands across the top. This one went in the front of the room, behind the director. The other was an arhat, an equally large banner with a silkscreened photograph of a statue from the Minneapolis Art Museum. The arhat, in meditation posture, somewhat stern, looking down in earnest and sincere diligence, was a Buddhist image, but it served simple to express the universal posture and potential of sitting meditation. For breakfast on Saturday and Sunday morning we served coffee with bagels, the latter being cheap, popular and easy to prepare.
These conventions worked well, worked beautifully. Through the personal instruction of Lord Mukpo, Osel Tendzin, the co-founder of Shambhala Training, and the others of us who become Shambhala directors, people began to sit in meditation and study the teachings derived from the terma Lord Mukpo received. For many years, this motif is what Shambhala meant to many people, and what it meant to be a "Shambhala person," including having the arhat banner hanging in the back of the room and eating bagels on Saturday.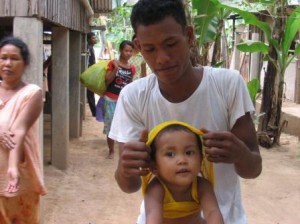 The non-existent dividing line between absolute and relative truth, between the unconditional and conventions is never very clear in the beginning of one's training. Later on, the confusion might become even greater, when the form becomes too aggressively insisted on, held on to – or even changed. In Shambhala Training we no longer hang the arhat banner, though we frequently still eat bagels, the former being long-forgotten, the latter a stubborn or endearing custom, depending on what one thinks of bagels. After thirty years of being taught, studied and practiced, as well as organizationally defined in varies and evolving ways, Shambhala means, most centrally of all, what it has come to mean in the experience of each individual, but also has come to mean all the ways in which we talk about is, agree or disagree on it, and so on.
If we go to the root of Shambhala Training and all that we call Shambhala, we find the terma Lord Mukpo received and the body of teaching he gave us to explain the terma. The terma, prophetic or revealed teachings, is the most direct expression of absolute truth (one could also say K.O.S energy), each word precise, potent with potential meaning and a durable ground of all future study. But even this terma is a relative expression of the absolute or unconditional truth it attempts to express. How much more so all the other forms and conventions that help developed around them. This is not necessarily to imply that even a single one of these forms is unnecessary or obsolete, but only that they are forms. In other places, in other times, myriad differing and diverse forms could have or will occur. This is only to make one point and raise one question. What we yet know of the Shambhala or K.O.S energy may only be a small part of it. And in this knowing, might we not easily misinterpret the little we do know, as the blind men did with the elephant?
These now seem to me crucial points, to continually contemplate how little we might actually know about Shambhala vision. For instance, a person is reading Shambhala: Sacred Path of the Warrior for the first time (as I saw a man in the café I frequent seemingly doing this just last week). The book may be awaking things in the man that are unique to him, to his capacity. Perhaps a stunning awakening or metamorphosis is taking place in him that will also lead to great realization or accomplishment on his part – and that he might never study or experience anything further of Shambhala. His experience of Shambhala, occurring in relationship to the book, could be as profound, creative or far-reaching as my own or anyone else's – and just from the single encounter with the book. In this sense, even if exaggerated, Shambhala is an "organism" of everyone who has encountered Lord Mukpo's teaching, even if "only" through reading, even if only through a dream. This organism will be far larger and look quite differently than any "organization" that might call itself Shambhala. My point is not to diminish the importance of organizations and institutions, but to illustrate that an organization is only part of the organism, the latter being ever-growing and impossible to measure.
______________________________________

Bill Scheffel is a writer, poet and videographer. Bill attended the 1978 Vajradhatu Seminary and served as a kusung to Chögyam Trungpa Rinpoche. He was a director of Shambhala Training from 1980 until 2009, including co-directing Warrior Assembly at Shambhala Mountain Center, Dorje Denma Ling and Cuncumen, Chile. Bill taught classes in meditation, creative writing and poetry at Naropa University from 1991 until 2004. His current work is devoted to contributing to an understanding of the drala principle and other activities, as described in his website, The Western Mountain Project.
Post Tags:
Chogyam Trungpa
,
Enlightened Society
,
kingdom of shambhala