Wednesday
Featured Stories
Part Two: K.O.S. Energy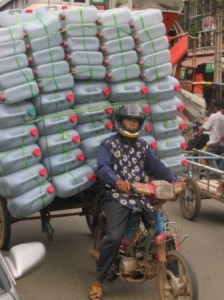 By Bill Scheffel
There was a time in Sihanoukville, shortly after I'd entered Cambodia on my second trip, that became my one of my strongest registering of what I began to call K.O.S. energy. Sihanoukville, a coastal town, became my first opportunity to really wander, and in that relaxation became the less self-conscious tourist.
One day, I met two boys on a path through the rice-fields. The older, maybe ten, could speak some English. "This path leads to a village, Sir. Would you like to go?" he asked. He was the kind of child whose head and face suggested a grown man, even an old one. He was dark, handsome, a man of great politeness and enthusiasm inside a very small body. "How would I get there?" I replied and waited for his answer, half wondering if their was conman-ship at work, perhaps a fee to see the village. "You would walk!" he laughed, saying it with a certainly and carefree amusement than made him even more enthused. He and his smaller companion, silent and smiling, walked on.
A few days later, I was up early, showered, and stood on the second floor porch of the $4 a night guest house I was staying in. Two large beetles lay dead on the cement floor, casualties of the incandescent light and picked at by ants. I walked down the stairs and out to a patch of leveled ground, red dirt waiting for a new building, someday. In the cool morning air, with a breeze moving the palm trees and the clothes-lines, with the sky filled with high clouds that would soon dissipate but were then variegated in blues and indigoes, with the discothèque still blaring karaoke music in the distance, I expelled stale air and began the twelve lujong, or Tibetan yoga, postures I did each morning. Chickens rooted around me and in that moment I realized this is the Kingdom of Shambhala.
Of course, I could also have had this realization on a ranch in Idaho or even a park bench in New York City. What counted, for me, was the force of the realization. A complete inner conviction that one thing the Kingdom of Shambhala meant, quite simply, was a return to a more elemental way of life. This vision of Shambhala is more than a nostalgia, which can remain as daydream, or become conservative and reactionary. The "return" to simplicity is a return to the future, the necessary bend in the cycle, a returning to sustainability.
I use the word "sustainable" also in this way: even the way we walk is not sustainable. It was through walking for a long time among people who walked at a very different pace than I did that made it clear to me that we no longer even know how to walk. The "ordinary" Cambodian" lives of life of intense nowness, doing simple work that is difficult and often grueling, is seldom if every rushing. Without haste, speed, anxiety, no yet severed from the "earth's rhythm" – the way people walked impressed me most of all. They could work all day, walk all day – and a human being's normal, languid and sometimes insouciant walk is a tremendous healthiness and joy.
. . . . .
Besides this elemental or earth-based sighting of the Kingdom of Shambhala, the K.O.S energy came to me in another way, with complimentary but differing implications. In presenting the Shambhala teaching, Lord Mukpo put great stress on the difference between "conventional mind" or experience and "unconditioned" experience. An unconditioned experience is the essence of basic goodness as well as the drala principle itself. When the world or our own being is glimpsed in the first moment – the "first thought" – before conceptual mediation and comment, we have an unconditioned experience, an experience of things as they are. To cut the rings of an onion with a sharp knife or hear a dragonfly before we see it – these, and all, perceptions, are first thought. In fact, everything we experience is first thought, but our conceptual, commenting process takes over so quickly we seldom realize it. Through a process of long, dedicated development, though both gentleness and courage, a person can come to live entirely in first thought or first moment. This is a fully realized warrior.
Someone who seeks unconditional experience or realization, which is to be fully human, must relinquish conventional mind. This does not mean becoming overtly unconventional (another form of convention) but moving beyond any and all of the ways we secure ourselves – i.e., our conventions. Convention exists to give us a structure, such as a highchair for a baby to eat. Convention is natural and at its best, necessary for that time or station. Each convention is also a highchair we must one day set aside. Crucial to understanding convention is to see that all conventions are relative. Cultures that eat on the floor do not need a highchair. Conventions are relative inventions and are passed onto us. We thus acquire our conditioning – from parents, society, school, church, etc. – and behave accordingly. To the extent we are governed by hope and fear, our acquired conditioning becomes habitual – a cocoon or even a prison we are reluctant to leave simply because we know it.
The Shambhala path is based on decreasing, or refraining from, unnecessary, obsolete, inappropriate (and eventually all) acquired conditioning. What is to be nourished, restored or cultivated is our unconditioned basic goodness, our essential nature – which each spiritual tradition has its own names for.
Stay tuned for Part Three, the grand finale is this series, tomorrow.
Post Tags:
Chogyam Trungpa
,
Enlightened Society
,
kingdom of shambhala