Friday
Dharma Teachings, Featured Stories, France, Spain
Zen and Tantra: In English
By Acharya David Schneider
To commemorate the release of The Teacup and The Skullcup in French, Acharya David Schneider gave a talk in Paris. This article provides some background. In the coming days, we will publish this article in French and feature the full recording of the talk, with translation provided.
In the late 8th century in Tibet a controversial, disastrous debate took place—one that helped determine the course Buddhism would take in the young Himalayan country, and one that had fatal consequences for all involved.
Or maybe not. Every aspect of the story has been sharply challenged—including the very existence of the debate itself—but the bare bones told are these:
In the 760's Emperor Trisong Detsen invited a Chinese Zen (Chan) monk of the Northern School to Lhasa. Hesheng Moheyan (Mahayana) as he was called, began to attract followers, so many that it alarmed the Indian Buddhist teachers already in town. A bit of spiritual push and shove took place, escalating until the Emperor decreed a debate: the winner's teachings would be accepted as orthodox, the loser's teachings would be banned. Called the Great Debate of Lhasa, it took place at glorious Samye.
The Ch'an view—sudden enlightenment—was supposed to be based on suppression of thought, and avoidance of moral training. The Indic view—gradual training, represented in the debate by the Ven. Kamalashila— stressed steady practice and a progression through stages. According to Tibetan histories, Kamalashila won. According to Chinese accounts Moheyan won. For reasons variously and badly explained, Moheyan is thought to have committed suicide—but not before dispatching a cadre of followers who pounced on and killed Kamalashila. Everybody died, and Zen went away.
When the Dunhuang caves in Central Asia were opened, textual evidence emerged showing that this neat morality play was just that—a fiction, reduced in the telling from subtly argued meditations to absurd positions very likely based on political power struggles. Some of Moheyan's actual teachings were found, as well as other Tibetan Chan manuscripts, many of them sounding very much like Dzogchen texts.
Skipping ahead almost exactly 1200 years to New Year's Day of 1974, in a small farmhouse in rural Vermont, Tibetan tantric master and scholar Chogyam Trungpa Rinpoche was beginning to teach the first of two seminars with the title Zen and Tantra. In these courses, held about a month apart, Trungpa Rinpoche set out to distinguish the philosophical underpinnings of the two traditions, the aims and styles of the meditation practices, and the aesthetic backgrounds in which the different systems flourished. Many of his students had recently been zen practitioners; the basic style of practice—sitting periods alternating with walking meditation—was virtually indistinguishable from zen. Trungpa Rinpoche himself had had at least two close friends who were Zen masters, and in the coming years would have at least three more. On the shrine, among pictures of Tibetan lineage holders, hung a photograph of the Zen master Shunryu Suzuki Roshi. "I think we are closer to Zen. We may be practicing Zen in the spirit of tantra," is what Trungpa Rinpoche himself said, chuckling about it, in response to a question. The seminars were recorded; parts of them were videotaped.
Skipping forward a mere 40 years now, to a café in the Louvre in Paris, author, editor and teacher Fabrice Midal told this writer about the existence of the seminars—some of which had been transcribed—and extolled their virtues. That conversation led, eventually, to Vajradhatu Publications' 2007 release of The Teacup and The Skullcup – an edition of the two seminars, together with other Zen materials from Trungpa Rinpoche's oevre. Three years after that, on April Fool's Day, the French edition appeared under the retro, if accurate, French title Zen et Tantra. To celebrate this history, and to launch the new edition, translator Vincent Bardet and I presented material from and about the book to a very full, borrowed shrine room in Paris's chic 3rd arrondissement. That is, right downtown in the oldest part of Paris, where on this warm evening we steeled our nerves before the event under the awning of Cafe Beaubourg and appreciated local sights.
The Paris Shambhala Centre has been disenfranchised for painfully many months (finding a good space in town is ridiculously difficult) and so has been meeting for meditation in a Kagyu centre affiliated with Lama Denys. In the large, nicely appointed but entirely airless space we held our little "causerie," adding to formal presentations personal stories. Both Vincent and I began our buddhist path in Zen, and under our graying hairs there remain shaven heads. We both met and fell in love with Trungpa Rinpoche when we were Zen students, and so carried in ourselves the themes discussed in the book – not, certainly, at the level that Trungpa Rinpoche presented them, but cellularly.
It was somehow a glorious evening. Old students and new thronged the place, creating a palpable cheer, especially during the elegant reception. The socializing spilled over, as it often does, into local restaurants, open late to trade fine food and drink for many of your Euros.
_______________________________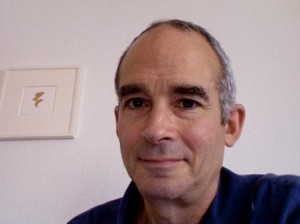 Acharya David Schneider was co-editor, together with Acharya Judy Lief, of The Teacup and The Skullcup. Vincent Bardet is an editor and translator, formerly of Editions le Seuil. Through the decades, he has been responsible for the appearance in French of many of Chogyam Trungpa Rinpoche's books.
Post Tags:
Chogyam Trungpa
,
Paris
,
Zen