Tuesday
Dharma Teachings, France, Spain, Mandala Projects
Zen et Tantra: En Francais
Par Acharya David Schneider, traduit par Vincent Bardet
To commemorate the release of The Teacup and The Skullcup in French, Acharya David Schneider gave a talk in Paris. This article provides some background. Click here to read the article in English. Soon, we will feature the full recording of the talk, with translation provided.
A la fin du VIIIème siècle au Tibet, un débat contradictoire désastreux eut lieu – qui contribua à déterminer le cours que prendrait le bouddhisme dans cette jeune nation himalayenne, et eut des répercussions fatales pour tous ses participants. Ou peut-être que non. Tous les détails de cette histoire ont été passés au crible de la critique – y compris l'existence même du débat – mais voici les faits succincts :
En 760 l'Empereur Trisong Detsen invita un moine zen (chan) de l'École du Nord à Lhassa. Hesheng Moheyan (Mahayana), comme on l'appelait, commença à attirer tellement de disciples que les maîtres indiens déjà sur place s'alarmèrent. Le lobbying spirituel faisait rage, la pression monta au point que l'Empereur décréta la tenue d'un débat : les enseignements du vainqueur seraient tenus pour orthodoxes, ceux du vaincu seraient bannis. Nommé le Grand Débat de Lhassa, cet événement prit place dans l'enceinte sacrée de Samyê.
La vision du Ch'an – l'éveil soudain – était censée provenir de l'arrêt des pensées, et de l'abandon de l'entraînement éthique. La doctrine indienne – l'entraînement graduel, représentée dans le débat par le Vénérable Kamalashila – insistait sur une pratique régulière et une progression par étapes. Selon les compte-rendus tibétains Kamalashila fut le vainqueur. Selon les compte-rendus chinois Moheyan fut le vainqueur. Pour des motifs diversement et maladroitement exposés, Moheyan est réputé s'être donné la mort, mais pas avant d'avoir dépêché une bande de disciples assassiner Kamalashila. Tout le monde est mort, et le Zen a disparu.
Au moment de la découverte des manuscrits cachés dans les Grottes de Dunhuang en Asie Centrale, des preuves textuelles furent exhumées, qui démontraient que cette histoire moralisatrice n'était que pure fiction, réduisant de subtiles argumentations méditatives à des positions absurdes, vraisemblablement fondées sur des luttes de pouvoir politiques. Les archéologues découvrirent des enseignements authentiques de Moheyan, ainsi que d'autres manuscrits chan tibétains, dont beaucoup ressemblaient fort à des textes dzogchen.
Douze siècles plus tard, au Nouvel An 1974, dans une petite ferme de la campagne du Vermont, le maître et érudit tibétain Chögyam Trungpa Rinpoche commença à tenir le premier de deux séminaires nommés Zen et Tantra. Dans ces conférences, prononcées à un mois d'écart, Trungpa Rinpoche entreprit de distinguer les bases philosophiques des deux traditions, le but et le style des pratiques de la méditation, et l'arrière-plan esthétique au sein duquel ces différents systèmes s'étaient épanouis. De nombreux étudiants de Chögyam Trungpa étaient des pratiquants fraîchement émoulus du Zen ; le style global de la pratique, des périodes de méditation assise alternant avec de la méditation en marche, était virtuellement indiscernable du Zen ; Trungpa Rinpoche lui-même avait au moins deux amis proches qui étaient maîtres zen, et dans les années qui allait suivre, il s'en ferait au moins trois nouveaux ; sur l'autel, à côté de portraits des maîtres tibétains de la lignée, figurait une photo du maître zen Shunryu Suzuki Roshi. « Je crois que nous sommes plus proches du Zen. Nous pratiquons peut-être le Zen dans l'esprit du Tantra », déclara Trungpa Rinpoche en s'esclaffant, à la suite d'une question. Les séminaires furent enregistrés, et une partie filmée en video.
Quarante ans plus tard, dans un café du quartier du Louvre à Paris, l'auteur, éditeur et enseignant Fabrice Midal révéla l'existence de ces séminaires à l'auteur de ces lignes. Certains avaient été retranscrits, il en exalta le contenu. Notre conversation conduisit à la publication de « The Teacup and The Skullcup », par Vajradhatu Publications en 2007, qui consistait en une édition des deux séminaires, accompagnés de documents zen tirés de l'œuvre de Trungpa Rinpoche. Trois années s'écoulèrent et, le Jour des Fous (1er Avril 2010), l'édition française parut sous le titre conservatoire sinon fidèle de « Zen et Tantra ». Pour célébrer cette aventure et lancer la nouvelle édition, le traducteur Vincent Bardet et moi-même présentâmes des informations sur le livre et à son sujet, auprès d'une nombreuse et enthousiaste assistance rassemblée dans un lieu de méditation ami, dans la zone chic du IIIème arrondissement de Paris – là même où, en cette chaude soirée, nous nous étions rafraîchis au Café Beaubourg avant le coup de feu, et avions admiré les beautés locales.
Le Centre de Shambhala de Paris est à la rue depuis un nombre pénible de mois (il est ridiculement difficile de trouver un espace adéquat en ville) et les méditations ont lieu dans un Centre Kagyu affilié à Lama Denys. Dans ce grand espace, gentiment arrangé, mais privé d'air, nous avons tenu notre petite « causerie », et nous avons ajouté aux présentations formelles des anecdotes personnelles. Vincent et moi avons fait nos classes dans le Zen, et sous nos cheveux argentés brille encore le crâne rasé. Nous avons chacun rencontré Trungpa Rinpoche alors que nous étions déjà des moines zen, et nous sommes tous deux tombés amoureux de lui, aussi avons-nous porté dans notre cœur les sujets discutés dans ce livre, certainement pas au niveau où les a traités Trungpa Rinpoche, mais viscéralement.
Ce fut en quelque sorte une soirée glorieuse. Les anciens étudiants et les nouveaux pratiquants grouillaient dans les lieux, créant un enthousiasme palpable, en particulier durant l'élégante réception qui a suivi. La soirée s'est terminée dans les restaurants avoisinants, où l'on se fait soulager de ses euros pour un délicieux dîner bien arrosé.
____________________________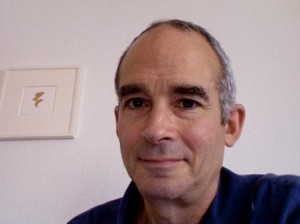 L'Acharya David Schneider a été co-éditeur avec l'Acharya Judy Lief de « The Teacup and The Skullcup ».
Vincent Bardet est un éditeur et traducteur longtemps au service des Éditions du Seuil. Au fil des décennies il s'est distingué comme le maître d'œuvre de la plupart des ouvrages de Chögyam Trungpa publiés en France.
Post Tags:
Chogyam Trungpa
,
Paris
,
Zen