Wednesday
Mandala Projects, Shambhala News Service
Chogyam Trungpa Legacy Project Launches Website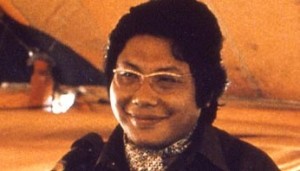 The Chogyam Trungpa Legacy Project has a new website. The Legacy Project was established in 2006. It supports and augments the preservation, propagation and publication of Trungpa Rinpoche's dharma teachings. It furthers these goals through support for existing programs as well as the initiation of new projects and programming.
Current projects the Legacy Project helps to support include the digitization of the Kasung teachings, the preservation and digitization of photographs in the Shambhala Archives, and curriculum support for Pema Chodron's Smile at Fear program in California in October.
The Legacy Project fulfills its role as part of the Shambhala mandala that Chogyam Trungpa founded and of which he was the lineage holder during his lifetime. The project is housed within Kalapa, the central governing structure of the mandala, with the Sakyong Jamgon Mipham Rinpoche and Lady Diana Mukpo as its patrons. It has an executive director and advisory board appointed by the Sakyong who work in close association with the President of Shambhala.
To read about the projects and goals of the Legacy Project, check out the new website at http://chogyamtrungpa.com/wp/ (There is also a coupon there with $10 off the Smile at Fear live streaming with Pema Chodron 15-17 October.)
Post Tags:
Chogyam Trungpa