Friday
Community Articles, Mountain States
Small Center, Big Heart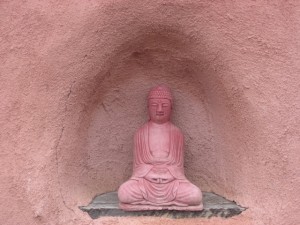 By Natasha Isenhour
My life path over the past forty-eight years has taken me seemingly to the edge of the earth and back. I have gone on many detours that led to dead ends. At a fork in the road of my lifetime of micro-managing, failed plans, and buried pain, I had a brief moment of clarity. That moment led me to the Albuquerque Shambhala Center last summer.
I have always had a great curiosity of Buddhism. There were bits and pieces I thought I understood, but I never felt that I had the tools to apply these principles to my life. So, with no idea what to expect, I made an appointment for meditation instruction at the Albuquerque Shambhala Center.
I drove a little over an hour from my home to a part of the city I had never visited. The directions led me to a beautiful traditional New Mexico home in a comfortable, quiet neighborhood. At first glance, this was not what I thought a meditation center would look like. I was greeted at the door and gently asked by Ingrid Koster and Devon Finnegan, who run the Center, to remove my shoes. The moment I stepped into the energetically charged shrine room, I knew that my life direction had changed.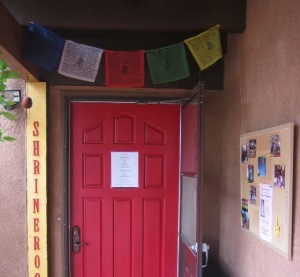 During that introduction, I learned about the Heart of Warriorship training that was coming up in the fall. Eager yet timid, I signed up for Level I, still not quite sure what to expect. After all, the training was an hour away and something completely unfamiliar. It was, above all, a commitment!
September came and I jumped into "Level I: The Art of Being Human" wholeheartedly. What I found was a shrine room full of people like myself, looking for relief from the baggage of life. Mingling with us were Shambhala warriors to help us along the path of self-discovery.
I left Level I full of joy and enthusiasm to learn more about Shambhala and to practice what I had learned. Very soon thereafter, though intimidated by reading about a mindfulness that seemed unattainable, I signed up for Level II.
Up to that point, I thought I had understood all there was to know about the traumatic events of my life. But suddenly, a tumble of memories of abandonment, change and violence flooded my mind during meditation. These memories seemed to do everything possible to disrupt my quest for peaceful abiding. Warriorship was still very new and I doubted my ability to continue–mentally, physically and financially.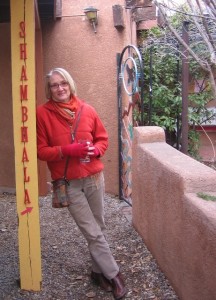 Through communication with Devon and Ingrid, plus other leaders in the community, I began to realize that the harder it seemed for me to continue, the more I needed to practice. Ingrid had used the term "auspicious coincidence" with me on one occasion, and at this juncture I believe that term describes my experience with Shambhala Warriorship and timing (in my life) precisely. The Center was accommodating in every way to allow me the opportunity to continue this path that was becoming so important to me.
With a heart overflowing with suffering, I arrived for Level III. Quite unexpectedly, over that weekend, I learned what it was like to feel safe and to begin to open my heart. This young Shambhala Center felt like an old, wise soul there to support (but not to carry) us. We had all come together with our own lifetime of unique experiences for one common goal: to become "warriors in the world."
Thus far, the center had pulled in instructors that were as diverse as those of us seeking to learn from them. That flow continued throughout the remaining two Shambhala Training levels. Although so many of the participants in Level I had met with diversions along the way, preventing them from staying with the training at the time, the increasingly smaller group continued to appreciate a richer and richer experience. Our bond with each other and the Shambhala Center grew closer while our hearts opened further and further to the teachings and the practice.
One of the most awe-inspiring moments came on Sunday morning during Level V. Our teacher had opened a block of time for the larger Shambhala community to join our Level in guided meditation. Suddenly this intimate experience with our small group, opened to the energy of a shrine room full of people sitting together! The feeling of being part of something greater and quite powerful was incredible! It seemed everyone was affected including the Director and staff. The Center was growing and the evidence of change was right before our eyes. It was a perfect illustration of the whole picture of creating enlightened society.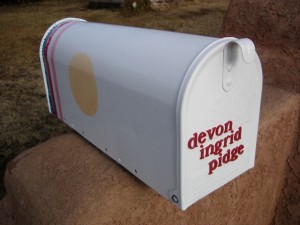 This small center with a big heart is such a gift. Its caring and unselfish caretakers, Devon and Ingrid, are an inspiration to all of us. I can't imagine a better next step on the path that to start the Sacred Path training this fall.

Natasha Isenhour is an artist based in New Mexico and member of the Albuquerque Shambhala Center. Her artwork can be viewed at:
www.natashaisenhour.com
Post Tags:
Albuquerque
,
Shambhala Training