Monday
Community Articles, World, other
Speaking all of Shambhala's Many Languages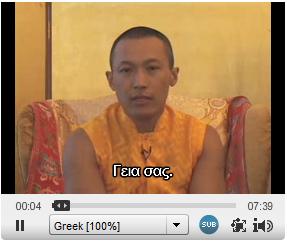 By Chris Montone, Hamish Maclaren and Luz Rodriguez. Several of the Sakyong's videoes are now captioned in several languages, the result of a multi-national, multi-lingual effort. Click here to read this article in Spanish.
Shambhala is a multilingual society and for many years several groups and individuals within Shambhala have been translating from English into many languages: texts, practice materials, chants, the Vidyadhara's and Sakyong's books, providing simultaneous translations at Dechen Choling, etc. There is now a position on the Kalapa Executive for a Director of Multilingual Development, as you may have seen in the recent Shambhala Governance announcement.
For the last several months, Chris Montone, Director of Shambhala Europe and Hamish Maclaren, Chair of the Accessibility Working Group of the Sakyong's Council, have been collaborating on another project to make the Vidyadhara's and Sakyong's teachings more available to the many–well over six billion–non-native English-speakers worldwide. This is also to improve accessibility to them for the millions of people who are deaf or have hearing impairments. Shambhala is very much committed to serving and providing ever-improving accessibility to both of these groups.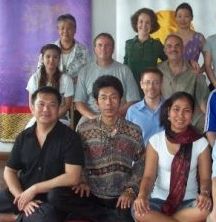 In their spare time, Chris and Hamish, with the enthusiastic support of Shambhala Media and Shambhala Information Technology Services, have been transcribing and captioning (subtitling) in English, and others have been translating, the online video teachings of the Vidyadhara, Chögyam Trungpa Rinpoche and the Sakyong, Mipham Rinpoche. Starting with short videos that have already been posted online, either on shambhala.org or sakyong.com. At least 18 video teachings have been transcribed and captioned into English so far. They are mostly under 10 minutes long.
Our goal is to eventually make these captioned videos available on the online Teaching Libraries on those two web sites, and for Shambhala Centres and Groups to use on their own websites or for their open house and open evening events. For some time now various Shambhala Centers have provided sign language interpreters for certain events, so different forms of creating and presenting captions can obviously be very helpful too.
Shambhala has centers and groups in over two dozen non-Anglophone countries. So we felt it was very important to do this and to keep thinking bigger and broader, and to keep expanding our Shambhala vision beyond the limits of the English language.
In looking into some statistic we found the challenges are big. Of the approximately 6.8 billion people on the earth, about 95% are not native English speakers. 75-80% do not speak English as a native, nor even as a second language to any extent. This suggest that perhaps over 4 out of 5 people in the world have no real understanding of the English language. One report showed languages other than English account for 72.3 % of internet users by language. Currently in Shambhala English is the native language for probably well over half of us, so we continue to keep working to catch and correct any Anglo centric biases and to find more ways to make the teachings available to this much bigger audience.
In addition to providing translations at talks, and captioning of videos, we have been looking into such things as providing simultaneous transcribing of talks, that can be seen in real time, and later be used as a source for captioning and translation the videos. Once there are English captions it is much easier to add captions in other languages. This is again also very helpful to the many millions of people throughout the world who are deaf or have hearing impairments and who obviously can't hear the dharma. As our age demographic rises there are increasing numbers of people with this issue in Shambhala.
For this captioning and translating project the group is using software available from dotSUB.com, which allows multiple translators to log in and work with the files simultaneously, and it makes new translations very easy to add in.
You can see the captioned video Learning to Meditate on every page of the Shambhala Times. You can select the caption language of your preference–English, Spanish, Portuguese, Greek, Persian (Farsi) or Chinese (traditional or simplified) with more languages to come.
A link to another video "Motivation" is also on the Shambhala Times, this has captions in Swedish, Czech, Spanish, Greek, English, Portuguese, and Chinese (traditional and simplified).
Several members of Shambhala, who have very generously offered to proofread and to translate the captions into other languages, have helped tremendously with this endeavor.
We have been very inspired by how enthusiastic the people we've invited to translate have been about this project. Translators for Chinese, Czech, Spanish, French, Portuguese, Swedish, Greek, Persian Farsi and German have joined the group and begun captioning into those languages. Thank you very much to all of them!
We are currently looking for more volunteer translators in more languages, and people with experience with closed captioning. If you'd like to help, please contact either Hamish ([email protected]) or Chris ([email protected] ).
For more information on Shambhala Europe please click here. Also for Shambhala's Accessibility and Disability work, click here. For information on you can see the German and French, Spanish language sections of the Shambhala Times.
Post Tags:
Multilingual
,
Sakyong Mipham
,
Shambhala Europe