Sunday
Community Articles
'Love' Balloons over Boulder for Princess Drukmo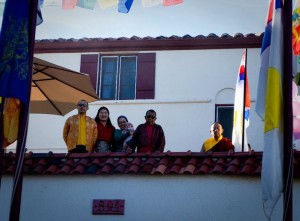 On Saturday, November 6 pink, red, and white 'Love' balloons surrounded Marpa House as Boulder and the Front Range community greeted Princess Drukmo. For much of the event she appeared as a tiny pink dot cradled in her mother's arms on a balcony above the crowd who gathered. But as the community passed through the receiving line and offered khatas and flowers, each had the chance to breathe in the depth of her gaze.
Photographs courtesy of Michael Levy, Chase Weatherfield Bauer, and Elaine Logan.
Click on the photographs to enlarge them.
Post Tags:
Jetsun Drukmo
,
Marpa House
,
Mukpo Baby News