Wednesday
Opinion Pieces
Natural Gas in Nova Scotia: What's best for all?
By Judy Bond
Last week Nova Scotia accepted bids from companies proposing to develop onshore natural gas reservoirs from shale deep under the province. Natural gas is cleaner burning than coal and oil, creates less global warming, and is locally available. But what are the pros and cons for Nova Scotia?
While the hydraulic fracturing procedure has been used by the oil, gas and water well industries for many years, its application to producing shale gas is a recent development in the last decade or so. Now that oil and gas from sandstones and limestones is starting to decline, and coal has to be imported to Nova Scotia, the time has come to look at mining more inaccessible shale gas to fill the energy gap until renewable sources of energy like solar, wind, tidal, and hydroelectric can be more widely used.
To its credit, the province has not turned to nuclear power to generate electricity, and it is vigorously pursuing renewables. At the same time, Nova Scotia sits on an estimated 69 trillion cubic feet of shale gas and 1 trillion cubic feet of coalbed methane, which can be mined for natural gas. Here are the figures for 2001 and proposed figures for 2011 from the Nova Scotia Government's Renewable Energy Plan published in 11/2010:
Nova Scotia: Sources of Fuel for Electricity Generation

Coal and petroleum (mostly imported) 89% in 2001
Coal and petroleum (mostly imported) 75 % proposed for 2011

Natural gas (local) 1% in 2001
Natural gas (local) 10-13% proposed for 2011

Renewable sources (wind, solar, and hydroelectric) 10%
Renewable sources (tidal, wind, solar, and hydroelectric) 14% proposed for 2011
How is a shale gas field brought into production? Typically we are looking at each well sitting on a 5 acre parcel, within a field of many wells that cover a large area, with a density of one well per 88 acres. It takes months to drill and complete a well to 10,000 feet, say, a matter of days to frack the shale in the producing formation, after which a well may produce gas for years into a storage tank or hooked up to a pipeline. This is successfully happening in the Haynesville shale of Northern Louisiana.
So why is there public opposition to shale gas production? There have been problems and there are problems now because governments do not have in place and enforce regulations to make sure that wells are properly constructed. The casing is cemented to the side of the hole to prevent the fracking fluid from getting into fresh groundwater, usually located within a depth of a few hundred feet below the surface. Some fracking fluid comes back up the hole and must be recycled or disposed of down another well built for that purpose. Moreover, the source of the fluid that is used for fracking must be specified and regulated if it is to come from surface water. Importantly, the local geology should not include faults that could open during fracking and act as conduits to the fresh water.
In the larger picture, some wildlife habitat will be destroyed and fragmented, roads will be added, drilling rigs and pipe must be trucked in and out initially, and taxes or royalties must go to the province.
Given that there are vast amounts of shale gas available to be produced worldwide, and that this production is needed and being investigated, Nova Scotia could be the shining example of a province that develops this resource properly. This would mean cleaner air and less global warming worldwide, and less dependence on foreign energy sources for all.
I can't help but think that the Vidyadhara knew about the vast treasure of elemental energy under, above and around Nova Scotia when he chose it for the birthplace of enlightened society years ago. There was coal and now it is gone. At present, there is natural gas from local shale and coal seams to use until hydroelectric, solar, wind and tide become more feasible.
May this benefit Nova Scotia and sentient beings in general.
May enlightened society flourish, prosper and spread!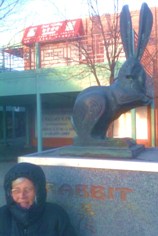 Longtime Shambhala Buddhist, science educator, and former research geologist Judy Bond responds to the public outcry in Nova Scotia concerning hydraulic fracturing or 'fracking' for natural gas.
Ms Bond attended the 1979 Seminary with the Vidyadhara, Chogyam Trungpa Rinpoche. She has been trained by the EPA in the construction and siting of hazardous waste disposal wells, a related technology. She lives in Maryland where she teaches Shambhala Art, Ikebana and the Way of Shambhala curriculum.
Read more about this issue on the Washington Post.
Post Tags:
environment
,
natural gas
,
Nova Scotia