Sunday
Community Articles
Earth Hour by Candlelight
By Joel Shecter
8:30 pm… candles are lit one by one… lights turn off…
The Touching the Earth Group sponsored the 2011 Earth Hour by encouraging centers to hold a candle light sit. Earth Hour has become one of the worlds largest collective acts of sustainability, involving 150 countries and as many peoples. For a meditation community, Earth Hour is about the critical issue of sustainability, but it is also a time to contemplate how spiritual practice connects to the current environmental crisis. Does our inner spiritual path connect with the goal of creating an environmentally sustainable and socially just human presence on this planet? This question seemed to pervade the circle of twenty seven people gathered at the Toronto Shambhala Centre.
….candle flames flutter… stillness… no hum of lights… we sit still and rotate… with the planet in space… 1000 miles an hour…
The message I want to express today is that unless we as Shambhalians acknowledge basic goodness…we have no future. It is us actually having confidence and bravery in the most inner level of who we are. To be dramatic, we are at a critical point. If humanity does not look inner and feel their basic goodness, then the future is very bleak indeed.

– Sakyong Mipham Rinpoche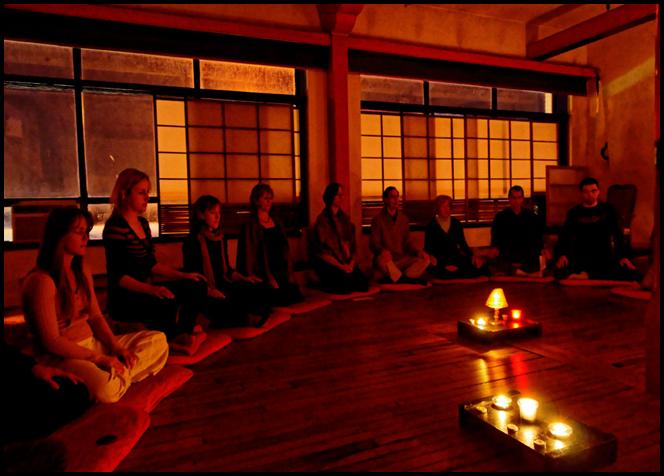 ten minutes pass in silence… the gong is struck…
We opened the room to conversation, which was intended to last just twenty minutes before more sitting, but people were inspired and lively, and we did not begin our final contemplations until the fifty minute mark. Conversation seemed more important than silence. There were two teens who spoke about the technology they are exposed to, how every month the next version of the latest gadget must be purchased to keep up with everyone else. Their journey will be even harder, in some ways, than the rest of us.
People spoke about what they are doing to promote a healthy environment at home, during work and in their community. They spoke about how powerful and prevailing materialism is–at the expense of the natural world. We do care about the planet, passionately, but the enormity and incomprehensible urgency of the situation also breeds frustration and hopelessness. Our very planet is in peril? Our very survival is in jeopardy? Wow… hard to see, even harder to feel.
beyond the window, the city is darkened… we sit on a planet hurtling through space… 14 billion years in the making…
This is a powerful paradox; the tremendous scale of the problem can lead to panic and desperation. Yet it is this very overwhelming enormity that can also ignite tremendous inspiration and an unwavering urgency, powerful enough to motivate sustained action.
It is into this soupy mixture of hopelessness and inspiration that we must leap. The scale of what faces us is gigantic, towering like mountains. How to move such mountains? Someone in our group said that it begins with our own hearts, with our own sense of basic goodness. Could the power to move mountains rest in the smallest of places: our hearts? Can gentleness have such power? Can my own heart ignite the flames of inspiration without quickly burning down to warm coals?
…a heart feels a fluttering glimpse of openness…a breathe of space…ahhhhhaa
Basic goodness. A moment of openness, stepping into the gap… space. What do we discover there? Is that warmth and energy created by us, or are they already there? An endless, inexhaustible resource?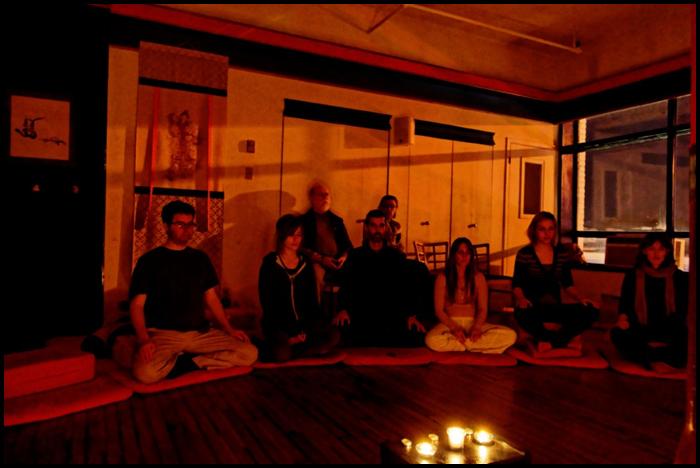 we look into our minds…. see the tiny seeds of all the world's woes… they are mine and they are yours….

Is the ego sustainable? Perhaps it is the greatest polluter of all. Does not greed and self-interest lead to all unnecessary suffering on the planet? Does greed not grow from the deepest depths of the ego? Can we extract from it endlessly? Might we reach the bottom and find that we can draw no more…it is no longer renewable…too much damage has been done and it is too late to find an alternative source of energy?
…in our hearts is the entire world… in the world all our hearts….
So, can mountains be moved by going into our own hearts? Going deep into the quietest and stillest place within us do we find solitary refuge from the world, or something bigger, something that can actually change the world?
That is a question that only we as individuals can answer. And as I look around the circle and see the faces dimmed and shaped by the fluttering candle light, I know that each of us, in our own way, is asking that very question.
When human beings lose their connection to nature, to heaven and earth, then they do not know how to nurture their environment or how to rule their world – which is saying the same thing. Human beings destroy their ecology at the same time they destroy one another. From that perspective, healing our society goes hand in hand with healing our personal elemental connection with the phenomenal world.

– Chogyam Trungpa Rinpoche
9:30… candles are extinguished… room falls into darkness for a moment… lights back on…
CN tower lights up….
Photos courtesy of Harald Dienes.
Post Tags:
Earth Day
,
Earth Hour
,
Protecting the Earth and Trees