Monday
Community Articles
Help Save Trees at SMC
Bob and Lindy King share their concern for the survival of the Ponderosa Pine forest at Shambhala Mountain Center in this poignant and timely call for action. They ask the Shambhala community to take to heart this very serious and imminent threat to the trees at Shambhala Mountain Center and see if you are inspired to help.
The grim scenario is that virtually every tree at SMC will die.
The mountain pine beetle is no bigger than a piece of pencil lead and yet this little insect and the fungus it carries will most assuredly kill virtually every Ponderosa Pine tree on the land over the next 5 years. Other than the clumps of aspen trees, Shambhala Mountain Center's mature trees are 90% Ponderosa. You may well have seen the vast tracks of dead forest left in the wake of the beetles march across the western slopes of Colorado. They have now crossed the continental divide and arrived at SMC, killing 2,400 trees last year alone.
It is possible to save some trees.
Right now we have the option of saving trees by preventative spraying. We have located an experienced company that we like and trust, called Timberline, who will spray for us using the most benign and ecological insecticide that is still effective. The product is called Permethrin, which is a synthetic version of an insecticide made from the extract of, most auspiciously, the chrysanthemum flower.
Although using any kind of insecticide is undesirable, this one is relatively non-toxic, being used in insect repellent creams, indoor bug bombs, human lice treatments and around food crops.
Timing is crucial. We must spray within a month.
The beetles fly from their host trees which are now dead, as early as mid June. There is nothing to be done after the beetles enter a tree, so the spraying must occur late May or early June. Although we are on Timberline's schedule, we have not yet determined how many trees we can afford to spray. This will depend in large part on your response.
Cost: Not much more than removing dead trees.
The cost of spraying each tree is $9.25 per year for an estimated 5-6 years (the actual duration of the beetle epidemic depends on numerous unpredictable factors), so it is roughly $50 per tree. It costs an average of $34 per tree to remove dead ones, which we would need to do for fire prevention, further beetle control and aesthetic reasons. The difference is only $16 per tree! And at that point, we have not only saved a tree but also saved the land from being torn up by the tree removal machinery.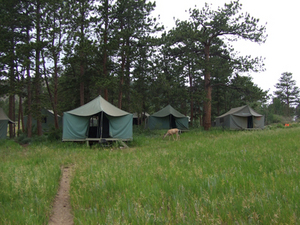 The benefits: visual, financial and environmental.
Obviously the difference between an SMC with trees and the unbearable image of SMC without trees is immeasurable. Beyond the visual and emotional horror, there would most certainly be a substantial economic impact in terms of SMC's desirability as a program venue. (Just imagine, for example, all of the campgrounds and tents having no shade trees.) Beyond just aesthetics, the ecological benefit of saving a tree is enormous: wildlife habitat, windbreak, soil erosion control, shade, oxygen production, global warming , etc. The effect of saving one mature pine tree is roughly equivalent to not driving 750 miles each year, in terms of carbon footprint.
If you feel inspired to help.
You can save one tree by donating $50 or save 20 trees by donating $1000 or, of course, any other quantity that you choose. You also have the option of donating your desired amount now and pledging to donate that same amount for the next 4 years, multiplying your impact over time.
If you get to Shambhala Mountain Center in the next year you can pick out the individual tree or trees that you have saved and mark them with a special ribbon which will be provided for you. Remember that any given tree that is sprayed has a 94% chance of surviving the beetle epidemic.
Please contribute to our efforts…

Or send a check made out to Shambhala Mountain Center marked "Save a Tree" to:
Shambhala Mountain Center
151 Shambhala Way
Red Feather Lakes, CO 80545
Please know that we, Lindy and Bob, will be working closely with SMC over the next 5 years to help manage this project and the funds associated with it. We will keep you posted on the progress we make and any new developments with annual e-mails.
Thank you so much for joining us in this endeavor to save trees at Shambhala Mountain Center. In doing so, we know we are avoiding painful remorse that we would definitely feel if we were to miss this critical opportunity for action.
Genuinely yours,
Bob and Lindy King
Post Tags:
Protecting the Earth and Trees
,
Shambhala Mountain Center