Friday
Community Articles
Gaining Ground against Beetle Infestation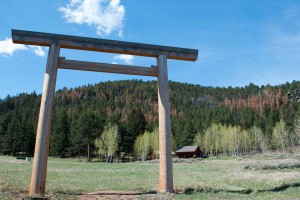 Report from Shambhala Mountain Center
by Shambhala Times Regional Correspondent Leslie Witt
Brown, dead ponderosa pines have given way to open ground as Shambhala Mountain Center (SMC) battles to save its forest from the mountain pine beetle. Now in the second year of an aggressive, proactive program of tree removal and prevention, SMC's remaining forests are standing firm. Planners now brace for an uncertain future.

"We are not harboring any illusions that there will not be more infestation," said Chad Hofmann, Land Steward for SMC. "This could continue for three, five, even seven more years; we don't really know. It all depends on which way the wind is blowing, what the beetle populations are and where they will fly. There are so many uncontrollable factors."
The forests of Shambhala Mountain Center have been under attack from the mountain pine beetle since summer of 2009. An international epidemic has been raging for the past 15 years, with beetles devastating forests from New Mexico to British Columbia. Pine beetles kill trees by boring under the bark, laying larvae, eating the wood, and infecting the sapwood with deadly fungus. Once a tree is infected it becomes a nursery for beetles and must be removed. Beetles tend to spread from one infected tree to neighboring trees but also fly long distances blown by the wind.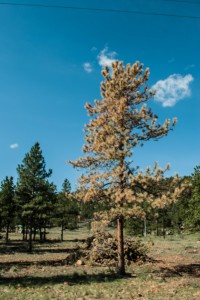 Although pine beetles have always been present in western forests, a trio of conditions has allowed their population to explode: extended drought, warm winters, and, deadliest of all, years of short-sighted forest management and land use allowing a dense forest structure to develop.
The battle against the beetle has two components: logging out infected and crowded trees and treating the remaining trees with insecticides or repellent pheromone pouches. There is no guarantee of success. In fact, some beetle experts say the only solution is to clear cut the pine and let the land regenerate into a mix of hardwood and softwood.
Yet Shambhala Mountain Center's threatened forests seem to be reaping the benefits of hard work and tough decisions. Where in the winter of 2010-2011 surveyors found over 2,500 infected trees, and 3,100 in total were removed, this fall's survey found only 1,500 infected trees, a remarkably low infection rate, according to Hofmann.
"On average the pine beetle will infest five new trees for each infested tree the year before. If we have not done the tree removal work last year we could have seen an excess of 12,000 infested trees this year," he said.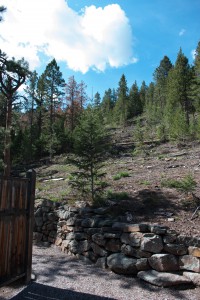 Prevention also seems to be holding back the spread of the beetle, at least at SMC. In the spring of 2011, the center sprayed 1,000 trees with insecticide and hung beetle-repellant pheromone pouches on an additional 350. One year later beetles have hit only two sprayed trees and two pouched trees.
Since beetles fly in to infest, what happens on neighboring properties is a matter for concern. Ben Delatour Scout Ranch, SMC's neighbor to the east, is undertaking its own program of managing the infestation, using private contractors and help from the Colorado State Forest Service.
The land west of SMC, owned and managed by the United States Forest Service, has been thinned for wildfire prevention but has not received direct treatment for pine beetles. "The Forest Service land is being heavily hit," said Hofmann. "All in all, on this land, right up to the property boundaries, you won't see many dead trees. But beyond our property, in areas that might seem to be part of SMC but actually belong to the Forest Service, you can see dying trees. We can only do what we can do."
The continued beetle infestation has changed the face of SMC. Many trees have been removed, leaving areas bare. Thankfully, there have been no significant erosion problems. Some reseeding of native grasses and wildflowers in disturbed areas has already been done, but tree planting will wait until all removal work is completed. The Colorado State Forest Service will provide seedlings at low cost, meaning replanting can be done fairly inexpensively with the help of volunteers.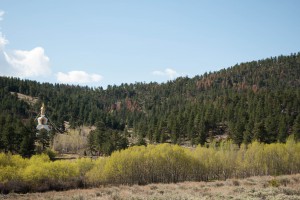 A fundraising campaign is in the works to pay for ongoing assessment, prevention, and restoration. This includes active partnerships with the Dorje Kasung leadership, Sun Camp, Shambhala Mountain Center and local sangha members Bob and Lindy King.
Events of the past year are informing how the coming years will unfold. Last winter a hired tree contractor used heavy logging equipment into the spring thaw, tearing up the ground and creating a disruption. This year, SMC staff and local sangha cooperatively removed newly infected trees using existing skidder trails while the ground was frozen, resulting in less noise, less equipment on site and less soil disruption. As the battle rages on, its soldiers are becoming increasingly effective, while remaining sensitive to the land and the needs of its tenants.
This current wave of mountain pine beetle infestation is by no means over. Yet in the long term, land managers must change how they care for the land, stressed Hofmann. "We need to build a healthy forest capable of withstanding future infestations. Fundamentally we have altered the forest structure through our lack of knowledge. We took forest that was dependent on wildfire and created a structure that is stressed and susceptible. Having awareness of this is good, because we can change things for the better."
Post Tags:
forest conservation
,
pine beetle
,
Protecting the Earth and Trees
,
Shambhala Mountain Center