Sunday
Featured Stories
Going Dutch? Attracting Generation Y to Shambhala Programs with Youth Discount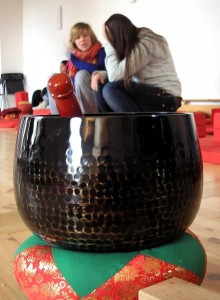 By Geertje Couwenbergh
A Saturday in mid-January at the Amsterdam Shambhala Meditation Center sets the stage for an unusual display. The center's main shrine room is packed and buzzing with people whose expectations, hopes and doubts are so tangible that I can almost gnaw on it. It's more than their brave decision to face themselves for an entire weekend that is making me perk up at the start of this Level One program. What's unusual, I realize while the participants and staff introduce themselves to each other, is that almost half of the participants are young people. That's right–sneaker wearing, dreadlocked, cellphone struttin', fresh, flirting youngsters!
Shambhala's generous definition of youth being anyone younger than thirty makes me part of that crowd. And I must admit it was a pleasant surprise not having to tone down or up my natural conversational style –not to mention being able to swap dharmic smartphone apps. It was only later I found out that I actually witnessed an unique event in Shambhala history. Out of the forty-five participants, twenty of them were younger than thirty. In addition to that, we were three of us on staff. This was a far cry from my own Level One–being the only puppy in the pack–experience. However historical (and hysterical) this weekend was, I have to say that the overwhelming amount of youngsters didn't really surprise me.
The match between my generation and the dharma has become so obvious to me over these last years that I actually wrote an entire book about it called 10 WYS: the wisdom revolution. Looking at my own life and that of those around me, I found that the issues of my generation, being faced with fundamental flaws in the very structure of our culture–politically, economically, environmentally, and spiritually–provide highly fertile ground for the seed of dharma. Being brought up in the relatively carefree nineties, filled with MTV and job opportunities, us Generation Y'ers bring an open and mildly naive optimism into the equation. Since our parents already shed much of the dogmatic baggage that could spiritually hold us down, we are a generation with a collective beginner's mind, you could say. That beginner's mind is now being confronted with the kind of cultural claustrophobia and crisis that these times offer so freely. Put our Nike "just do it" mentality together with a lack of religious yoke and sprinkle it with the crumbling of (false) securities et viola: masses of young people looking for a deeper truth. Entrée dharma!
I'm not the only one who sees the match here. A handful of young people in the Shambhala sangha are initiating and facilitating programs and events geared especially at these Gen Y'ers. Sophie Maclaren, Family and Youth Coordinator for Shambhala Europe and Founder/Director of Everybodhi (www.every-bodhi.org) has been successfully making the dharma accessible for the next generation of practitioners. With almost 900 friends on her Facebook, this Gen Y'er has created a vibrant sangha within the sangha. But according to her, Shambhala could attract even more youngsters. "We talk a lot about 'magnetizing' young people to Shambhala and to Buddhism in general," Sophie says, "but actually I think the Sakyong and the Shambhala teachings are quite magnetizing in themselves. The first thing we have to do is simply remove the obstacles and open the door. After the key obstacles are removed, can we begin thinking about being even more magnetizing."
So what happened on that Saturday in January that did open the door to so many Gen Y'ers?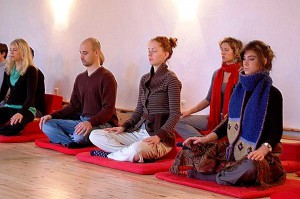 Apparently, the center in Amsterdam went Dutch for their young attendants. Amsterdam is the first center that is currently running a pilot that offers all people under thirty a generous discount for programs. So far this seems to have been a great success, with almost half of the participants being under thirty! According to Sophie, this proves her suspicion that a key obstacle for young people to enter Shambhala programs isn't a lack of interest, but a lack of money. "Young people cannot afford retreats, books, and practice materials–it's expensive to be a Buddhist!"
Hear hear Sophie! Many of the youngsters from Level One in Amsterdam feel the same way and said that they would not have participated without the discount. Anja, a young practitioner from Switzerland who attended the program in Amsterdam agreed: "An important reason why I was able to do this program was the youth discount (45 euro) they offered. As the travel is expensive, it is very helpful to have a low price. I think it would encourage many young people to attend programs, also in centers other than Amsterdam, if the costs were as low."
"Young people really are looking for something 'spiritual' or 'meaningful,'" Sophie points out. "This is evident in the fact that over the last five years, we have had hundreds of young people from more than 25 countries and many sangha's attend our young sangha programs. In addition, at least fifty percent of these young participants were completely new to Buddhism." Many of these retreats took place at Dechen Choling and Schloss Heinsheim, which both sponsor the young sangha gatherings by charging a low rate with no immediate financial profit. And it seems to be working. At least seven participants of the youthful Level One entered through one of these EveryBodhi gatherings. Last year Sophie proposed to key Shambhala leaders that they adopt a new view and financial inspiration toward young people in Shambhala. Their response was enthusiastic and supportive.
Shambhala Mountain Center allowed her to organize weekend retreats for young people. She reports, "We have now done four weekend retreats at Shambhala Mountain Center at a price of $50 for the entire weekend. The first was attended by 17 people (with only four days notice), the second by 25, and the third by 50, and the fourth filled all 40 places in three days of registration being open. People have been emailing for months asking for more of theses retreats. The next one may take place at Upaya Zen Center. SMC is allowing two to three 'EveryBodhi weekends' per year but has not adopted the financial policy for their other programs."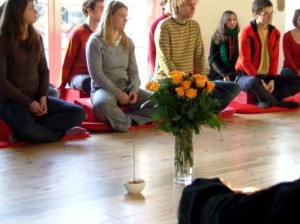 Amsterdam is the first center that adopted this new financial policy. Due to the efforts of Gen Y coordinators Jerry de Groot and Bea de Munnik, who organized Open Youth Nights for over a year, this historical Level One became an overnight, youth-filled success. So successful actually that some participants posted their enthusiastic reactions on Facebook where it generated enough interest from their own networks to quickly fill an extra Level One this April! This weekend looks like it's going to be filled almost exclusively with youngsters. Now that's what I call a good example of "viral marketing"… Gen Y will share what inspires them–and reach an entire network–faster than ever before. Take note, senior Shambhalians!
"I'm hoping we can use this as an example to inspire other centers as well," says Sophie. Working closely with young people all over the world is giving rise to a strong youth-oriented vision for Shambhala. "Having looked at many sanghas, my feeling is that Shambhala's teachings are some of the most relevant and accessible for young people, but first we need to dissolve some obstacles. Given that we have a very long-term vision of creating an enlightened society, it seems to me that we could consider young people an investment in our future and not feel the need to make a profit on them now." She is currently working on an article and a brand new EveryBodhi website that, as she puts it, "will rock the Shambhala world!" Very Gen Y, indeed.

Geertje Couwenbergh is a freelance writer based in the Netherlands. She blogs about dharma and everyday life on: www.PotentialBuddha.com
Photos from the Buddhist Youth Festival.
Post Tags:
Buddhist Youth Project
,
EveryBodhi
,
youth sangha