Wednesday
Community Articles
My Summer at Dechen Choling
Rianne Pelleboer, a young sangha member from Holland is spending her summer at Dechen Choling as a volunteer. The following is her account of her experiences living there.

The Decision
Discontentment. That word covers how I felt before going from A to Z. I had dropped my studies, hated my job, barely ever saw my friends. My days were filled with boredom. In contrast, I had spent three weeks at Dechen Choling at the Young Sangha Summer Retreat last year. And I remembered how I loved being there. Then, when a friend told me that I could work there as volunteer during the summer months my decision was easily made. I gave up my apartment, quit my job, packed my bags and made my way to Mas Marvant, France.

Opportunity
Upon my arrival people asked me about where I lived and what I studied. It felt awkward to tell people that I didn't have a place to live, had no job, no education and that my future was still undetermined. People would say: "That's great!, you can go anywhere and do anything!!" Yet for me it didn't feel that way. After some time I settled with being here. This is my home, my job and things will work out eventually.

No Escape
Coming here I knew I would practice a lot. One hour in the morning, 45 minutes in the evening. Now I feel slightly tricked because no one had told me that we actually practice 24 hours a day. No matter where you are or what you do. You are constantly thrown into situations where you are forced to deal with your own neuroses. In situations where back home I would hide behind my computer, pretend to be fine or fully ignore what was happening, being here there is no chance to escape myself. You don't get a break from yourself. You can try and hide, but you will not succeed. At times that can be very confronting and extremely painful, but since we are a community there will always be someone to support you. Someone, who is simply there for you, Who doesn't try to manipulate the situation or make everything "better". You can be whoever you are, and feel however you feel. And that's all completely fine.
Gentleness
What I think is extremely extraordinary about living in a community like this, is how people relate to each other, with a completely open heart. I remember one day, there was some misunderstanding about the childcare. Someone was supposed to look after a little girl, but instead she went for a walk with a little boy. The little girl was with her grandmother, but the grandmother wanted to go to a talk. Therefore the little girl was dropped with me. The grandmother was clearly not happy about the whole situation. Without blaming anyone, without actually insulting me or anyone else she just expressed her feelings, so I didn't feel attacked in any way. However, the day after, she came to me, put in plain English why she reacted the way she did and how she felt, confessed that she had not realized that I was having a very difficult time myself. And then she apologized. I was standing there, completely stupefied. As If someone had just slapped me in my face and I had not seen it coming. I felt immensely touched. I understand how lucky I am for being here. I know that in the "normal world" a person would probably have lost her temper, would have yelled at me, and would never in a million years have apologized for doing so. Living here, being surrounded by so many gentle and genuine people is vastly humbling.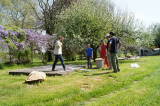 Study
Another great thing about living in a dharma centre is having the good fortune of being able to study. Once a week our Acharya gives a talk about a variety of subjects, there is a library filled with dharma books, and we get credits to participate in programs. Having registered for sutrayana seminary my bedtime stories have somewhat changed. Tolkien, Coelho and Hemingway are back on the second shelf of my cabinet. Instead I read a variety of dharma, biographies etc, I fall asleep with Reginald Ray, Pema Chodron, David Schneider, or flat faced in the 1979 sutrayana transcript. And if I finish reading one book, I simply go back to the library and find myself another great book to read.
Blooming
I have become conscious of the fact that all we need is a ground to grow on. Being in an open and genuine environment you get the chance to develop your own gentle heart. Like a seed, we need water and sun to be able to bloom. Even though everyone is different, turning into a rose, a tulip, a lily, or something else, the community provides the nourishment for the community members to fully bloom. But it stretches far beyond the members of this community. We also try to create the ground for all the visitors and program participants to grow.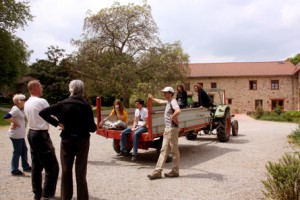 Not about me
A lot of the people came to live here for their own personal reasons. Like me, they might have been completely lost, or maybe they wanted to hide from the world. But being here I finally get the picture. This is NOT about me. We are here to awaken our gentle hearts, to open up to the world. And once we are able to do it here, we can start doing it outside. In university, standing in line in the supermarket, being stuck in traffic, or at home with friends and family. By starting off small we can start radiating out. Approach every situation with an open heart. Then, someday, an enlightened society may be realized.
Post Tags:
youth
,
youth sangha