Thursday
Arts and Poetry
Doha of Supplication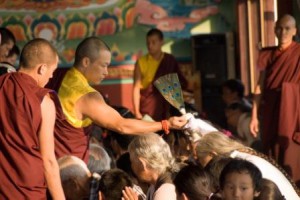 by Una Chung
A doha is a traditional offering of spontaneous insight or realization, often offered as a supplication to the teacher to share the teachings. Upon the occasion of the Rigden Abhisheka this past June at Shambhala Mountain Center, a Shambhala practitioner by the name of Una Chung offered this doha, supplicating Sakyong Mipham Rinpoche to offer the Rigden Abhisheka, or empowerment, to the gathered assembly.

Tathagata, O Victorious One,
Our Beloved Sakyong,
we praise you.
Your luminous golden light rouses us when we are afraid.
The calm, clear, fragrant space of your mind soothes our loneliness.
We think of you often, as our eyes become restless,
and our fingers reach for i-phones, remote controls, steering wheels,
any number of devices available for transporting us to the setting sun world.
We cannot walk this path without you.
Let us always look to you when we forget what brilliance looks like.
Seeing the suffering of the world, we look up to see
your example of kindness and generosity.
Your kindness has such potency; it has already melted our hearts.
However stumblingly, we walk this path,
with the unending longing to meet you,
to share in your enlightened vision, to learn how to bring
the stuff of this world into the suchness of Shambhala.
Thanks to your fearless, limitless compassion,
and your ceaseless activity,
there is indeed a Shambhala amidst globalization
and the quicksand of national borders.
Even nanotechnology cannot show us what only wisdom can perceive.
Only your love can bring us to see sacred world.
Seeing you, we have such conviction in your teaching
that the golden age of Shambhala is right now.
Please allow our longing, our itchy fiery devotion
to move you to our aid, so that our minds might mix with yours
and experience the warrior's confidence.
How refreshing is the clear light of dharma!
How rousing the brilliance of the sun's domain!
We long to know more surely how to manifest
the warrior's pure heart in our lives.
We supplicate you to lead us into Shambhala.
Grant us the empowerments of body, speech, and mind
that we might fulfill our aspiration to help others
through the qualities and actions of the Shambhala warrior.
Please remain with us throughout our lives
that Shambhala confidence might be propagated throughout all the worlds.
Post Tags:
doha
,
poetry
,
Sakyong Mipham