Monday
Arts and Poetry
Come, Come and Dance…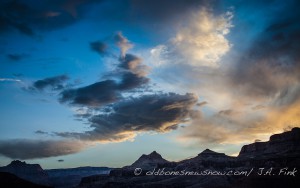 COLUMN: Poetry Space
Coordinator's Note, from Jeff Fink: One afternoon, in the lower living room at Karme Choling, I picked up a book that had been left on the coffee table; it was Smile of the Tiger, the first of the Sakyong's books of poetry. With some time before our next session, I began to read. I'd been having doubts during this particular program — the usual – what am I doing here and who is this man we call the Sakyong? How do we grow to trust a teacher? How can I do this?
As I read, the words began to affect me. While these might be the words of a "teacher" or a "master," to me they spoke most directly of a man. In particular, I was touched by his earlier poems speaking of the death of his father, the Vidyadhara, Chogyam Trungpa Rinpoche. Here was all the respect of a student for his teacher, and all the tenderness of a son who has lost his beloved father.
"Let me whisper
Let me touch
Let me hold—
You are in me now.
I am your son."

from "April Reunion" written 4 April 1992.
Smile of the Tiger
This was a man I could trust. His poetry had shown me a side that was perhaps difficult to see through the robes and the ceremony.
This human being, this man, would be my teacher.
When the Sakyong asked Poetry Space to coordinate the first Shambhala Day Poetry Contest, we of course were delighted and proud. While we immediately agreed, we also asked the permission of the Sakyong's office to publish a few of the Sakyong's poems, and he graciously agreed. What follows are three pieces chosen by our editors.
The two collections, Smile of the Tiger (1998) and Snow Lions Delight (2005) are both published by Shambhala Media and are available for purchase through them, please click here.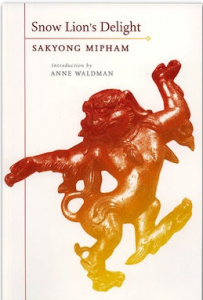 COME, COME, AND DANCE

The buddhas take me by the hand
And whisper in my ear:
Come, come, and dance.

New and old friends
Tell me they want to be near.
I tell them I never went anywhere.
The buddhas say come, come, and dance.

My mother and father say they love me;
I ask them why they have to tell me this.
The buddhas say come, come, and dance.

When the world tries to teach me,
Dishes fall and rainbows appear.
Some people give me things and others take them away.
The buddhas say come, come, and dance.

Each morning I want to be brave, fearless.
Help everyone I see.
But this summer day turns to rain.
The buddhas say come, come, and dance.

When I gather strength,
I can hold the whole universe in my heart.
I become brother, sister, mother and father.
And the buddhas take my hand.
They say come, come, and dance.

High in the sky in their secret place,
I never thought it could be so simple.
There is a secret to be shared.
Come, come with me.

Let's look into everyone's heart,
Look through their eyes.
It's all about joy and helping others.
Come, come, and dance.

~ 8 August, 2002
Shambhala Mountain Center
Snow Lion's Delight
SAND

In the hot sun
I ride my horse.
It knows my heart.
Each hoof penetrates the sand.
Each shift in direction is a moment of insecurity —
Each breath, a love I never knew.
The saddle glides on this powerful horse.
The leather on its back hurts me.
The beast, the man – exhilarated.

I am nature
Force.
Life.
That is the way I ride the wind.
This energy called horse.

Riding
Taming
Conquering –
All in vain.
Never will I master the horse!
Only for an instant will hoof-print energy
Synchronize its heartbeat with mine.

Moment in time and space
Unrestrained by concept,
This magic is a dream
Never to awaken.

9 September, 2000
Whistler, British Columbia
Snow Lion's Delight
VAJRA FAREWELL

Listening to the wind.
I hear the dharma of great bliss wisdom.
I am a wandering yogin.
The winds of the past have brought me here.
The fire of now illuminates the future.

Knowing how to listen
Has revealed the depth of the bodhi-mind.
As air passes through my body,
I am open to universal wonderment.
My mind naturally relaxes because I am free to move,
Not tethered to one spot or harnessed to another,
No longer a kite, duality pulling my string.

As I drink the self-arising brook,
Each sip melds samsara and nirvana.
Before
Pleasure and pain
Good and bad
Were my guiding winds.
Now wisdom's release glows
In the sail of basic goodness – pure and perfect.
That is the mind – this is the world:
Honey dripping from a flower in space,
Landing on the sacred earth.
My journey now is to keep moving,
To let wisdom's winds guide me
Across this sweet earth.

5 August, 2002
Shambhala Mountain Center
Snow Lion's Delight
Post Tags:
poetry
,
Poetry Space
,
Sakyong Mipham