Friday
Arts and Poetry
Even If You Hide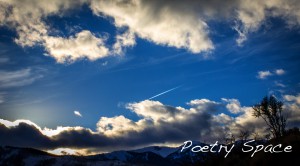 New Work from the Sangha
COLUMN: Poetry Space
It's been some time since we featured new work from our readers, so we're really excited about the poems we received in the most recent set of submissions – so much so that we're breaking our favorites into two sets to be published in two separate pieces. The first set, featured below, has a certain intensity about it that really called us to group these poems together as a set. Enjoy!
Coordinator's note – call for submissions: if you write, please share your work by submitting it to Poetry Space. We're always looking at submitted work, and are always eager to read more. Dive in….
POST-HOLOCAUST MEMORIES – NEWTON AND BROOKLINE, MASSACHUSETTS, 1958-66
1
Born in concentration camps,
rescued by Youth Aliyah and raised in Israel,
beautiful young women visit America.
They wear make-up well,
talk with charming accents,
know several languages,
never speak of what happened to dead parents.
Very accomplished professors
flee from Hitler,
teach in American universities,
have theories that influence
generations: Sociology, Psychology, Physics.
An unspoken agreement:
don't try to teach the unspeakable fear
to uncaring young students.
2
When Susan's parents tried to get out of Europe,
they went from Germany to Poland,
from Poland to France,
from France to England,
and finally escaped to America.
They would never have made it out
had they not been doctors.
They told Susan and sister Joan:
"Become doctors! You are required to major in science
and become doctors!"
Years later, Joan teaches English.
Susan studies Philosophy.
"In this country,"
the parents sigh,
"children do what they want,
and they do not want
to share our memories."
~ Ellen Berger (Olson) has published short stories, poems and childrens' stories in a variety different magazines (including the venerable print predecessor of the Shambhala Times, THE VAJRADHATU SUN!) Ellen is a member of the Boston Shambhala Center, and would like to remind readers that fiction can also affect what's genuine, even if it's one step more removed than poetry…
Someone Cares About You
1.25.14
After the towers fell
They spent months
In digging
In sifting
In looking
Every day in the dust and the dirt
Their lungs were
Swelling and
Heaving and
Trying to find air
To recover
a name
a face
a history
for all those who were lost
And because this is true –
Even if you hide
in a cabin
in a cave
in the shipwreck of your life
For years and years and years
One day someone will send
a letter
a card
a message
Someone will find you
Say your name
Comb your hair
Bring you milk
Someone cares about you
in the dust
in the dark
in the place where you got lost
They will find you and bring you home
~ Dori Digenti lives in Amherst, MA and works at Berkshire Community College in Massachusetts. A student of Shambhala since 1978, Dori is a member of the Pioneer Valley Shambhala center. She is working on her first chapbook, Proven Methods, Avoid Shortcuts which she hopes to publish sometime this year.
TWIST
The daughters of Jerusalem
mourn the death of King Solomon,
lover of half the ladies in the land.
They lie naked,
their cool bodies feeling
the longing for another's touch.
They stare at their smooth legs,
their round breasts, the point of their thighs.
They say:
What shall we do now?
Shall we rush out into the streets at dawn?
Should we seek new lovers?
Shall we find husbands,
Handsome and strong?
Should we drink soy milk? Shall we make tea?
Maybe we should study Law,
or Dentistry.
~ Ellen Berger (Olson)
~~
Note on process
We are receiving new submissions continually, and we collect these until we have a sufficient number to review for possible publication. While it's still early days, it feels like we will be publishing new work quarterly, although if we do receive a large number of submissions, we may choose to publish more frequently.
We have a panel of three editors who review all submissions; the submissions are stripped of all identifiers when they're sent to the editors. To that end, please submit your poems left margin justified in a simple black font so it's easier to collect them for review.
Please submit no more than three (3) poems in the body of an email to [email protected].
We will remove the poet's name from the submission before it goes to our editors for a blind review, and will make every effort to let you know whether your poem(s) have been selected for publication within three or four weeks. All rights revert to the author 30 days after publication.
Post Tags:
poetry
,
Poetry Space