Sunday
Arts and Poetry
Authentic Presence: Touching "The Thing in Itself"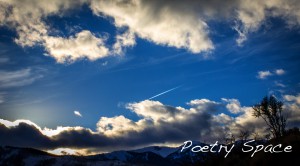 COLUMN: Poetry Space
guest article by Frank Ryan
This year Sakyong Mipham Rinpoche has announced the inaugural Shambhala Poetry Contest. The selected poem on Windhorse will be read aloud on Shambhala Day to the international community. This brings to the fore the potency of elevated speech, and poetry in particular, to celebrate, inspire and provoke deep insight.
From the time of the earliest Upanishads in India, societies around the world have used the spoken and written word to convey their view of the sacredness of life. Although at times the troubadour or muse was cast as a rarefied and exalted seer, the perspective within Shambhala relates more to the poet, or any artist, as someone who radiates authentic presence.
This understanding derives from the genuine experience of basic goodness. When we are willing simply to feel and be without construct or elaboration, we encounter the world of the "ordinary" in a direct and vivid way. What we touch, taste, smell, feel, and see is simply the natural display of the imperturbable depths of goodness. The need to juice up or interpret what arises in our experience dissolves, and we discover the capacity to engage the naturally occurring richness of life. In the middle part of the twentieth century William Carlos Williams composed
"The Red Wheelbarrow":
so much depends
upon

a red wheel
barrow

glazed with rain
water

beside the white
chickens
As Williams noted it's crucial to convey "the thing in itself". The approach of basic goodness is the immediacy of "the thing in itself" as the expressive power of profound openness.
Anyone willing to relinquish the needless cramp of fixed mind is capable of the deepest levels of responsiveness. From the matrix of this tender openness arises music, paintings, videos, novels, architecture, and poems that clarify and inform. Language is a powerful key to dispelling confusion. Eschewing didactic screed and spiritual cant, there is simply the direct and expressive power of goodness.
The mark of authenticity is becoming immersed in genuine being, not highlighting ourselves as artístes. What manifests in the moment resonates at the deepest level of ourselves, others, and all of society.
Over time we become thoroughly established in this view of dynamic, expansive goodness. Along with this is the delight of joining heaven and earth, or, we could say, right view with the rhythms, tones, and syllables of poetry. We study our craft, cultivate our skills, and relate to the knowledge passed down by tradition.
Creating poetry which informs and delights joins simple abiding with knowing what to accept and what to reject. Being gentle, fearless and inquisitive is our view. Not seduced by the myths of the mystic poet, perfect practitioner, or messianic leader, we simply enjoy the dance of ordinary sacredness.
~~
Frank Ryan is a longtime student of the Vidyadhara Chogyam Trungpa Rinpoche and Sakyong Mipham Rinpoche. He has a strong interest in how the sacred outlook of Shambhala can be experienced by people around the world as the expression of brilliant genuineness.
Post Tags:
authentic presence
,
basic goodness
,
poetry
,
Poetry Space