Tuesday
Arts and Poetry, Northeastern States
On Place: New York City Art Show
Long time Shambhala sangha member Karen Iglehart is having an art show in New York City from September 6th – 24th. Her work has been on display at Karme Choling in the teacher's suite, foyer, and Director's office since May. Her paintings will remain hanging there for awhile if you get the chance to see them there.
As Karen says: "My paintings are Shambhala-inspired in that they are about space and a sense of openness. I present non-discursive and descriptive landscapes."
Join Karen for the opening of her show at the New Art Center on September 8th. The New Art Center can be found at 580 8th Avenue.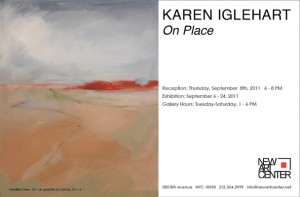 Post Tags:
arts
,
New York City