Sunday
Community Articles
Letter from a Surmang Shedra Volunteer
Hello. This is Martin, a Shambhala member from Bern, Switzerland, writing to you. As I travel through China on my way home after staying this summer in Surmang, I'd like to give you just a small idea about my impressions and experiences of this beautiful spot of eastern Tibet.
After six months of preparation filled with many uncertainties, I finally traveled in Surmang Khenpo's car around the last curve of the shabby gravel road of the endless Surmang valley, first seeing the stupas, then the tiny little village, and at last the Shedra in its full majesty.
My stay in the Shedra from the beginning of July to mid-September was a wonderful, intense and very interesting time. When I say wonderful, I mean it in the sense of a large scale of feelings—from being shocked and maybe even panicked at the beginning to discovering a lot of joy and deep appreciation. I experienced a heavy dose of culture shock, which adjusted my romantic ideas about Tibet. This brought me closer in contact with the earthy, very simple, but spiritual life of the people.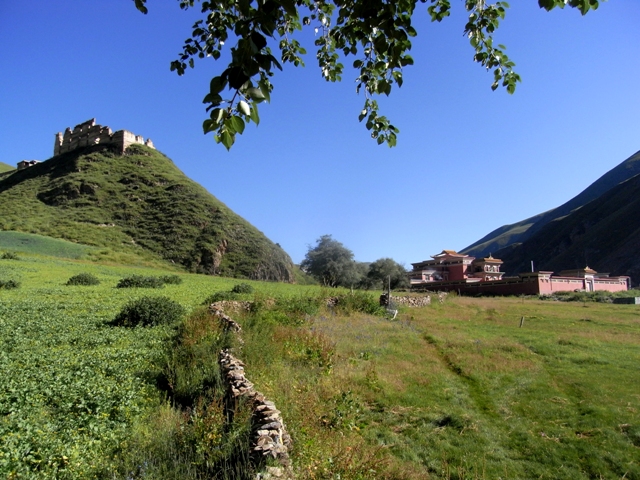 The people are living in a totally third-world situation and I saw how hard the circumstances are, how tough these people have to be, and also how kind and cheerful they are. We had large differences in understanding such questions as what is dirt, what is good food, when is a job done, and so on. I had to learn a lot: what it means to not have a toilet (or know about toilet paper), running water or electricity.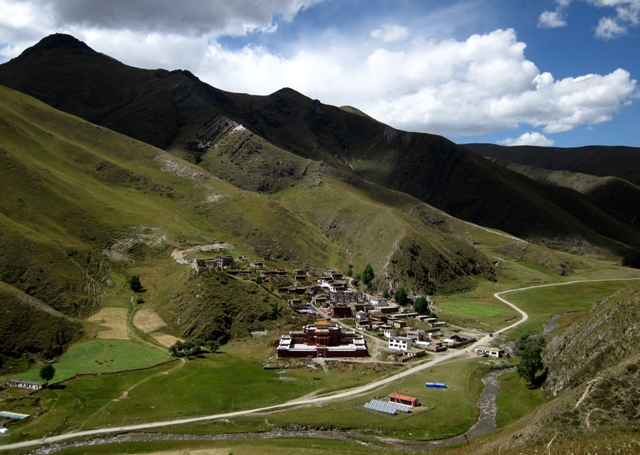 In the beginning of my stay, it rained a lot. It was still the rainy season—cold, wet, and the yak-grass hills looked gray. My possibilities for communication seemed very, very poor. I didn't speak Tibetan and the few words I knew, nobody could understand (wrong dialect), and no one spoke one word of English. The land seemed sinister to me, and I felt isolated. However, very quickly, everybody knew me. They waved at me when passing by and talked to me, although I could not understood what they were saying. Not they, but I was the exotic one.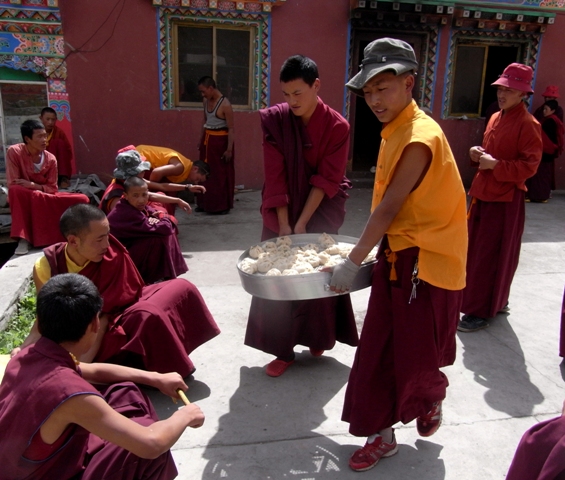 After a while, as I got to know them better, my contact became more personal. And the weather became nicer. Summertime started. The farmers, both men and women still in their traditional clothes, worked in the little barley fields. Yak herds were grazing in the hills. We had beautiful warm days, with a vast deep blue sky and white cloud-boats drifting in it. It gave the exact picture of how we imagine the Tibetan world. The whole area showed me its friendly face, so brilliant.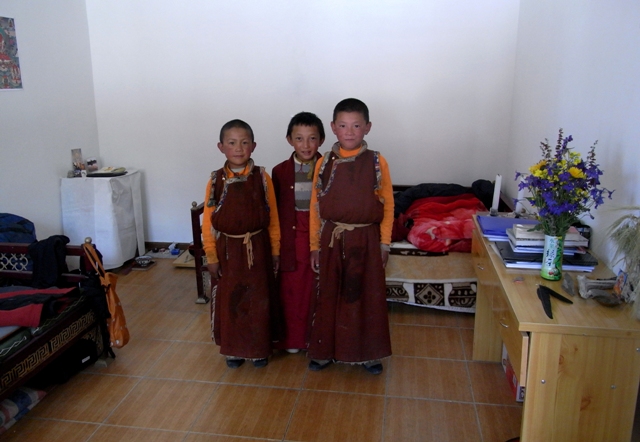 The heart of my visit was living in the Shedra, where I had a nice monk's room of my own. From outside, the Shedra looks beautiful and grand. Inside, many parts of the building are still unfinished and some areas look like a construction site. I hope that they can keep going to finish the construction and that they will have the energy to do it, as there is now under construction another monastery building (the lhakang) for the monks of the Surmang community.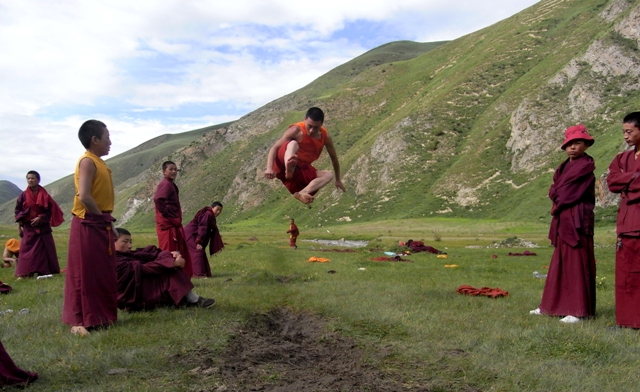 Living together with the young monks was an education in itself. Of forty young monks of ages from 7 to over 25, most are "in the full prime of their youth" between 13 to 18 years old, in the middle of their puberty. They are wild and full of energy. There is one monk in his thirties, who is teaching Buddhist Studies. Beside this, there is not yet very much guidance for them. As a group, they created a kind of living body—alive, always moving, like rippling water, where drops spill and splash without rest.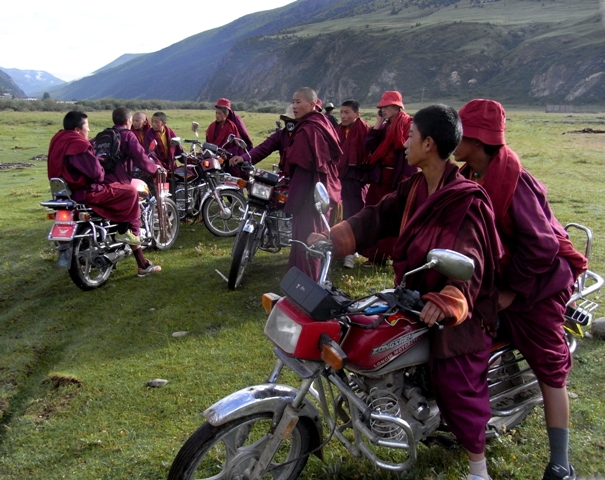 Throughout my stay, we held our English class in the morning. For me, it was good. It was the way I could communicate, even in a clumsy way. For them, it was not easy. Perhaps no one told them that a foreign guy would come and they would suddenly have to learn English.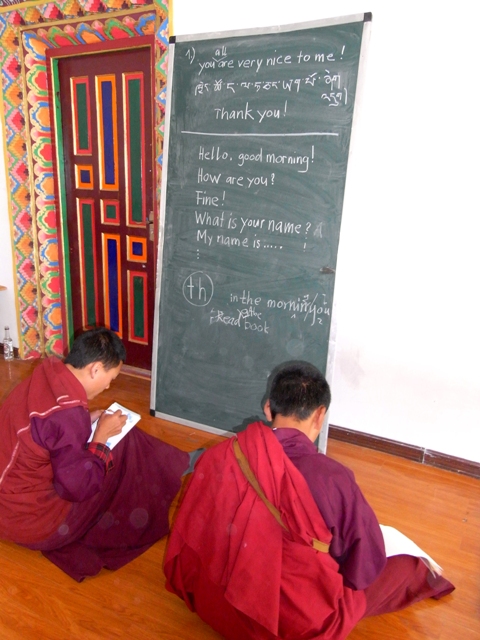 In the class, I was kind of strict. Our ideas of what discipline is diverged a lot! But I required them, as well as I could, to learn. All in all, we did well and some started to learn! And then they always called me teacher.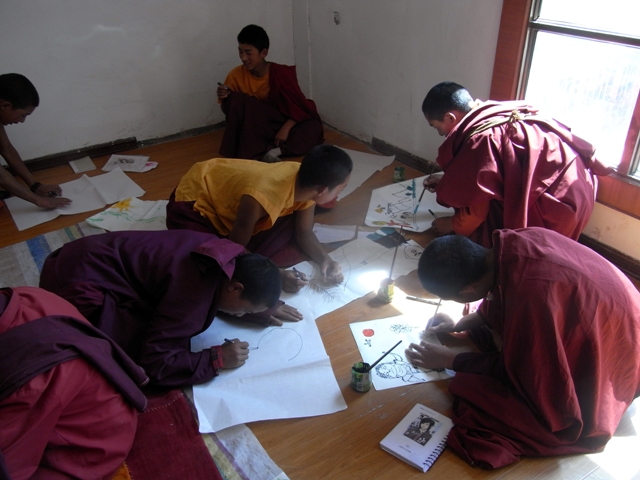 Aside from the English class I was "free like a bird." I had a lot of time for myself to trek and explore the area, contemplating Tibetan life and life altogether. I could do my own practice, which I appreciated.
I am proud that we started and ended every class with a (very) short session of shamatha meditation. It seemed to them the strangest thing to do, but I referred to the great Kagyu gurus of mahamudra. Over my time in Surmang, I got to know the monks quite well, and all of them showed me their unique personality. I liked them very much. I saw how strong, tough, but also friendly, modest and cheerful they are.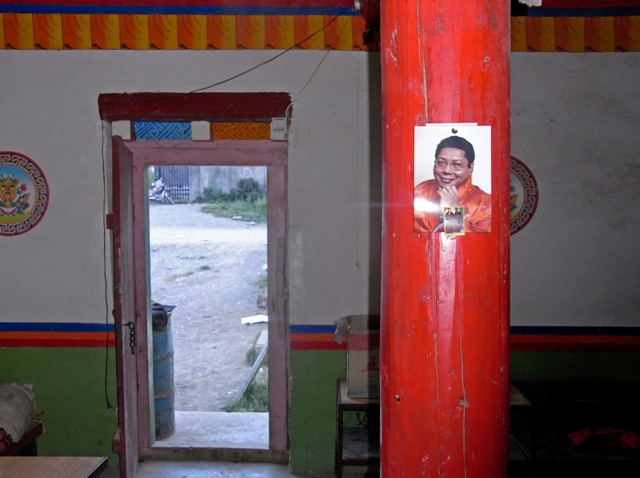 Yes, a wonderful time it was! Through the blessings of the gurus, especially Chogyam Trungpa Rinpoche, it was a precious, rich time. I will always remember it as something powerful, clear, almost pure. Of course, there remain many questions. About so many things I had controversial feelings. For example, I felt a big gap between our new Shambhala Buddhist culture and the traditional one. I care about what will happen in Surmang. What will its future be in this time of rapid change, when Tibet sees more and more Chinese faces, building houses and roads, who may command the direction to be followed?
Martin Bieri
[email protected]
Post Tags:
Konchok Foundation
,
Surmang
,
Surmang Shedra