Saturday
Community Articles
Happy Places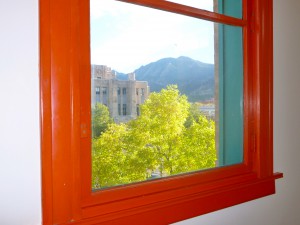 by Margo Shean
Looking at my mom's fridge, which happens to be one of my happy places, I notice the Boulder Shambhala Meditation Center brochure. The brochure is full of exciting things sure to fill any dharma bum's dreams.
After a few months of readjusting to the world after living at Karme Choling for three years, I am becoming more and more involved in the center here. The town I grew up in and knew so well is slowly becoming a whole new world. I found the perfect job for my transition, working on a dharma farm. My boss, Peter Volz, happened to direct my Shambhala Training Level IV in Boulder many years back.

A good friend of mine, Jill, also a Shambhala Buddhist, works on the farm. While picking cherry tomatoes, Jill and I discuss our "Happy Places". You know these places, where you're at your best, fully accepted for who you are. Sometimes these places just delight our sense pleasures, and the sampling of products and well-crafted cheeses, really boosts your confidence. Delighting in the sense pleasures is perfect at organic grocery stores, which happen to be Jill's top "Happy Place". I have many. I would also put organic grocery stores on this list, along with any place I can eat ice cream, most movie theaters, my dad's back yard, my mom's fridge (which I already mentioned), the main shrine room at Karme Choling, steam rooms, Chautauqua Park, the Eldorado Springs swimming pool, and I believe even the farm I'm working at would qualify as one of my "Happy Places".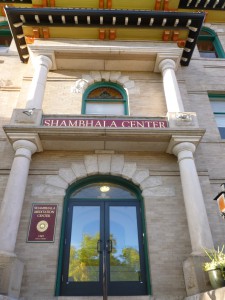 While sitting on my meditation cushion during a group practice session at the Shambhala center, one of many group practice opportunities in Boulder, I began contemplating my "Happy Places." What did it mean really as a practitioner? Wasn't every place a sacred place? Wasn't every situation just what I needed, perfect in and of itself? Wouldn't every instance in my life bring me closer to waking up, to seeing the world as it really is? Maybe every place was my "Happy Place."
Sitting on my zafu, my awareness rudely interrupts one of my "Happy Place" fantasies, and I notice the tag on the meditation cushion in front of me says, "Samadhi Cushions, Barnet Vermont." I am reminded of my old home, another "Happy Place": Karme Choling. My experience there was truly invaluable. My memory turns to appreciation, and I notice all the kind faces in the room, all the people I've become so close with here after only a short amount of time.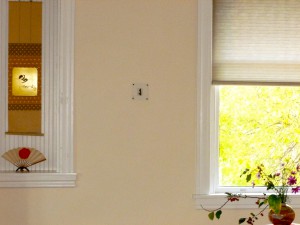 The large center in the middle of downtown Boulder has a deep history, mixed with a young exuberance, and I find the most common ground here is one of profound kindness. According to the brochure there was something happening every night of the week, even if that meant sitting down on gomdens with your friends without moving or talking. It seems everywhere you go in this town you're bound to run into someone connected with Shambhala. The city is full of Trungpa Rinpoche's original students (whom I believe to be pioneers of Buddhism in the West), dedicated students of the Sakyong, new practitioners, Naropa students, and a large community of people interested in meditation, health, and well-being as a whole.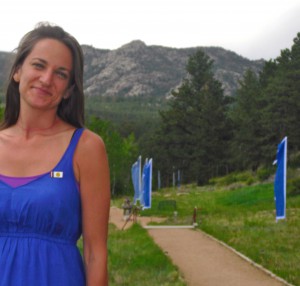 Then it struck me, my most happy place is the Boulder Shambhala Meditation Center. Most importantly, the receptionist often sings to me when I walk in the door, and the Director remembers my name out of hundreds of members. There are over 200 meditation instructors here, acharyas, shastris, people with brand new, fresh minds, but most of all, there is a community of people who accept you for who you are.
This is my "Happy Place" and I don't even have to share my bathroom with these guys like I did at Karme Choling! I can finally pee in peace, and still enjoy the company of my beloved sangha. A dharma bum's dream, and a sun seekers paradise. Contemplating the first noble truth is always important in a place like this, but then again, our minds create suffering wherever we go and we could all use a little sunshine to help us along the way.
What a wonderful place to be, I think to myself, and finally with only five minutes left in the session, I label it all thinking and breathe.
Post Tags:
Boulder
,
Boulder Shambhala Center
,
community