Sunday
Scene and Heard
Tribute to Thinley Norbu Rinpoche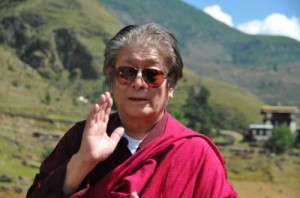 The following story by Dana Fabbro is one of a collection of articles and stories found on the Chronicles of Chogyam Trungpa Rinpoche, and pays tribute to His Holiness Dungtse Thinley Norbu Rinpoche who died in New York at the end of December, 2011, at the age of 80. The son of Dudjom Rinpoche and the father of Dzongsar Jamyang Khyentse Rinpoche, Thinley Norbu Rinpoche was a prominent Nyingma Lineage master who had many devoted students in the West as well as in Asia. He was considered to be an emanation of the fourteenth-century Nyingma master, Longchenpa.
Story about the Sakyong's extended visit with Thinley Norbu Rinpoche, circa 1996:
Thinley Norbu was such a profound, good person. He was one of the only lamas I ever met whose quality of mind reminded me of Chogyam Trungpa Rinpoche – like sitting in a room of liquid wakefulness, it just moved through the air in unceasing waves into your pores. Sakyong Mipham and I sat one afternoon, watching boxing on TV. At some point, the room grew very still. I turned to see His Holiness (HH) behind me in his chair, looking directly at me – between the sound of thudding punches on the TV, HH said very firmly, "that is how you must be ready to handle samsara." Another time, I was terribly sick in bed. In the middle of the night, HH had someone bring me to the main house so he could instruct me on how to handle obstacles. He was also a completely generous, gracious, host – he kept incrementally extending the Sakyong's visit, even though the Sakyong had to be in Halifax.
After days of being lovingly held captive, Sakyong Mipham Rinpoche whispered to me one morning (HH was also known – seriously – for his phenomenal auditory ability) "What should we do? The Board (of Directors) keeps postponing, waiting for me." So for the next hour, the Sakyong and I sat on his bed, whispering plans for how we would try and explain the Sakyong's need to depart. Even though HH was on the first floor of the retreat house (we were on the second) we tried to keep whispering lower and lower for fear HH would somehow hear us and be disappointed.
After 20 minutes, the Sakyong and I were so paranoid HH might hear us, we started whispering too quietly to even hear each other. The Sakyong would whisper, non-stop into my ear for a minute, then wait to hear my reply. At which point I'd whisper back "Wait, what?" Finally, the Sakyong decided I would go and tell HH he had to leave. I gathered myself, tiptoed to the door and opened it quietly … only to discover HH standing there with a kind, warm smile. He bowed ever so graciously and half-whispered, "Can I help Rinpoche somehow?"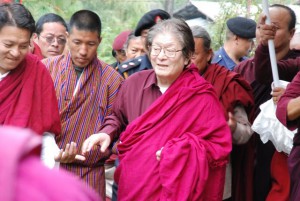 I went silent and bowed stiffly, numbed by the apparently very real possibility that HH had heard our sub-audible whispers fifty feet away. I stammered out a kind of half-shocked, honorific "Thank you," in botched Tibetan, then slowly closed the door as HH just stood there, smiling. I turned back to the Sakyong and slowly shook my head "No…" Like, "No, we're not leaving" and "No, it's true – he has the hearing of a Superhero." We didn't leave for another week. And we stopped whispering our plans. Eh Ma Ho, I will never, ever forget His Holiness's kindness and luminous brilliance. And his ability to hear the needs of beings of any stature, in every realm, and always be the first to offer his loving assistance.
To read more stories about Thinley Norbu Rinpoche and add your own, visit the Chronicles of Chogyam Trungpa Rinpoche.
~~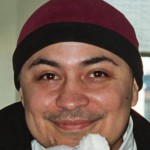 Dana Fabbro met Trungpa Rinpoche as a teenager when Sakyong Mipham Rinpoche, then known as the Sawang Ösel Mukpo, introduced him to his father at a stable outside Boulder. Dana recalls: "Trungpa climbed down from his horse, extended his hand and cheerfully introduced himself as 'Dave…Dave Mukpo!'" Some twenty years later, Dana works as a freelance writer and lives in New York City with his wife Ann Taylor and their nine-month old daughter, Ella Maitreya.
Post Tags:
Chronicles of CTR
,
Thinley Norbu
,
Warrior Tribute