Thursday
Scene and Heard
Naropa University Remembers Arbie Thalacker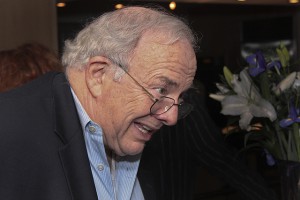 by Acharya Judy Lief
Naropa Board of Trustees Vice-Chair
I met Arbie through our mutual love for the Buddhist teachings and our shared passion for Naropa University. We both recognized Naropa's pioneering role in what has become known as "contemplative education." We were also both excited to be involved with an institution that was so focused on joining the rich traditions of western higher education and the sophisticated Buddhist methodologies of mindfulness practice, conceptual analysis, and personal transformation. There was simply no other place quite like Naropa.
It may seem strange that Arbie poured so much heart and energy into a fledgling and somewhat quirky school that was so different from Princeton, his own alma mater. But something about Naropa captured Arbie's imagination. It was small but making a mark, it was personal and it had something important to contribute to the world of higher education: a way to balance outer learning with inner exploration, a way to train the heart as well as the mind. In many ways a Naropa education offered the kind of training that I heard younger lawyers say was so valuable about their personal connection to Arbie as a mentor.
At Naropa, education is deeply personal. Students who enroll are not just looking for a paper credential or technical training alone, but for the tools to engage in a serious path of self-discovery in order to cultivate the inner resources to meet the challenges of modern life. Naropa students seek wisdom as well as knowledge, and are committed to changing the world for the better in new and creative ways. Nothing pleased Arbie more than meeting with Naropa students and hearing their stories. And for me, nothing was more meaningful than watching those encounters. I think it was the curiosity, openness, and commitment of the students that touched Arbie the most. So it makes sense that gifts in his honor go to support a student scholarship fund.
In his sixteen years of service to Naropa, Arbie was passionate in his commitment to Naropa, and worked very hard to help the institution grow and develop. He pushed Naropa to stay true to it mission, and did not hesitate to point out where it fell short of its ideals. As a member of the Board of Trustees, member of the Finance Committee, and chair of the Governance Committee — but basically as Arbie of the brilliant mind, skillful means, and noble heart — Arbie inspired all of us with his leadership and devotion to the kind of life-changing education exemplified by Naropa.
~~
The Arbie Thalacker World Wisdom Scholarship Fund
At the Shambhala Funeral of Arbie Thalacker
Post Tags:
Arbie Thalacker
,
Naropa University
,
Warrior Tribute