Tuesday
Scene and Heard
The Passing of Traleg Kyabgon Rinpoche
Tibetan Buddhist master Traleg Kyabgon Rinpoche passed away suddenly yesterday in Australia, his home of many years, at the age of fifty-seven. This news has shocked and saddened the Buddhist community around the world.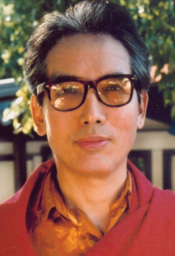 Traleg Rinpoche was a Karma Kagyu lineage holder recognized at age two by His Holiness the Sixteenth Karmapa as the ninth incarnation of the Traleg Tulkus. Most recently he was the President and Spiritual Director of the Kagyu E-Vam Buddhist Institute in Melbourne and also the E-Vam Institute in upstate New York. For a full biography, please click here.
Felicity Lodro and Kal Kingi of the E-Vam Institute writes, "We are deeply shocked and saddened at the loss of such an extraordinary teacher at such a young age. Traleg Kyabgon Rinpoche remained lucid to the end and we were both honoured to be present with Rinpoche at the time of his gentle and dignified passing.
Traleg Kyabgon Rinpoche was devoted to maintaining the essence and purity of Buddhism. Traleg Kyabgon Rinpoche was not only a remarkable and outstanding scholar of the teachings of Buddhism but his ability to communicate the teachings ensured that the essence of the teachings penetrated the hearts and minds of thousands of students of the Dharma throughout the world. We deeply and earnestly pray for the quick rebirth of Traleg Rinpoche. We feel blessed beyond belief to be a part of Traleg Kyabgon Rinpoche's activities throughout the West."
To read the official statement from Karma Triyana Dharmachakra (Karma Kagyu monastery in Woodstock, NY and North American seat of His Holiness the Seventeenth Karmapa), including a statement and practice instructions from Khenpo Karthar Ripnoche, please click here.
Here is a video of Traleg Rinponche speaking about Chogyam Trungpa Rinpoche and the mahasiddha tradition in Tibetan Buddhism. From the Shambhala News Service, "Traleg Kyabgon Rinpoche had a deep respect for the Druk Sakyong's teachings and had taught at Shambhala Centres. He authored several books and his work appeared in the Buddhadharma and Shambhala Sun magazines numerous times."
Post Tags:
Karma Kagyu
,
Traleg Rinpoche
,
Warrior Tribute