Friday
Scene and Heard
Warrior Tribute to Virginia Hilliker
February 21, 1915 to April 11, 2013

by Barbara Blouin with Robert Krupnick

Tribute reprinted with permission of Chronicles of Chogyam Trungpa Rinpoche. Send your tributes and recollections to be posted on the Chronicles to: [email protected]
The first time I saw Virginia I didn't know who she was. It was at a nyinthun at the San Francisco Dharmadhatu in 1973. A tall older woman walked into the shrine room with a much younger man. I just assumed that they had driven together from Berkeley. Then I saw the pair again at another nyinthun and became curious. I asked someone who they were: "Oh, that's Virginia and Bob [Krupnick]." I learned that they lived together. Virginia was fifty-eight and Bob [now Robert] was in his twenties. Virginia never let conventions about "proper" relationships between men and women get in her way. When I asked Robert how long he and Virginia lived together, he replied: "Many lifetimes, absolutely! Relatively, around three years."

When I think of how to describe Virginia to those who never met her, several words come to mind: brilliantly empathic — especially her ability to "read" what was going on in the minds and hearts of others. Much laughter — she found life funny where many people would find it sad or discouraging. Unfailingly kind and compassionate. At the same time, she could be fierce. I can't count how many times she yelled at me because of something I innocently (or ignorantly) said, though we always managed to make up. One person who spoke at the sukhavati described a moment during a therapy session when "practically shrieking," Virginia said, 'There's nothing wrong with you!'"
Someone else said, after she had been going to Virginia for a while, "Once I said to her that I had found a psychologist, and I'm gonna go there and find out what's wrong with me, and get a diagnosis, and get all sane, and stuff. And she laughed hard and threw back her head. She said, 'Ha ha! I hope they don't fix you.' It was one of those moments when you realize you really are OK. And she was OK."
"There's nothing wrong with you." That was the key. Her confidence in everyone's basic goodness was powerful and constant — even when she was angry with them.
As incredible as it may seem, Virginia was still working with individuals until a few weeks before her death. Virginia had a passion for working with children. Besides raising her own sons she did graduate work in child psychology at Syracuse University, and later worked in a pre-school in Syracuse. Then she moved to California to begin a PhD program at the University of California at Berkeley. But she gave it up after she met Chogyam Trungpa Rinpoche in 1973. Trungpa Rinpoche's teachings became her other passion (besides working with parents and children) and the two (Buddhism and children) were closely entwined in her heart.
Virginia Hilliker was born in the small town of Bradford, PA in 1915. She was fourteen when the Great Depression struck in 1929. Virginia, her two siblings, her schoolteacher mother, and salesman father, who lost his job, weathered the hardship by cultivating their garden, raising chickens and cows, and learning about self-sufficiency. Virginia told me many stories about this period of her life: it made her strong — a survivor.
Virginia died in an intensive-care unit in Halifax on April 11, surrounded by her son Michael and a small group of friends. Carolyn Gimian, who was sitting next to Virginia and holding her hand, spoke softly into her ear: "Virginia, you are dying now. It's time to let go." Carolyn seemed like a skillful midwife, guiding Virginia toward her death. At some point we didn't know whether she was still breathing. Eventually a nurse came in and said, "She's gone. You can stay as long as you like."
Virginia died the way she lived — fiercely, with intense passion and determination. Her love for life kept her alive for ninety-eight years. For many years she suffered from a painfully arthritic knee but was too old for surgery. She survived several life-threatening events in her later years: cancer surgery and a major fall in December 2011: she broke her neck, but that didn't stop her either. She also lost her oldest son, Bob, in 1993 after an accident.
Virginia met Eric Berne, founder of Transactional Analysis (TA), when she was living in Syracuse, and they became friends. She went on to study with him in California, and TA became her therapy of choice. From then on she was continually working with individuals — children, adults (many of them parents), couples. She also taught child development at Naropa Institute in Boulder, CO. In the late 1980's, after Trungpa Rinpoche's death, Virginia was part of a team of people who developed the eight year-old rites-of-passage ceremony that continues to be celebrated each year in many Shambhala Centres around the world. [If anyone knows more about how this ceremony was developed and who else was involved, please let us know at [email protected] Ed]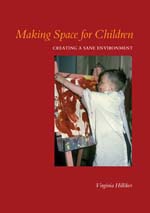 Virginia wanted to leave behind a legacy. When she was in her eighties she began to sift through her many boxes of notes from years of counseling, and put together a small, pithy book about how she worked with children and parents. With a little help from her friends (including Molly Nudell, who designed a beautiful, vivid cover) Making Space for Children: Creating a Sane Environment was published in 2003, (available from Shambhala Media.) Its inspiration comes from Chogyam Trungpa's teachings on basic goodness — always her reference point.
No account of Virginia's life would be complete without at least one martini story. Virginia had two martinis—sometimes more—every evening, for years and years. This was the time of day when it was most enjoyable to drop by for a visit. At the sukhavati, acupuncturist Kermit Stick described the first time he went to see Virginia after she had broken her neck in 2011. He told us, "I asked her to turn her head both ways. When she turned it to the left I heard a loud clunk, and she said, 'Sometimes I turn my head and I can't turn it back,' and she started laughing. And so we had a couple of martinis."
The last offering at the sukhavati was a poem by Virginia's lifelong friend Robert Krupnick, entitled "The Great State of Virginia." Visit the Chronicles to read it and leave your tributes.
Post Tags:
obituary
,
Virginia Hilliker
,
Warrior Tribute