Sunday
Scene and Heard
Warrior Tribute to Paul Warwick
Falling in Love with an Avalanche
Interview with Acharya Jenny Warwick

Commemorating the Life of Paul Warwick who passed away on February 2nd
Mr. Paul Warwick was an extraordinary teacher and mentor to many. He served in numerous capacities across the mandala since the early 1970's along with his beloved wife of 53 years, Acharya Jenny Warwick.
Acharya Warwick was very generous to speak with the Shambhala Times about the life of her husband. "We have received hundreds of cards and emails from the sangha. So many students were touched by Paul over the years." There is also an extensive collection of well-wishers on Sangha Announce on the Shambhala Network. Mrs. Warwick described Paul as being very generous and very interested in everybody, particularly in his role as an active meditation instructor for 30 years. Jenny and Paul have been proud grandparents as well, and their grandchildren spoke at the sukhavti last weekend at the Bellingham Shambhala Center, sharing their gift of gab and storytelling that they inherited from their grandfather.
Acharya Warwick shared their Shambhala history with us. Starting in 1974, Paul went to one of the first dathuns at Shambhala Meditation Center. They organized the first dharma study group in the Kooteneys. It became very active with practice and frequent nyinthuns. Shortly thereafter, Chogyam Trungpa Rinpoche convened a large Dharmadhatu conference that Paul attended, and after that Paul and Jenny hosted Trungpa Rinpoche in Vancouver and were part of the household for that visit. This led Paul to attending the 1975 seminary, where he was given the name Samten Gangri meaning Snow Mountain of Meditation, a name that was poetically appropriate for a 6′ 2″ bald guy.
After Acharya Warwick went to Seminary, they moved to Berkeley, CA and became active in the Center there. Later on, they moved to Vancouver where Jenny was the Ambassador and Paul worked in Practice and Education. In 1985, Jenny was asked to be a of Director of Karme Choling, and so Jenny and Paul moved there with their daughter, Katie. Paul's first job at KCL was as the Head of Building and Maintenance working with the wood crew, stewarding the land, and helping to keep the old cars and machinery working. After a while Paul became Head of Practice and Education.
When the Vidyadhara died in 1987 and the cremation was planned for Karme Choling, Paul was very involved in the physical details of making that happen. Paul was in charge of creating living situations on the land in the middle of a snowy April for the over 200 people from the world wide sangha who came to help as well as assisting with the 24 hour practice schedule. In his mind the highpoint of success for all the things he did to support the cremation event was figuring out the parking for the final day for the 3000 people expected to arrive. He invited the Barnet Fire Department to figure it out and staff it in exchange for the parking fees! From then on KCL's relationship with the town of Barnet was sealed in good feeling. Acharya Warwick shared that living at Karme Choling was "a very exciting time for all of us, and a very important time in our family and practice lives."
In 1990, the family moved to Seattle and then relocated to Bellingham, WA. It was there that Paul began to work at Whatcom Community College. It was hard to find a job after leaving Karme Choling, so his daughter hired him into her department where he taught English as a second language for 12 years. "Students really loved him," Jenny shared. "In all of his relations with the new immigrants in his classes, he was always able to make them relax and smile and learn English."
As the Center in Bellingham grew, Paul Warwick was the most active meditation instructor. At the recent sukhavati, one of his students from Seattle shared that, "Paul was an old fashioned, hands-on MI who followed you on your path and intervened with a firm hand when you needed it." Jenny shared that as an MI, he often invited his students into his living room and spent time with each of them listening and encouraging them to continue on the path.
In 1988 and 1990 Paul taught at the Vajrayana Seminary at SMC. He also led a number of dathuns, some at Karme Choling and two on the West Coast which were held on Vancouver Island in 2004 and 2005. In 2006, he and Jenny went to Sopa Choling to celebrate their retirement. "Instead of a cruise, we joined the 2nd year of the 3 year retreat where we did Vajrayogini and Chakrasamvara practices." After that, Paul led several closed retreats at Sea to Sky Retreat Center in B.C. helping people get through Chakrasamvara practice. In 2009, they traveled back to Karme Choling to attend Scorpion Seal Assembly.
The Warwicks have had a rich family life, as well as a rich dharma life. Their family includes three daughters: Julia, Katie, and Anna, and sons-in-law Lynn and Peter, as well as four grandchildren, Celsiana and Dashiell and Lucinda and Celia. He loved teaching Celia and Lucinda to row on St Margaret's Bay in Nova Scotia and later took Celsiana and Dashiell camping and boating for 2 – 3 weeks each summer. Paul loved telling stories, walking, photography, and making fires. Jenny says he was good with wood and loved fire and passed that on to the grandkids.
At the sukhavati, Dashiell shared a story from his childhood. "I was bringing our 14 foot dory into dock at Montague Bay in B.C. I was 8 years old. The motor was so noisy I couldn't hear the instructions from my grandfather, so I circled the dock three times trying to figure out how to land. When I finally headed straight for the dock I was going too fast and ripped a large whole in the side of the boat." Dashiell remembered that Paul didn't react. "He always had confidence we would make it." Celsiana, a grad student in classics at UCLA read a story from Ovid's Greek Myths called Baucis and Philemon, a celebrated ancient goodness couple, which Jenny asked her to read. Click here to read the story.
When Paul got sick last summer, he had already been losing strength for about a year. "We thought that it was a sign of aging," Jenny said, "he was 75." But it turned out he was severely anemic, with a syndrome called myeloid dysplasia. It's a syndrome that doesn't have a cure. The doctors tried to help him but by Christmas time, the family decided to call upon hospice. "We had him at home for 7 weeks," Jenny shared. "Fortunately, there was no pain. He thought a lot about how to die well." The last seminar he taught was called, "Wake up and Die Right," which he taught in Bellingham. Within three months of teaching that program he found that he had myeloid displaysia. From then on Paul and Jenny worked together to create the conditions for Paul to die wakefully and well at home.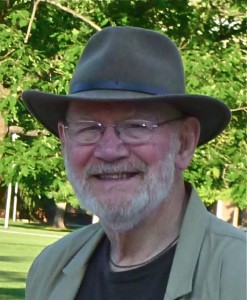 Paul is well known in the sangha for his bravery and outrageousness in asking questions at seminars. An old friend of the family, Herb Elsky, shared a memory of Paul interacting with Chogyam Trungpa Rinpoche at a 1976 Seminar in Santa Cruz when Paul raised his hand and said, 'Falling in love with you is like falling in love with an avalanche.'"
At the end of our interview, Jenny said she feels like her marriage with Paul had some of the qualities of an avalanche, mixed with the most gentle and whimsical appreciation that people can offer to one another.

Donations may be made in his memory to the Shambhala Center.
View more about Paul by clicking here.
Post Tags:
interview
,
obituary
,
Paul Warwick
,
Warrior Tribute