Thursday
Scene and Heard
At the Shambhala Funeral of Arbie Thalacker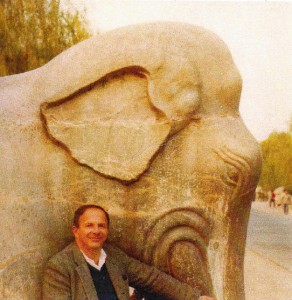 New York City, January 12, 2012
by Susan Dreier
In the midst of Thursday afternoon's brisk NYC workday, the Shambhala center was in a state of quiet readiness. The shrine room was filled with 200 chairs arranged around blue zabutons circling the pine coffin which was draped with a red and blue brocade. Flowers were bountiful. A large photo of Arbie in China, smiling and seated in front of an enormous stone elephant, stood on an easel visible to all. On top of the shrine, where it is customary to place a favorite food and drink, lay an abundant offering of sirloin – medium rare, oysters on the half shell, fois gras, an apple tart, and three glasses: wine, vodka and a milkshake.
Arbie's sons and their families arrived early and collected quietly in the shrine room for some private time with their father. Soon people began to arrive. A mix of friends, local dignitaries, law firm partners and sangha streamed in, welcomed by a series of ushers. The family collected in a gracious suite to meet with Acharya Eric Spiegel and prepare for the ceremony. Caterers prepared the reception in another large room. Deborah's planning for the event was impeccable.
Once all the guests and family were seated in the shrine room, Deborah and Eric came in, bowed to the coffin, opened the shrine and began the ceremony. Deborah took her seat next to her son Chris. Eric gently explained to the crowd what would follow. All in all, he presented the ritual in a way that was accessible and simple without losing any of the core meaning.
To evoke the presence of Arbie, first a few people offered remarks. Throughout all the tributes Deborah beamed as aspects of her husband were painted with warmth and humor.
The senior partner from Shearman and Sterling, Rohan Weerasinghe, gave a heartfelt description of Arbie's exceptional 5-decade career. Held in high esteem by the members of his firm, he mentored many of them. Arbie was one of a handful of national attorneys considered to be true experts in securities law, and one of the first attorneys to be involved in business dealings with China after Nixon opened it up for commerce with the USA. He was responsible for the first restructuring of Chrysler Corp, and was Ford Motor Co.'s right hand man. He received every possible accolade an attorney could receive. His many good works in the arts and historic preservation were lauded. Rohan ended on a personal note with visible emotion. He spoke of Arbie's personal qualities, his goodness and several of his quirks, including his love of comestibles and oft heard remark, "this is just the greatest" at almost every restaurant meal.
On behalf of Naropa University and Shambhala, Marty Janowitz spoke of Arbie's many years of service and remarkable contribution as a Naropa trustee, and board member of Shambhala International and the Shambhala Trust. Arbie was a steady source of devoted insight and clarity, and his efforts often provided the cornerstone of any policy decisions. His memory of facts and their historical context was legendary. Marty echoed Rohan in describing Arbie's tendency to nod off in meetings, but then to suddenly awaken and continue without pause exactly where he had left off when he had fallen asleep. He told us that Arbie had sat up, in his inimitable style, like a rock, right up to the night he died.
The three sons, Marc, Christopher and Bobby each presented touching memories of their early days, sailing, hunting and fishing, and the lessons learned from their dad, such as "never give up" and the benefits of exactitude. They spoke of their timely family gathering with Arbie over Thanksgiving. They were appreciative and moved by the outpouring of affection and respect for their father.
Following these stories, Eric led people in contemplation, offering instruction in our practice of sending and taking. He left the choice of practice open for the individual with only the suggestion that whatever Arbie's journey may be, we offer our aspiration that it is smooth, that we love and support him and wish to clear away any confusion. He explained the meaning of Amitabha Buddha and the Pure Realm in terms of peace and freedom from distractions of the physical world. He spoke of burning the photo of Arbie as a connection to the cremation. Eric clarified that this part of the ceremony was an opportunity to let go of Arbie's physical manifestation, while remaining confident we held the meaning of our experience of him in our hearts and minds.
The family filed out stopping by the coffin and giving their final good wishes to Arbie with a touch. The service genuinely had reflected Arbie in its mix of humor and tears, enormous heart, appreciation and great love. Somehow, Deborah managed to see every single person there and thank him or her with a full hug.
There was a gloriously provisioned reception appreciated by all as we exchanged stories, laughed and cried, and began the transition back onto our lives.
One of my favorite stories was the tale of discovery by his partners that Arbie had a pilot's license. When asked why, he responded "well you know, at Princeton as a freshman, we were not allowed to have automobiles," stated with that famous twinkle in his eye.
Arbie will be missed in a very big way.
~~
The Arbie Thalacker World Wisdom Scholarship Fund
Naropa University Remembers Arbie Thalacker
Post Tags:
Arbie Thalacker
,
Warrior Tribute