Thursday
Mandala Projects
Where East Meets West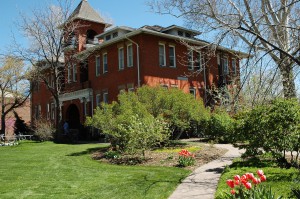 Interview with Naropa University President John Whitehouse Cobb
by Sarah Lipton
Archival photos courtesy of Naropa University, Shambhala Day 2012 photos courtesy of Naropa University and Jack Greene 
Naropa University in Boulder, Colorado is often known as the place where east meets west as it educates the whole person, cultivating academic excellence and contemplative insight in order to infuse knowledge with wisdom. Sakyong Mipham Rinpoche is on the Board and is the Naropa Lineage Holder, and the tag-line could have come from the Sakyong's recent Shambhala Day address: Transform Yourself, Transform the World. I am delighted to talk with you again, President Cobb! When I was a Naropa student, you were the President, and now you are back at Naropa again, filling the role until another new President is hired. Does it feel familiar or new to you?


Being here gives me a strong sense of déjà vu, but I am also experiencing a learning curve. There are so many staff that I don't know, and all the new students, and so it is both familiar
and
new. It has been really wonderful so far, and I have been warmly welcomed back, but at the same time I've felt challenged to do this – so it's a great combination. I am hoping that my timing is pretty good. I had a good eight years away and people remember me fondly and somewhat nostalgically – they seem to have forgotten the bad parts, so it feels like having an uncle come back again. But I'm not just everybody's uncle, I've decided to work really hard! I've got this opportunity to do something quite quickly. I think people are ready for it again, I think the place needs to grow again. This is a great job, being President of Naropa University, but it is a 24/7 job. There are many low-level challenges and wonderful mission and vision oriented challenges regarding how to make this place flourish. Being a lawyer, I don't mind the challenging stuff, and being an entrepreneur means I like the vision part. So maybe my timing is good this second time, but I do seem to be getting home a little late each night!
Can you describe the environment of Boulder right now so our readers can "smell" the air there with you?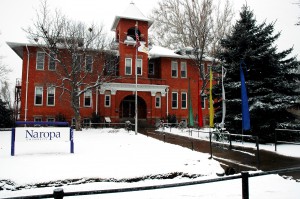 Right now we are inundated with snow. We just had this huge blizzard that was localized right here over Boulder. Last night we got another four inches, so it's all white here, and beautiful. But at my age, I'm thinking the cold weather has gone on long enough.
Naropa has three campuses and I would say that the physical plant needs a little upgrading. It's been a long time since we built a building. But meanwhile the sycamores are still here, and there's snow in the trees outside my office, and the Balinese flags are still out there. It's like I never left. But I haven't furnished my office, I haven't had time. Somebody took Allen Ginsberg's ashes while I was away. [Editors note: They're here!]
Does the flavor of Naropa taste different than it did, say 20 or 30 years ago? If so, how?
I've been on the board since 1985 – basically, the Stone Age. So I have been witness to the full spectrum of the business cycle we have gone through. We earned accreditation in 1985. When Chogyam Trungpa Rinpoche died (in 1987) there were a lot of questions about how to go forward. When I first became President in 1993, we started moving forward and started to grow: we went from 450 students to 1,100 in ten years. We had to grow in many ways to support that. On staff, we had students of both Trungpa Rinpoche and Sakyong Mipham Rinpoche but we also needed people who were specifically trained in highly sophisticated areas! But on the other hand we wanted people who were connected to the mission. Over the last few years we may have gone a little too corporate, atmospherically. We did a whole lot of layoffs last year and it was done in too corporate a way. It could have been done in a way that was more humane. When I came back here last fall, people really needed to restore some degree of trust in the situation. We are a living community, not a heartless corporation, and that's a big deal. I'm surprised at how quickly the atmosphere can change. I don't attribute it to me, but there has been a sense of change since I've been here already.
I have a wonderful staff. We have talented and professional people who want to be here and who also have a sense of humor and panoramic view of things as opposed to just plodding along doing a "job". So I think we're lucky! I think Trungpa Rinpoche started something that cannot be extinguished. Whoever comes in as the next new President will have a spring board to land onto, instead of a solidified situation.
That's quite important – that there be a sense of flow and capacity for change while at the same time staying connected to the larger vision of the organization. This is what I studied in my final year at Naropa, actually – I studied the change of President and how that affected the entire community and organization. That was when you left and President Tom Coburn arrived. Where is Naropa at these days? How is student enrollment doing? How are the faculty and staff?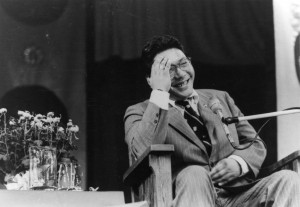 I think Naropa has been through some tough times, and when I got here I was amazed at how resilient and strong it is. We are in good shape financially and the faculty is really strong. The graduate schools are sought after and enrollment is up, and they're becoming more selective and nationally known. The Art and Somatic programs are licensed and nationally recognized and really doing very well. The graduate programs are very competitive these days, and a lot of schools are cutting back on their number of credits required for an MA. So we have to look at a lot of factors of what is unique in the market, and we need to compete well. We can't be all things to all people, so we have to be true to our mission and offer what we're good at and what's unique.
We received a $1.9 million
Title 3 grant
(Strengthening Institutions Grant) for four years from the Department of Education for undergraduate and general education, and strengthening retention. One of the purposes for this grant is to improve the attrition rate between freshman and sophomore years, so this is helping us with that. The grant is helping us a great deal, and a lot of the faculty are very enthusiastic about it.
But we need to keep growing at the undergraduate level and evaluate how we are attracting students and faculty. The whole way that higher education is funded is very tricky. It's very hard to step out of the usual stream as an institution without getting clobbered, so we're looking to see how much to raise tuition in the fall. It's a very tough decision – you have to make ends meet but also stay competitive and stay affordable for students.
Naropa has a very high percentage of full-pay undergraduate students, which is very unusual. The students who want to be here are totally committed. They want to be here at Naropa, so there's a lot of self-selection that goes on.
We've hardly had any turnover among faculty – it's a very strong faculty. Our student to faculty ratio is 9:1. Our average class size is fourteen, so it's still a very intimate student experience, with a lot of faculty contact. There's no back row at Naropa. Classes are done in a circle and are very demanding because of the contemplative approach. I teach a course that has 17 students and it has a very active discussion, so it's very good value for people. Sitting in a circle like this is challenging for students, but on the hand, who wants to be sitting in a huge room with 200 teenagers!
A search has just been launched for a new President. What is Naropa looking for in a new President at this time?
It's the best job I can imagine ever having, and that's after a fair amount of worldly experience! Other than that, I will avoid that question until the appropriate place and time!
The Naropa Board is engaged in a search for a new President to take office when I step down at the end of this academic year. For information on that search, please visit their website at: www.naropa.edu/presidentialsearch
Is there anything else you would like to share with our Shambhala Times readers?
Lean in with confidence! We're stronger and wiser for having been through what we've been through and we are very vital and resilient, and I'm so happy about that. There are rumors in the sangha that we lost the vision and were firing people willy-nilly, but I feel that was paranoia. From the inside-looking-out I can tell you that Naropa is still really strong.
I've learned so much about leadership in this job and the Shambhala teachings have taught me greatly – they are what I use to do this job. If I give a talk to students, what comes out are essentially Shambhala teachings to the extent that I've learned them and integrated them. Around here, I like the teachings to be totally accessible, and I think that's been going on at Naropa for a long time. We all have to use skillful means for how to include people and invite people. Basically, I view Naropa as a gateway to warriorship.
~~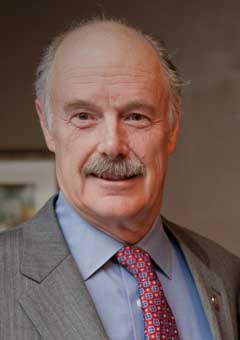 John Whitehouse Cobb was President of Naropa University from 1993 – 2003, and was re-appointed as President since October 17, 2011 until this coming summer. Graduating from Harvard College in 1966 and Columbia Law School in 1969, Mr. Cobb worked as a VISTA lawyer with Colorado Rural Legal Services, serving migrant farm workers and low income groups. He continued to work in the public sector as a staff attorney for DNA, the Navajo Legal Aid Program in New Mexico, and later serving as Director of Litigation and Training for Pine Tree Legal Assistance in Maine. Returning to Colorado, he served as the Director of the Colorado Coalition of Legal Services Programs and Western Regional Training Center in Denver, and was a founder of the Legal Aid Foundation of Colorado. He then was in private practice in Boulder for ten years, until he was appointed President of Naropa University in January, 1993. He served in that capacity until June, 2003, presiding during a time of significant student growth and expansion of programs and physical plant. The Naropa Institute became Naropa University during his tenure. He served on Naropa's Board of Trustees from 1985 to 2003. He also designed and taught a course in leadership: "The Art and Ethic of Leadership" in Naropa's MA Environmental Leadership Program, and "Freedom is Just Another Word: The Evolution of the Bill of Rights" in the college.
He is the author of two books of poetry: Searching for the Moment: Poems on Occasion at Naropa University (fosilpres 2003) and Footnotes to the Inexplicable: A Memoir in Verse (Slickrock Press 2007). He is the proud holder of an honorary MFA from the Jack Kerouac School of Disembodied Poetics at Naropa University. He is married to Bayard Cobb, and they have a son and two grandchildren. Bayard and John have been actively involved in the establishment of the Peace Studies degree program at Naropa. Their support led the Board of Trustees to create the Bayard and John Cobb Annual Peace Lecture. He continues to teach "Law Human Rights and Social Change" in Peace Studies.
~~

For more information about Naropa University, please click here.
For more information about the Presidential search, please click here.
Post Tags:
interview
,
Naropa University