Friday
Community Articles
Cultivating Service with the Merit Exchange
Commemorating Earth Day
by Ryan Thompson
founder of the Merit Exchange
Spring came a bit early this year in Chicago, but on Saturday morning it was clear that winter wouldn't let go without a fight. Only a handful of volunteers made it to the Iron Street Urban Farm, including our small group of Merit Exchange volunteers. Most of the activity took place indoors anyway, within the formerly abandoned warehouse that now serves as the heart of Growing Power's flagship Chicago farm, so fortunately we avoided the winds outside. And once you get your hands into the soil Growing Power staff call "black gold", you start warming up really quick.
After a tour of this spectacular facility, featuring six hoop houses (low-cost greenhouse structures), aquaponics equipment, mushroom cultivation, beehives, a farm stand, a bike repair shop, and a massive composting operation, we were assigned our tasks for the day. Since spring is here, most of the work involves preparing soil and seeds for the upcoming growing season.


While Jimmy and Fiona (the two farm/rescue cats) supervised, half of us worked on filling stacks of seed-starting pots with soil, which is a mixture of black gold and coconut coir. The other half prepared the black gold by sifting worm castings – in other words, worm poop. That's right; black gold is the droppings of the farm's unsung heroes: red wriggler worms.
When the worms are well fed with fresh compost, each worm will eat its own weight in dirt every day, leaving behind a trail of the most fertile soil on earth. Planting crops in the compost made on site and using only black gold as fertilizer ensures that the plants stay healthy, which gives them a natural resistance to pests. This 100% organic and sustainable process also leads to some of the tastiest produce around.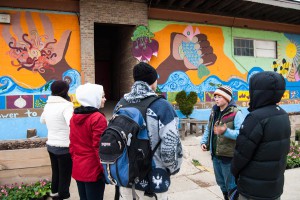 About Growing Power
The agricultural system on the farm was developed by Will Allen, the founder and towering champion of Growing Power. Allen, a former professional basketball player and lifelong farmer, started Growing Power in Milwaukee on a small plot of vacant city land, which happened to be in the middle of a food desert.
His project soon attracted a lot of attention from local kids, which led to educational workshops for youth from the low-income neighborhoods around the farm. This then grew into community events, creation of the Youth Corps, and a national organization focused on urban agriculture training and food security. Growing Power today runs over 70 projects and programs in the U.S. and around the world. With a strong focus on eliminating food racism and food deserts in inner cities, promoting sustainable farming practices, and building community, Allen continues to cultivate what he calls the "Good Food Revolution". (He's written a book by the same name, available May 10th.)
This inspiring mission is what drew us at the Merit Exchange to connect with Growing Power as one of the Merit Exchange's first community service projects.
About the Merit Exchange
Another inspiring vision helped lead to the formation of the Merit Exchange – Sakyong Mipham Rinpoche's Letter of the Morning Sun. The Sakyong's letter to the Shambhala community expressed the urgency of deepening our personal practice, of strengthening our bonds as a sangha, and of reaching out to the world around us. His vision laid out a framework for us to work towards creating enlightened society.
Guided by this framework, the Merit Exchange connects meditation practitioners with opportunities to volunteer at a variety of nonprofit organizations around Chicago. In the process of working together as a sangha for the benefit of others, we in turn cultivate mindfulness, compassion, and kindness within ourselves, as well as within our communities.
The Merit Exchange initiative consists of two main components: community volunteering and mindfulness practice & education.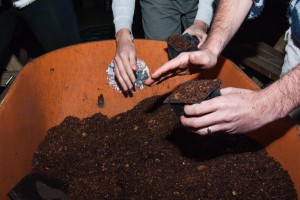 Volunteering Projects
In addition to urban farming, our volunteering projects in the Greater Chicago community include hospice care and refugee support, as well as a holiday food drive. These activities were chosen based on a survey of Chicago Shambhala members and on the benefits that they have the potential to reap.
Hospice Care
With so many of Chicago Shambhala's members working in health care and social services, it seemed natural that we get involved in hospice care. We've connected with a local hospice organization, which provides a training program to prepare volunteers to work with patients at the end of life, offering the comfort and support we all need as we approach death.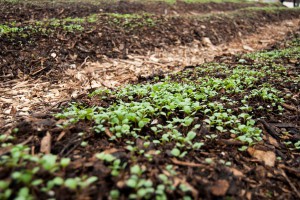 Refugee Support
Many members expressed an interest in supporting refugees here in Chicago. This year we started working with RefugeeOne, a local organization that assists refugees the moment they land on American soil. Offering housing assistance, job training, English language classes, and academic tutoring for youth, RefugeeOne makes a significant difference in the lives of refugees here in Chicago. Volunteers can mentor adults, tutor children, or support in a number of other ways.
Holiday Food Drive
For Children's Day this past December, the Merit Exchange organized a food drive to benefit a local food pantry. Ideally this will become an annual event, and we hope to create an ongoing relationship with the Community Center in our neighborhood.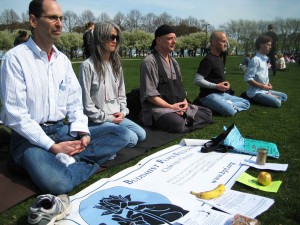 Mindfulness Practice and Education
Last year, the Merit Exchange sponsored two public talks related to social action, with Gary Allen of the Ratna Peace Initiative, who spoke of his work with veterans suffering from PTSD and prison inmates, and with Acharya Richard John, who gave a talk entitled Being Human in Violent Times.
We've also offered some mindfulness classes and discussions, including a two-part session on the Compassionate Abiding practice, which helps us to transform anger and fear into compassion and kindness, and a discussion with Shastri Marita McLaughlin about service in action, inspired by the work of Vaclav Havel.
Collaboration and Beyond
As other sanghas and organizations announce other events related to mindfulness and social action, we also help to connect with the spiritual community outside of Shambhala.
Currently we're collaborating with members of the Buddhist Peace Fellowship, as well as two other Buddhist sanghas. We're also hoping to work with the Center for Jewish Mindfulness, which shares many of our goals. We're definitely still growing, and still have a great deal of work to do to make a measurable difference in our community. But the possibilities and energy are very inspiring, and many ideas have been presented for future activities and ways to expand the Merit Exchange, including new volunteering projects, discussion meetings for participants to share experiences and ideas for social action, leadership training programs to help prepare members to lead new movements, and more collaboration with groups from other faiths.
Back on the Farm
Much of the success of Growing Power comes from fearless experimentation and the search for mutually beneficial solutions. The question: "What would happen if we tried raising fish onsite?" led to the implementation of a symbiotic aquaponics system, in which tilapia and watercress support each other's survival. "Do we have to do this team-building stuff? We just want to work with compost," said two teenagers, whose love of soil led to partnerships with a number of restaurants and breweries in Chicago. The question, "How can we keep the rats and squirrels out?" helped form a connection with PAWS, in turn providing new homes for rescue cats, including Jimmy and Fiona.
Just like growing healthy crops, creating a new project needs time to take root and to grow. With the patience and attentiveness of a farmer, we will continue to cultivate the Merit Exchange and to reach out to the greater community. And just as the farm harvest reaps delicious tomatoes, peppers, and other organic produce that everyone can enjoy, we will all benefit and thrive from these types of community service endeavors that contribute to a mindful, peaceful society.
For more information about the Merit Exchange, visit our website:
www.themeritexchange.org
Or contact Ryan Thompson:
[email protected]
Post Tags:
Chicago
,
Merit Exchange