Tuesday
Community Articles
Pivotal Players in Uplifting Society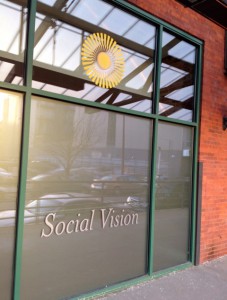 Shambhala Chicago: West Loop Center Opening Celebration March 21, 2014
article and photos by Shastri Charlene Leung, Chairperson of the Diversity Working Group
For many years the Sakyong has talked about basic goodness and enlightened society. In recent years he's shared his vision that Shambhala Centers become community centers, that we become a more relevant and integral part in the daily lives of people in the cities and towns where we live. Only in the last year or two, he confirmed that food, conversation, and meditation were unifying forces within our Centers.
It's a cold spring afternoon in Chicago. Yet through the tall glass-plated windows and doors, sunlight bathes the 1,400 square foot reception/community space. The warmth of the original hardwood floors rises up to thirteen-foot high original wood ceilings and exposed AC ducts. The art work done by the youth of Chicago affected by violence is a moving display of color and life against the brick wall.
At the Opening Ceremonies of Shambhala Chicago West Loop Center, March 21, 2014, over 100 people have gathered in the newly purchased and beautifully remodeled space that was once Oprah Winfrey's upscale retail store. I get a palpable sense of the renewal that the Sakyong has been envisioning.
The Sakyong has come to bless this space, to celebrate with old and new sangha, partners from last year's "Imagining Peace" event, City officials, architects, and student leaders from the nearby neighborhoods. This is the official opening of something big, not only for Chicago but for our entire mandala. The building of partnerships with other individuals and organizations in Chicago is the brick and mortar for including people we often miss in our Shambhala Centers. This story is not only the fruition of incredible auspicious coincidence, it is an example of how we can become pivotal players in uplifting the lives of diverse peoples in the world.
I speak with Luis Cardenas, a recent graduate from a continuation high school, whose paintings are displayed. He's grown up fast, seeing gun shots, loosing heart, getting kicked out of high school, being depressed and somehow turning his life around. Imagining Peace and Shambhala have been a part of his journey and he has a message to share – be positive, keep going forward, don't judge people by their appearance. The theme of his painting is anatomy: an arm without skin, muscles exposed. We're all the same beneath the skin. He is college bound and will study art.
I introduce myself to Marilyn Pitchford from "Cease Fire". I overhear her saying, "As soon as I walked in this space, I felt peace." Marilyn tells me gun violence is a public health issue and Cease Fire is a stop-killing campaign. Their "violence interrupters" are former gang members – on the streets not only interrupting violence, but calling attention to shootings because they have become commonplace, a part of daily life. Too many people are no longer affected by these senseless acts of violence, the loss of precious human life.
This opening ceremony, when the Sakyong cuts the ribbon to the meditation hall, is just the beginning. Two incredible programs follow on Saturday with "Joining Inner and Outer Peace", for the community working to prevent youth violence and, on Sunday and Monday, "Radiating Out: A Social Transformation and Leadership Training". Check back for coverage on those events plus links to video interviews, including one with a former white power supremacist who came to remember basic goodness and found Shambhala.
Post Tags:
Chicago
,
Sakyong Mipham
,
social transformation