Wednesday
Community Articles
On Aging: My Big Yellow File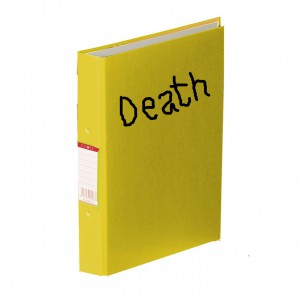 COLUMN: Aging in Shambhala
article by Richard Reoch
Preparing for death is highly recommended as a part of contemplative practice. Recognizing that this life could end at any moment provides encouragement for us to fully engage with the world while we can. In addition to contemplating the inevitability of our death and deepening our practice so as to be better able to relate with the experience of death, it is also helpful to prepare for death at a very practical level. One approach, described here, is to create a literal file containing all the material that would be needed by our loved ones and friends if we suddenly died. This is an act of generosity and kindness toward those who will be put in a position of wrapping up our affairs as well as being a manual reminder to us that death comes without warning. The author of this piece is Richard Reoch who is well known as the President of Shambhala. Perhaps less well known is that he is author of a book entitled "Dying Well: A Holistic Guide for the Dying and Their Carers" (which is available from Amazon).

I keep a big yellow file near my home telephone. The magic marker on the label says simply: DEATH. It's my death file. It has the information in it that anyone would need if I died at any moment. I do my best to keep it up to date, which is a powerful practice in itself.
As soon as we die there is a lot to take care of. Someone will have to arrange our funeral, deal with our home, sort out our belongings and close our bank account.
The entire paper trail of our lives is involved: birth certificates, insurance and mortgage forms, credit cards and personal papers.
There's a very practical way of easing the burden on those who will have to deal with all this after your death. I've done it myself and I'd like to encourage everyone else to do the same.
"Keep it simple" is the starting principle. Just getting started with the essentials will make a big difference.
I recommend a large folder. You can keep records on your computer, but you also need something you can put documents in and that your carers can carry with them.
You can begin with some basic details:
Who do you want to be told about your death? Be sure to keep their addresses and phone numbers up-to-date.
Is there anything you want someone in particular to have as a gesture of love and appreciation?
Do you want to leave a message for anyone? (You can always put these kinds of messages in sealed envelopes in the file, if you wish.)
Also be sure to put the following basic documents in your file (you probably have these somewhere already, but it will be a great help to have them all together in your file):
Birth certificate
Marriage certificate /divorce papers
Photocopy of your current passport or other official identification
Bank account, credit card and other financial or legal details
Your Will
Living will or advance directive and power of attorney (which authorizes a person to act on your behalf if you are unable to make decisions yourself )
Funeral plans
If you don't want to put originals of these documents in your file for any reason, you can make photocopies – even of the first page – and write a note saying where to find the originals. You may have your given your details or documents to a lawyer: be sure your file has their name, current address and phone number.
The great thing about using a file is that you don't have to do this all at once. You can add anything. You can take anything out. You can make any changes you want at any time.
Whatever you put in your file will make a difference. Often family and friends end up arguing about what to do after someone dies. You can lift that burden by making this file for them. So don't be secretive about your file: make sure your family and close friends know it's there!
Finally, a simple request: please make a will. You can get a form in almost any stationery store. You only need to write a single sentence, sign it and have a friend witness it. Having a will cuts through miles of red tape and arguments after your death. And since death comes without warning, the time to make a will, if you haven't done so already, is right now! Like making your death file, it will be a great kindness to others.
~~
This is the fifth in an ongoing series of articles on Aging in Shambhala. To read the previous articles, please click here. Contributions to the monthly column, "Aging in Shambhala" are welcome. Please contact Andrea Sherman at: [email protected]
Post Tags:
Aging in Enlightened Society
,
President Richard Reoch