Wednesday
Scene and Heard
Smoke in the Sky: Shambhala Mountain Center
A raging wildfire continues to burn and spread just northwest of Fort Collins. As of this morning the fire covers of 43,00 acres. The large fire crews are reporting "some containment." The fire is south east of Shambhala Mountain Center.
A letter from Shambhala Mountain Center's Director of Operations Michael Gaynor and Rusung Zane Edwards
It's a beautiful morning at Shambhala Mountain Center. The winds are coming from the south west bringing fresh air and slightly cloudy skies, and are predicted to continue from that direction for the next few days. While we are expecting to be smoke free, any changes will be promptly reported.

Overnight fire-growth was the least we've seen so far, but the fire is still not contained. Anchors have been established, preparing the firefighters to begin building a fire line. We are not in a pre-alert stage, which comes before an evacuation, although parts of Glacier View are in pre-alert, and we are in close contact with the local authorities. We are paying constant attention to conditions, and as a precautionary measure, we are carrying out evacuation exercises.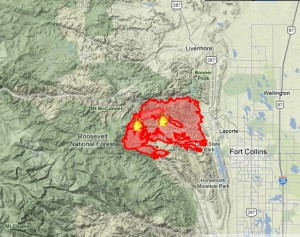 We have a program on the land led by Acharya Maul, and while people with breathing issues have left due to the smoke, we are not in an evacuation area. We are working closely with the Poudre Fire Department, and have been in close communication with Larimer County emergency response teams.
The Dorje Kasung have developed emergency protocols and are ready to respond to any situation. Highway 287 to SMC was closed yesterday, but is open today, as is the Owl Canyon route.
Please know we have everyone's safety in our hearts and minds and will cancel programs if we need to. At this point, we are fully expecting to proceed with our upcoming programs, and will continue to provide updates on our facebook page twice daily (please click here).
Staff are working hard, preparing for the up-coming programs, and we are looking forward to welcoming the Sakyong and His Eminence to the land.
Thank you for sending good rainy thoughts our way.
Post Tags:
Boulder Fire
,
news
,
Shambhala Mountain Center