Friday
Sakyong and Family
Leadership Gathers with Sakyong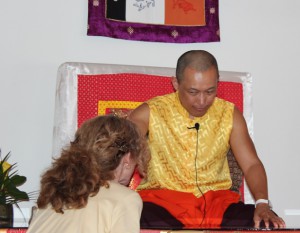 "One of the key things this year that I have been thinking about personally is how I can make the most use of my time," remarked Sakyong Mipham Rinpoche at a recent gathering for regional Shambhala leaders at Karme Choling. "I have been asked to do many different teachings and programs and one of the things that I feel is important for myself and for our community and strategy is that I would like to put more effort into leadership training and teacher training."

During his recent visit to Karme Choling in northern Vermont, Sakyong Mipham Rinpoche gave an address to a large gathering of Shambhala leaders who had assembled from all over the New England region at very short notice. An email went out two days prior, inviting center leaders to journey to the Northeast Kingdom (Barnet, Vermont). More than a hundred "members of Shambhala government" from all three pillars traveled from all over the region to meet him. He gave a wide-ranging overview of his vision and highlighted the key themes he would like Shambhala leaders to be contemplating.
"Shambhala is transforming from being simply a meditation center for personal transformation to that of not only personal transformation but societal transformation. I was just at the [public Shambhala retreat] where there were all these intelligent and good-hearted people. Many of them have jobs. They wanted to know how they could apply what they experienced there. These people are now going to be [coming] to your centers. This is occurring more and more. The key issue is how can we, as Shambhalians, begin to look at our centers as a basis of making this shift happen.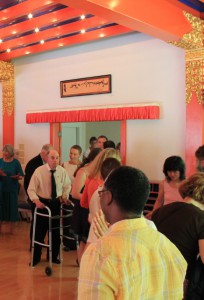 "Right now we are in the middle of the biggest systemic change we have had in our history," the Sakyong told the assembled leaders, "looking at programming, membership, what we're doing. All of you have participated, volunteered and put your energy into this. We need to know how to maintain what we are doing, and at the same time find ways that we can communicate, share and encourage each other at this very critical time. I feel that if we allow ourselves to do that, we'll find greater and better methods of fulfilling our role and communicating."
As the Sakyong spoke, a fresh spring breeze sifted through the curtains in the historic shrine room and Rinpoche reminded us about the importance of practicing as leaders. The dots were connected between taking the Shambhala vow last year and meeting the needs of our centers tomorrow.
"This last year was a major shift. We clarified two basic things. The primordial and fundamental statement that we are making is that we are a society that believes in the goodness of humanity. This [Shambhala] is a place that represents that. I think it's important for that to soak in, because we are used to it to a certain degree. That is embodied in the Shambhala vow. What does that mean? Ultimately the taking of the Shambhala vow means that we are no longer harming ourselves. We are now confident about relating with our own worthiness. So what does that mean as leaders? When we are doing our job and communicating with people, we are saying; 'This is our core belief, this is the way I feel and this is the position I am in!'"
For a few years, the Sakyong has been promising us that he wanted to focus more on teachings about leadership. While he was in retreat last year, the Kalapa Council responded to his request and held the Kalapa Governance Gatherings around the world.
In culmination, over four hundred Shambhala leaders gathered last October in Halifax for a weekend of teachings called "Dignity" (click here to read more about it). The next step was this recent gathering at Karme Choling. The inspiration for this last-minute assembly was based on the desire of the Sakyong to begin meeting more directly with as many leaders of the Shambhala community as possible. In order for all the Shambhala Centers and activities to connect directly with the Sakyong's vision, manifesting that vision in the world, it is crucial that the leaders of our community gather with the Sakyong personally. As President Reoch described at the gathering, "The train [of Shambhala] has many cars, tracks, and activities and we need to make sure we're all headed in the same direction."
"Next is the creating of an enlightened society," the Sakyong continued. "Not in some other dimension, but here on this earth. When we do that, great gentleness and strength occurs for the individual by recognizing basic goodness. When we proclaim enlightened society, great courage arises, and energy. Now we have something to work towards. Even though there may be many elements of why we have our centers and what is happening, these are the two core elements."
He went on to say, "What we are doing is changing the societal tide. The setting sun is working seven days a week, twenty-four hours a day. And we're kind of volunteering every now and then. Then we ask, 'why can't we shift culture?' Well that's because they have the industrial complex happening. If we are serious about this then we need to figure out how we utilize what we have. Otherwise, there are centers that are just spiritual accents on what's happening." In conclusion, the Sakyong expressed that, "part of why I wanted to gather is because I am on your team, or you are on my team – however you want to think about it. I am sure you are thinking and a lot of these things are striking your mind, but we are all working like this, you know?

~~
All photos courtesy of Karen Iglehart.
Post Tags:
Kalapa Governance Gathering
,
Karme Choling
,
leadership
,
Sakyong Mipham