Sunday
Community Articles
Parenting As Path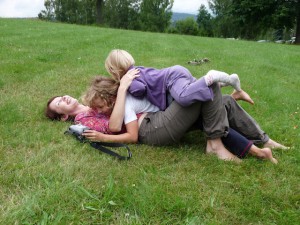 by Alice Buehler, Czech Republic
The parenting side of Shambhala society seems to have its own particular understanding. It is deeply motivated by looking beyond just this one lifetime, but always painfully aware of the habitual patterns that get condensed into the smallest details of everyday life, magnified painfully in front of our eyes. At the same time there is always the feeling of limits in time, space, energy, and finance to attend programs, let alone keeping up a regular formal practice. We struggle to do almost anything with deeper focus as our attention is juggled from one child and situation to another. We are aware of the importance of sane Shambhala households within Shambhala Society, but for some parenting practitioners this can seem an impossible dream.

We started holding summer family programs in the Czech Republic six years ago as many young members started to get married and have children. Inspired by an auspicious visit by Kerry MacLean that year, we realized that if we wanted to keep our center alive we had to take care of our second generation by offering them not just childcare, but meaningful programs of their own, and for a similar reason to support parents in their practice.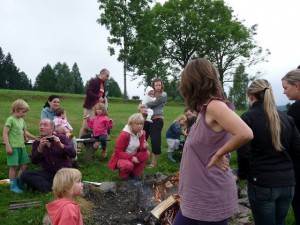 Over the years we have had many wonderful teachers who came and offered us teachings in this often challenging environment – Acharya Emeritus Fenja Heupers, Shastris Sabine Rolf and Arnd Riester and this summer Geoff Downing. While preparing this year's program we decided to add a new angle: in addition to Shambhala teachings on basic goodness, fearlessness, gentleness and enlightened society, we also offered a series of teachings directly addressing Parenting as Path. For that purpose we chose the Six Ways of Ruling, which was inspired by an article by Susanne Williams on Shambhala Times (from 2010) and the Sakyong's and President Reoch's contemplations on it. The Six Ways seemed a good framework for the one-week program, where we would live together in a mountain cottage together with 13 families, or about 42 individuals.
The Six Ways of Ruling were first introduced by Chogyam Trungpa Rinpoche and they are described in the Sakyong's book Ruling Your World. These teachings are typically used in the context of leadership, but we wanted to bring them closer to parenting and our personal experience by using personal contemplations on how these teaching apply in one's everyday life as a parent. The Parenting as Path teachings consisted of a "night class," where we met after the children went to bed. During these one hour gatherings we first reviewed our experiences from the day (through discussion groups with all participants, smaller language groups or dyads) and introduced the Way for the next day. We often had to adapt our schedule when on some nights the parents were too exhausted.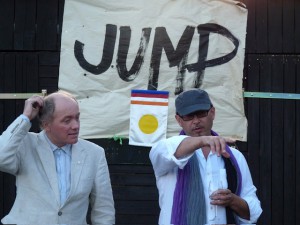 In the morning the participants were welcomed by slogans, name tags and signs hanging around the cottage and grounds. As the week and various Ways were introduced, we used various means of presenting the slogans in different languages: English, Polish and Czech. Some were computer printed, hand written, the word JUMP painted in calligraphy on one monumental sheet of paper or children wearing slogans on plastic name badges.
During the morning sessions, while children had their own activities, the parents meditated, received a talk and contemplated the Way of the day.
Although this was not an easy time format for both participants and the discussion leader, the Six Ways worked well in the context of parenting, and showed that there is a great longing for teachings specifically for parents. We found that the Six Ways of Ruling, using contemplation as a practice, is a powerful and helpful path in this context.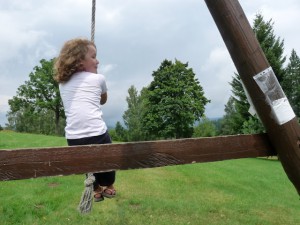 This felt like the beginning of something that might be worthwhile to develop further. As we look outside of Shambhala there are many parents who are longing for ways to work with their minds and be of more benefit to their children and the world around them. Parenting as a Path does not offer them a manual on how to become "Super parents," but it may help them to find ways of working with their anger, fear, the tendency to stay on the surface or be taken down by endless chores, while at the same time developing more gentleness, elegance and joy in their everyday lives.
Thanks to all those who helped with this project through their advise or support: President Richard Reoch, Susan Williams, Shastri Arnd Riester, John Seex, Geoff Downing, Jan Lamac and all the parents who shared the experience and their minds and hearts in Chata Kara July/August 2012.
Post Tags:
children and families
,
Czech
,
Family
,
Family Camp
,
Parenting As Path
,
Six Ways of Ruling