Saturday
Community Articles
Children and Their Six Ways of Ruling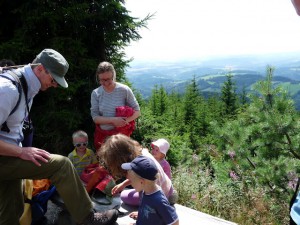 by Dita Kemp, Czech Republic
A few days ago I returned from Family Camp in the Czech mountains where I led the children's activities. Once again we have had the precious opportunity to experience what it means create Shambhala society. This year we were honored by a variety of participants. Families from Poland, Holland, families that were completely new to Shambhala and even people who struggled with the situation in general. What a rich and real situation!
Parents had the opportunity to be enriched by teachings connected to parenting. Geoff Downing from Poland, Jan Lamač, and Alice Buehler explored the "Six Ways of Ruling" in relation to parenting as well as other Shambhala teachings on basic goodness, gentleness and enlightened society.

At the start of our program I was unsure how to handle the children's age differences. We had 14 children from the age of two to ten years. The first few days we felt that it was important not to separate them and concentrate on creating a strong container. The children connected easily and got to know each other, despite their differences.
We tried to extend the six ways of ruling into the children's program. The children practiced "Benevolence" by making their own sword. With patience we sanded and painted our rough piece of wood, transforming it into our personal Manjushri sword. "True" was practice by cooking soup outside on an open fire and making hamburgers for all the forty participants, discussing and negotiating along the way how they wanted to cook, while sharing tasks and knifes and other kitchen equipment.
For "Genuine" we made our own brushes and did calligraphy, teaching us what to accept and what to reject. When collecting material from the woods and making their brushes the children had to learn what to use so the brush is not too hard and not too soft.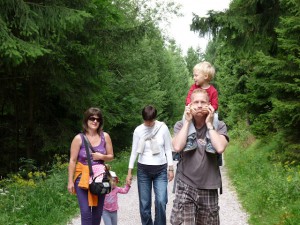 We spent a lot of time in the woods where we played games and had different activities. On the last day the children built a fairy town in the forest including the fairies who lived there. They told us stories about the fairies' lives, and on one moonlit night a group of parents set off with the children (while the grandmothers shook their heads in dismay) to find the village in the forest. We placed lights in the little houses and they glowed like a cluster of warm cabins along the forest floor. We ended up lying in a field looking up at the stars and making up stories of alien invitations and invasions.
Half way through the week we felt that we are not engaging the older children enough, so we began to offer an evening meditation session for the over-eights. There were six of them and they loved it to so much they kept extending the sitting! We never needed to force then and from the second evening on they were happy to organize themselves and sit for 10-20 minute periods. They were able to explain for themselves how and why they were meditating.
Not many years ago we were just few enthusiastic families with small children for whom the shrine room was just another playroom, and now here we go.
Post Tags:
Children
,
children and families
,
Europe
,
Family Camp