Thursday
Community Articles
Family Camp at SMC
Sharing the joys of this summer's Family Camp experience at Shambhala Mountain Center
by Heather Locke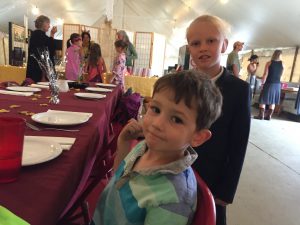 Family Camp happened at Shambhala Mountain Center July 28-Aug 4 with folks new to Shambhala, second generation, and all the rest of us. Here's a glimpse into our unplugged week: for our 200 participants (about half adults, half children), the elements were in full force as usual. We started the first few days with afternoon rain showers (even hail and much thunder), and ended up with blazing sun later in the week. We had a lhasang and raised the flags in the morning and sang the Shambhala Anthem, we practiced meditation with Acharya Dan Hessey and did yoga, hiking, and arts. We talked a lot about what it means to practice kindness, toward both ourselves and others.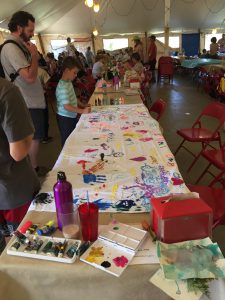 Many kids were able to visit the Great Stupa of Dharmakaya with their classes or their parents throughout the week, and tours were given of the Stupa, the Kami shrine, and the Garden. There is so much richness to a Family Camp schedule, with kids and adults programs in the morning, arts and tours and special events in the afternoons, and SOMEHOW families still had time to prepare offerings for the Talent Show which happened later in the week. We celebrated, we cried, we danced, we laughed so much, and we loved each other.
With so much groundlessness in the Shambhala community, it was incredibly enriching to spend time together as families and with other families. It was tender. We're all still here. Caring for each other the best we can, one day at a time.
Heather Locke was Head Dekyong at Family Camp, and also serves as Director of Community Outreach at the Boulder Shambhala Center
Post Tags:
Children
,
children and families
,
families
,
Families and Children
,
Family Camp
,
Shambhala Mountain Center