Sunday
Community Articles
Dispelling the Myth of "They"
A story about Growing Brave through discovering inherent wisdom
by Leslie Gossett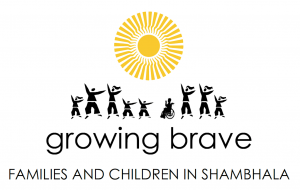 There is so much sadness and longing in creating good human society. We feel the potential. Yet we also feel how distant this possibility might seem.
I've been involved in Shambhala leadership for a few years: from leading Young Meditator Groups, to participating in the Bay Area Ziji Council, the Northern California Regional Council and as the Regional Director of Families and Children.
Over the years, what stood out for me most was the evolution of my mantras:
"They Should…" Create more children's programs. Empower more young leaders. Relate better to diversity. Be less rigid about form. Be more rigid about form. Be more skilled with money.
By constantly blaming others in reaction to frustration, I grew resentful. However, these challenges also invited me to delve deeper into my own longing and sadness. As I became more curious, I began to trust that my feelings of struggle and resentment also possessed immense wisdom.
This clarity strengthened my heart's deepest passion: creating spaces for children and parents to feel their own worthiness. My longing to work more closely with others holding similar aspirations intensified. During this period, I felt isolated as I engaged in a vision of transforming of a culture. In trying to do this alone, my list of complaints continued to grow: there is no system of communication, no central location for resources, no way to support people, and why do we keep reinventing the wheel? Not only did the list grow, but so did my wish for "Someone Else" to do something about it.
Then in 2014 I attended the Culture and Decorum Conference in Boulder. I was moved by how good it felt, as a C&D representative, to be with others doing this work. We shared best practices, inspirations, and questions, and we heard from Her Majesty, the Sakyong Wangmo. I immediately longed for such a space for those working with Families and Children. I brought this inspiration to Mary Selingher, the current head of the Office of Societal Health and Well Being. At that point, I didn't expect that I would be the one making a conference happen. I was just requesting that "They" do it.
In response, Mary helped me form a small committee of people who were willing to organize a conference. We began by collecting questions, needs, and resources for families and children across the mandala. Soon after we began, Mary stepped down and we lost the person who was officially heralding our project.
We were stopped in our tracks—to whom should we report? Who is empowering this? Having no guidance, we hesitated to take any steps forward. Then we had a startling realization: There is No One Else. If we kept waiting for "Someone Else's" to approve, we would wait forever.
At that point, we spoke with Ministers Lobel and Arthur, both of whom fully supported our efforts. Neither of them viewed us as needing their authoritative stamp of approval.
Since we weren't operating as a center or as any particular Shambhala Office, people didn't know how to relate to us. Surprisingly, centers treated us as something other than Shambhala, and folks from various departments didn't know what to make of us because we weren't sanctioned to speak. Trying to get funding, a bank account, conference space, and marketing and communication support; these were all immensely challenging.
Then words of the Sakyong from years earlier began to haunt me. "You are thus empowered" he had told us, a group of Ziji leaders in San Francisco. We shouldn't wait around for someone else to empower us to engage in good human society. We should just do it. The Sakyong has said, "As I travel and meet world leaders, I realize no one is in charge. I know this because they keep asking me what we should do."
The committee and I often joked about going rogue. When the prospect of establishing a website for families and children connected with shambhala.org seemed overwhelmingly impossible, we bought our own domain name. Thankfully, through the support of Shambhala Trust, we now have a beautiful Families-Hub website. (Search "children" on shambhala.org!) When we couldn't get a subaccount for families and children through Shambhala International, we had bylaws written to open a bank account. To help with international marketing and communications, we used Mailchimp. Even though we were not professional conference planners, we met weekly on Zoom to figure things out.
Throughout this process, we were challenged to repeatedly return to trust in our inherent wisdom, our aspirations, and our devotion to this lineage that we held so deeply. We were seven people working together around a passion we held as central to manifesting the vision of Shambhala. And somehow, through the magic of this lineage, it worked. The magic of trusting in the messiness of situations. The magic of no one being in charge.
What came out of the Growing Brave Conference was exactly what we had longed to manifest. Over eighty people from around the world shared resources, questions, aspirations, and best practices. Three Kalapa Council members, Ministers Lobel, Friedman, and Arthur, attended to support the initiative. In the conference's wake, an immense amount of activity, energy, and shifting vision is rippling out. All of this is incredibly robust, powerful, and absolutely transforming  for Shambhala culture around families and children.
And it all happened when we didn't wait for "Them" to do something. We did what we saw needed doing. We did it even when no one was there to say "you are thus empowered." We had to acknowledge our own inherent empowerment. We could not wait for "Them" to make it possible.
Dispelling the myth of "They" means trusting myself and others. It means taking responsibility for creating the society in which I want to live. It means risking the mess. Only from the honest, heartfelt allegiance to nowness can we open to the magic of things as they are. We take our seat with compassion and fearlessness. We trust our experience. We make the effort. We acknowledge that we are Shambhala.
---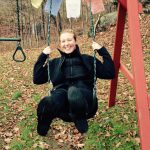 Leslie Gossett is a student of Shambhala. She serves as the Director of Families and Children Programming for Northern California Shambhala, and as Chair of the Shambhala Families and Children Committee.  She has worked with children for over 19 years. She is a certified yoga teacher for children and adults, a Shambhala Path Meditation Instructor, and a faery godmother.  She is dedicated to creating spaces for humans (especially small ones) to connect with the strength and wisdom of their own hearts. She lives and works in the San Francisco Bay Area.
Post Tags:
bravery
,
Children
,
children and families
,
courage
,
growing brave
,
social engagement
,
social transformation
,
wisdom