Wednesday
Arts and Poetry
A Precious Gift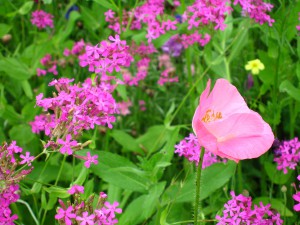 As it nears the beginning of winter in the northern hemisphere, the Shambhala Times wanted to warm our readers up with a summertime story about dathun. Dathun is a month of meditation that provides a deep experience for the practitioner, on and off the cushion, whether waking OR dreaming.
photos and story by Mercedes Lawrence
And there I was, meditating in the shrine room at Karme Choling on the last day and in the last session of the dathun retreat. I was seated in the middle of the outside row on the right side of the room. It was a little harder to keep my mind focused, as I was feeling the anticipation that comes with the end of a retreat.

All of the sudden, a very tall lady entered the room. From my seat she seemed almost twice the size of a normal person. She was wearing black robes, like what Zen monks wear. She walked across the right side of the room and stopped right next to me, bent down and placed a baby on my lap.
I was shocked, surprised, startled and astonished all at once. I didn't know what to do or say… I babbled some incoherent words "…what…why…no!" She said "you know why, you read all the forms," and then she spun around and left the room.
I was totally confused and did not understand her answer at all. I was trying to think what this all meant, and what I was supposed to do.
I looked at the baby. He was very small. His eyes were closed in sleep and he had the hint of a smile. Some strands of blond hair were hanging down over his forehead. All of his facial features were perfect, he was very beautiful and seemed calmly at ease. He made a small bundle, well wrapped in a light blue blanket and matching hat.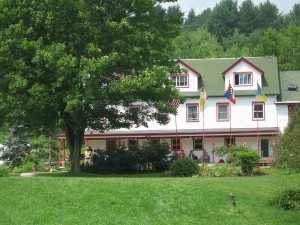 Suddenly, the gong rang indicating the end of the session and the program. Everybody slowly stood up, and since this was the end, the students began talking to one another, saying their goodbyes, getting ready to leave the retreat for good. I got up very quickly and tried to find somebody who could fix this new "problem" that had literally been dropped in my lap.
I searched around the room and saw the Director of the D.C. Meditation Center. I walked towards him and said: "Chris, what is this? What's going on? You have to do something!" He was very calm, almost aloof and said to me, "Oh… the baby,… yeah… that was because of what you did for those people."
I did not understand him at all. "You have to fix this!" I said to him in an anxious way. It was obvious he didn't want to get involved. "Okay, okay, I'll go and find the lady," he said and left the room.
I walked quickly out of the room hoping to find the lady or someone else able to help me. I was surprised that the baby was so light and that he felt so good in my arms. He was a perfect fit.
I went outside and walked to the grassy lawn in front of the main building. There were many people seated in groups talking or having meetings. I walked around looking, trying to find the lady but I did not see her. I was surprised that nobody found it strange that I was walking with a baby, especially since this is a place mainly for adults.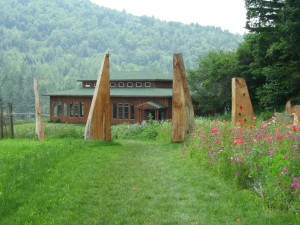 Then I walked through the wild-flower meadow, going towards the Pavilion, the other meditation hall. I crossed through an absolutely striking field of poppies in pink, white, magenta, and purple colors, the flowers almost as tall as myself. I stopped in the middle to enjoy the stunning site.
I looked down at the baby in my arms and a thought crossed my mind, "… maybe… maybe this is my last chance to have a baby… I don't have children, I'm getting old." But the voice of reason spoke quickly saying, "No way… it would mess up my life… I cannot take care of a child… my work is too hard, I work long hours, babies need lots of care, you have to take them to day care, then to school, pick them up from school, you have to have baby sitters and… the expenses for all that plus food, clothes and the schools and later the University – no way, no way!"
Continuing across the meadow I passed by many people going back and forth. When I got to the Pavilion, I looked inside but saw no signs of the lady.
Then I walked back to the other end of the property looking, checking everywhere, but I didn't see the lady or any of the management staff of the center. I was getting very nervous.
I got to the pond, one of my favorite places at Karme Choling, and I stopped at the edge next to the Buddha statue. The beautiful surroundings relaxed me a little and I looked at the baby again. He was so beautiful, so perfect. He radiated a sense of calmness and happiness.
Then I realized that I loved that child, with a love free of attachments or possessiveness. Just a pure and simple love. I hugged the baby and I felt his softness and warmth against my face…
… and then I woke up.
~~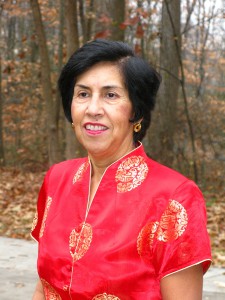 Mercedes Lawrence is originally from Chile. While at University, she met an American whom she later married and they moved to the US. In that time, she has lived in California, Puerto Rico, and now, Maryland. She earned a Masters in Public Health, became an epidemiologist, working on many diseases including TB, rabies, Dengue Fever, AIDS, and eventually becoming the Director of Communicable Diseases in a Maryland county health department. Upon the suggestion of a friend who is a Buddhist practitioner, she went to the DC Shambhala Center to learn meditation and something about Buddhism. She became a student of the Shambhala Buddhist teachings and has been a member of the Sangha for almost 10 years.
Although she doesn't consider herself a writer, lots of ideas and stories were always on her mind that just "wanted to be written". It just never happened. Then, when she joined Shambhala and started practicing, more and more new stories and poems came to the front and the pressure grew and grew. So she started writing and would read her stories as offerings at the end of Shambhala programs. The process has not been that easy since English is her second language but she has persevered and is still surprised that people like them.

Post Tags:
dathün
,
stories