Monday
Arts and Poetry
The Buddha, Humming
Short story by Lorna Drew
When I walked into the room, the Buddha was humming. I knew because the rice kernels in the bowls were tinkling, and because the Buddha had done this before. He'd been humming for a while now, but I'd never confronted him. This time I did.
"What are you humming,?" I asked. He gave me that impassive, know-it-all stare he's been developing over the millennia.
"Hmm?"

I asked again. "What are you humming? And why?"
Still looking impressively impassive, he hummed a few bars, from which I recognized Leonard Cohen's "Hallelujah."
"Why that one? Why Hallelujah?"
"It's the word "baffled" in the line about the baffled king. The king is unhappy. He's mad at his world: his court, his followers, his children, his wives, his harpist and the Queen of Sheba. He's mad because David plays a cord that pleases the Lord and he can't. But he tries. And in the effort his basic goodness shines. He composes "Hallelujah". Isn't that cool?"
"Shouldn't you just be getting on with it?", I asked carefully. "Wouldn't you just call it "thinking" and quit?"
The Buddha smiled. He had a lovely smile. Wide and soft.
"It doesn't hurt to remember," he said, "how we all get there. Baffled, joyful, cold and broken, confused, we all get there. It doesn't go away."
"Okay," I said. "I won't tell anyone I heard you humming."
"Humming?" he said, "what humming. I don't know what you're talking about. You think this happened? It didn't happen. Please close the door on your way out."
As I did so the rice kernels resumed their rhythmic tinkling.
~~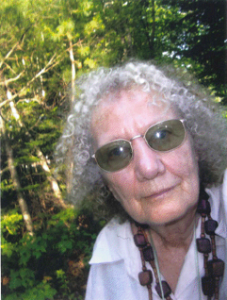 Lorna Drew is a Fredericton-based freelance writer of poetry, short stories, and the personal essay. Her work has appeared in literary journals, most recently Fiddlehead, and several independent publications, including DOT. She and her husband Leo Ferrari, who died in 2009, co-authored Different Minds, documenting their journey with Alzheimer Disease. The book was published by Goose Lane Editions in 2005.
A recovering nurse, English professor, social activist, photo collage artist, and a member of the Fredericton Shambhala sangha for 17 years (where her song lyrics celebrate completion of the levels) Lorna, at seventy-five (and not a whit wiser) is nevertheless currently having the time of her life. Lately, her writing has become very much part of her practice, a/musing in every sense of the word.
Post Tags:
meditation
,
stories