Wednesday
Community Articles
Children's Day: Pittsburgh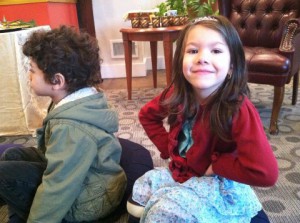 from Veronica Haberkost
Societal Health & Well Being Director, Pittsburgh Shambhala Meditation Center
Our Children's Day was so much fun! We had seven children participate. We started with the children performing The Four Dignities Offering Ceremony. They started with the percussion procession leading the King and Queen of Shambhala to their thrones. The King of Shambhala told the children a story. Then the children did interpretive dance of Lion, Tiger, Garuda and Dragon with an offering to each.
The ceremony ended with the King and Queen giving each of the children a blessing and some gold chocolate coins. After the ceremony, the children were dismissed to play upstairs while the adults prepared the feast – a pot luck lunch. After our tummies were full, we settled in to watch the movie, "How to Train Your Dragon."
Everyone was tired and happy.
Post Tags:
Children's Day
,
Pittsburgh