Sunday
Community Articles
Cooking With The Moon
Random thought: "When I sit down to write something, I realize I am looking for answers. If that is true, what are the questions?"
One of my favorite words is wisdom. It hasn't been a very common word throughout my life, education, and career. But, for the past several years it has come into my thoughts and conversations quite frequently.
When I think of Kitchen Wisdom, a specific definition doesn't come to mind. It seems to reveal itself as a feeling, an inkling, a sense, and a direction – like pointing to the moon. So, staring at the words, Kitchen Wisdom, fails to help me understand what it is, or why I chose it as a name for this column. But it works somehow, and it seems to point the way to limitless possibilities of expression and understanding.

"Truth has nothing to do with words. Truth can be likened to the bright moon in the sky. Words, in this case, can be likened to a finger. The finger can point to the moon's location. However, the finger is not the moon. To look at the moon, it is necessary to gaze beyond the finger, right?"
~~ Hui Neng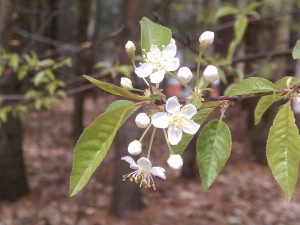 When I think back on my life and my interest in cooking, one thing that I enjoy most about working with food is the richness it provides to my senses. My initial educational pursuit involved studying science. I learned to think scientifically and compartmentalize, tearing apart the things that bind everything together, in my effort to intellectually understand the world. What a strange idea, to look at life in such isolation. Teasing apart the elements from the landscape, separating the life forms from each other, and attempting to come to know the essence of why things are and how they work, now, seems so strange.
In the kitchen, everything comes back together.
In the kitchen, I look for the gesture rather than the pointing, and open my gaze and heart to find what is there. Many things are revealed.
I come to know the season by the foods that enter the kitchen door. My belly's cravings and preferences provide the map, and I willingly follow their lead. Now, in late winter, I turn from the familiarity of winter squashes and rich, dark greens, and begin to think of the tiny wisps of baby spinach and bitter lettuces, delicate snow peas, garlicky wild leeks, and maple syrup. My nose, taste buds, eyes, ears, and hands begin to re-awaken in anticipation of the tender new plants and foods that will soon emerge from under the snow. Winter has been a hardy feast, but spring unfailingly opens my senses to start again and witness how the earth expresses the joy of renewal.
There is also something quite amazing about these tender plants. They have survived the harsh winter, covered over by ice and snow, and immersed in the saturated soils. When I plant seeds in the garden, they seem so small and helpless. I often feel they will never make it. But after a few days of warm sun, water, and solitude, they push their way up and out and begin their task of feeding the world and providing us with oxygen.
"I live in the garden; I just sleep in the house."
~~ Jim Long
Once again, I rely on the gesture to remind me which direction to face.
Even though a kitchen usually keeps me inside, it brings in the richness of what is outside. Green leafy plants, stubborn clods of soil, sometimes dew and rain all make it through the door and into the sink. Even the animals enter, naked and raw, bringing their textures and smells and bodies in from the fields and barns to our bellies. Lastly, the elements – earth, air, fire, water – all come together to clean, roast, sear, steam, bake, stew, and fry everything in preparation for our plates.
There is nothing more alive to me than working in a kitchen. It is where everything meets, everyone gathers, and all things show themselves.
Maybe the kitchen is the moon.

~~
Lisa Harris is a free-range chef, freelance writer, and consultant. She is always on the lookout for seasonal, local foods, and the farmers who provide them in Northern Indiana, where she currently lives, and wherever she travels. You can find more of her experiences and stories in her blog, earthskybelly.wordpress.com and other food related publications. She can be reached at [email protected].

To read other entries in this column, please see: Kitchen Wisdom.
Post Tags:
Kitchen Wisdom